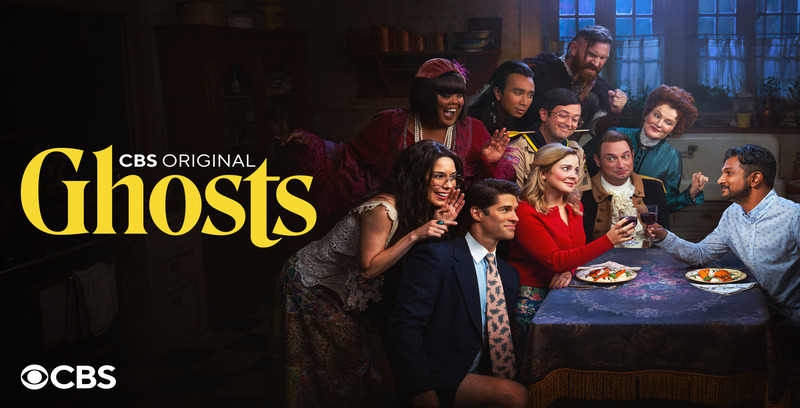 The Baby Bjorn has a couple of classic sitcom tropes...until it doesn't.

But first, we must address the fact that ghosts have come up with a special type of currency unique for them since actual money means little to nothing in their world. And the currency they have decided on is...back rubs. It's the kind of thing that only Ghosts can pull off without making it seem too ridiculous or far-fetched, made especially genuine thanks to Hetty--and respectively Rebecca Wisocky's splendid performance.

There was no doubt in my mind that Hetty would be the wealthiest ghost, even in back rubs, but the show surprised me by pitting her against Trevor, of all ghosts. Trevor has been sidelined quite a bit this season, often relegated to off-beat jokes and flirtatious mannerisms. Therefore, seeing him get a little more screentime this week, especially given his financial background (he does still ooze "finance bro" vibes, doesn't he?), was a pleasant and welcome surprise. Their interactions were absolutely delightful on one hand and heartwarming on another, and while the episode ends on a comical note with Hetty revealing her heart-to-heart with him was just a ruse, I will still cherish that tender moment between them for a while.


Similarly sitcom-y, Jay finds himself in quite the unfortunate situation at the Farnsby's when he unknowingly buys an upside-down pineapple statue at their yard sale without realizing it is symbol to let everyone know that you are into swinging. Granted, I personally did not know about the pineapple symbol before, but definitely started getting those vibes a few minutes into seeing the Farnsby's reactions. Regardless, it was still hilarious watching Jay figure it out on his own in a classic sitcom hijink fueled on miscommunication, made all the more hysterical once Jay finds himself in a room full of swingers getting undressed. Oh, Jay.

On the non-tropey side of things, and the episode's main plot, Sam finds out that the Farnsby's host a Viking ghost, and upon further interaction with him, it turns out that Bjorn is actually Thor's son! If you hadn't seen the episode preview, then you were likely taken back like I was, and every time I thought this storyline would zig, it zagged. Of course, Thor's relationship with his son turns out to be a lot more complicated than meets the eye.

I blame myself for not seeing where this was going as soon as the episode flashed back to Thor trying to hear the word "father" uttered from his son's mouth, but once it was revealed to Thor that Bjorn married a Dane (insert gasp here), he became reluctant in wanting to connect with his long lost son. From there, I assumed the episode was going to tackle Thor's unresolved issues, but I was pleasantly surprised with how it all got wrapped up in a nice little bow once Thor heard Bjorn shout out "father" from across the street. It's a perfectly executed, tear-inducing moment that seems so trivial but is still rather impactful when a show like Ghosts carries it through. Regardless to say, I cried when Daddy Thor teared up.

Once again, the show balances a heavy, uplifting storyline with a couple of comic relief subplots, including but not limited to Alberta wanting to watch more of Jason Momoa (because same), marking yet another highly entertaining week for Ghosts. Now, excuse me while I move over to a shaft of light as winter looms around the corner.

Scary Delights from the B&B:

- "Honestly, I try to shut a lot of this ghost stuff out."
- "You don't deserve this power."

- "In the meantime, it is I who gets the shaft. And let me tell you...it feels so good."

- "People don't understand how nice a warm chair is when you don't have pants on."

- "What if a wall were made out of couch? Would I not be able to go through that?"

- "You call yourself journalist? These are obvious questions."
- "Oh yeah, he's got you there, Sam. Who, what, where, when, why, how many severed heads?"

- "Alberta, I know it's your turn to choose, but I'll pay you 50 back rubs to watch Bodices & Barons."
- "Ugh, is that that boring period piece drama?"
- "Boring? Did you not see the smoldering glances the baron shot at the chambermaid last week? Shocked they can put that on the television."

- "Oh, like we form a union!"
- "I did not use the U-word."

- "You won't be able to last without TV time. You'll be back. You'll all be back."
- "No, Trevor. Not if we stick together. Because together...the power belongs to the people. Oh, I hate myself--I really hated saying that."

- "Bjorn is traitor."
- "Well, you know, so was Benedict Arnold, but he was still a delightful dinner party guest."

- "Can you imagine the disappointment he is going to feel right now if you abandon him? You are his father."
- "You're right. He is under the impression that I am his father, so I will speak to him, and tell him he is no longer my son!"
- "Okay. It feels like you're deliberately twisting my words."

- "It's a steep price, but at least I'll get my Jason Moma fix. And we will be watching certain scenes in slo-mo."
- "Aka slo-Momoa. Not my best work, but I had to get it out of my head."

- "Let's say you had not died tragically young and without pants and you had made all the money you'd ever wanted. What would your life have looked like? Paint me a picture."
- "Okay. Umm, I'm in a glass-bottom pool on top of a skyscraper that I own, and Kid Rock is there and he's DJ-ing, but not because I'm paying him, because he's just there and it happens spontaneously. And we have an epic party. And afterwards, I make love to my wife, Tara Reid, and post-coitus, together, we watch The Cutting Edge."

- "Now, your pursuit of wealth has left you all alone. Take it from someone who actually was rich. It's lonely at the top. The question you have to ask yourself is...is it worth it?"