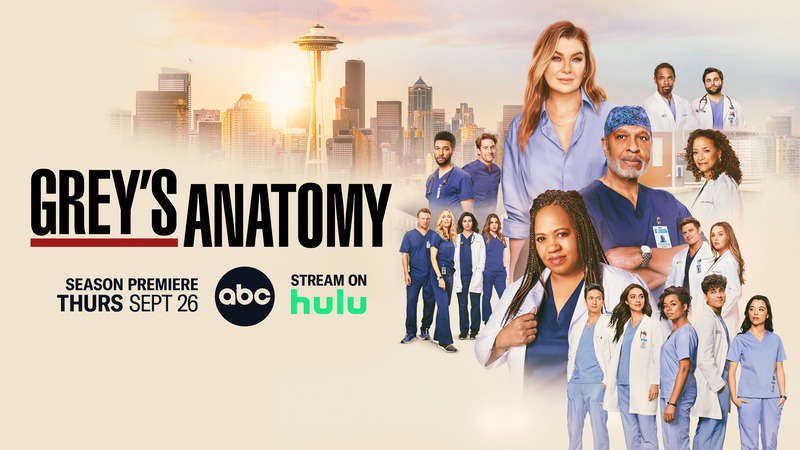 This episode starts with Amelia FINALLY talking to Kai on-screen, while they organize how to see each other considering Kai is *supposed* to be in Minnesota and Amelia in Seattle… but we actually see Kai appear behind Amelia, in Seattle! Yay! I couldn't wait to see them back together again.
Meredith and Zola walk into the hospital atrium while Zola asks her if she can watch Meredith's next surgery… as Zola goes away she explains to Nick and Maggie that she had to bring her to the hospital with her after the night she went through having panic attacks (poor Zola…I feel for her.) As they talk, Meredith sees Bailey walking into the hospital, and asks her what she's doing there, while Nicks says he gave her permission to use the new interns for a special project. When Bailey meets the new interns with Jo, she explains the reason they started this project is the fact that in the US - considering the new Roe v. Wade sentence - the only way to not have kids is to prevent it by trying not to get pregnant and that she's preparing a sex education project to spread info to teens, on the internet, about that. The project also involves our loved and amazing Addison…it was so good to see her back, and FINALLY, we saw her meeting Jo!! I want this duo more on this show! At one point in the crowd of residents, she identifies Lucas, her nephew, and as Addie goes to speak to him like she actually knows him, he stops her, trying to not let the other interns know. Although, I would've loved to see them interact more...I hope there's a chance in future episodes.
In the next scene, we see Teddy complain to Owen about not having interns for the day, and Lucas appears out of nowhere to join them instead of attending Bailey's project.
The interns attending the project start to complain to Addison, Bailey, and Jo about not wanting to talk about sex and saying they're not qualified. Addison responds by saying that hundreds of teens will get pregnant in college this year and, as children, they would still have to carry the pregnancy and/or get illegal abortions because of how things changed for the law while sharing info about sex education could actually prevent a lot of damage and probably a lot of death too. I love how the show is using the "excuse" of this project to spread awareness to its viewers too, especially considering most of us grew up with the show and are adults, who will eventually have children (or not, it's always up to you, but you get my point), but many fans who are joining now are barely teens.
While in the ER, a woman that we know is Simone's grandma comes up to Schmidt asking for her daughter Denise (Simone's mom, who died) who is supposed to be in labor to deliver her grandchild. To Schmidt it was nothing, but for me it was heartbreaking to see, knowing what we know about Simone's past.
After this, we switch back to the interns talking about contraceptive pills and implants and all sorts of things to prevent a pregnancy without actually putting effort into it, which causes the kids to get bored and fall asleep, and Bailey to complain seeing such a ridiculous thing. Honestly, it struck me how people who are what? 25-27? care so little about such an important topic as prevention, especially considering how it involves them too. As they talk about these sorts of things, one of the teens gets out of the class and goes to the stairs where she runs into Addie, and explains her period has been late for 3 weeks, and Addie tells her there could be a lot of reasons for it to happen but she will get her a blood work if she wanted to be sure. But while in the class, the interns start discussing with Bailey about how they're not even trying and that the kids who are listening are actually falling asleep… as they proceed to discuss, we see also another kid getting sick, screaming her belly hurts.
We also see Nick running into Zola in the hospital, as she was trying to get to a gallery to watch a surgery, she begs him not to tell her mom, and he takes her to another room to teach her how to use one of the robots surgeons use for minimally invasive surgery (I think? Just my guess). And how he talks on the phone we see her learning the technique all by herself, and he points out she's impressive because he had to take a 10-years-long train to get it right. I love this duo so much, I know he will never replace what Derek was for her, OF COURSE, but I think he can still be an inspiration to her, like Meredith. And I'm glad we get to see them interact without Mer, I think it's important her children get to know him too. As they talk about how good she's at practicing with the robot, at one point we also see Kai entering the room and they start talking to Nick about the clinical trial still running in Minnesota, and as they continue to talk Kai notices Zola literally solved a cognitive puzzle in just a few minutes, and they point out how not even adults can do that in such a short time. I mean we knew Zola was a bright child…but maybe she's a genius too? We'll see.
In the next scene, we see Lucas dealing with Simone's grandmother, as she tells him her daughter as be brought to "Seattle Grace" (the original name of GSMH), and that her surname is Griffith. He doesn't understand at first but as he manages to search her name on the hospital's servers, he comes to the realization the woman they're talking about died in 1995.
We learn the girl who almost fainted during the sex education lessons actually has an ovarian torsion and a cyst that needs to be removed soon, and Bailey asks Jo to call Addison to perform the surgery with her, as Jo tells her they both need privileges to operate in the hospital. In the classroom, the interns are still talking to the bored teens, but as Simone gets paged to the pit (probably by Lucas), Jules, Mika, and Benson start talking in a more friendly way to the teens, involving them in the conversation.
As Simone goes to the pit, she met with Lucas and her grandmother who asks about Denise. As Simone tries to explain she's her granddaughter and that Denise is dead, her grandmother starts panicking and fights Simone. Thankfully Meredith sees everything and intervenes, knowing how to deal with people with Alzheimer, as the woman keeps asking her how to find her daughter. I have to say, this scene was so heartbreaking to see, and we can see from Simone's eyes this has happened before.
In the next scene, we see Nick calling Amelia and Maggie to see what's happening with Zola, and how she's solving cognitive puzzles like it's nothing to her, while Kai tests her capabilities. As I said before, I think we have another genius in the house.
In the meantime, Jules asks Link to make a video with her explaining the meaning of consent, and he diminishes her, saying she should tell this to a real couple instead of talking to him. She asks Winston to convince Maggie to do it, but he refuses, so she asks Owen and Teddy. And let me tell you I LOVED how Owen spoke to the kids, he was authoritative, yes, but considering the importance of consent, he was very good at explaining you can't manipulate someone to give consent. I think they're turning him around a bit and I'm appreciating it. As I loved how empowering Teddy sounded while talking about intercourse.
Meredith and Simone end up talking outside the hospital about Simone's grandmother, and Meredith tells her Ellis had Alzheimer's too, that it's difficult to deal with it, that she feels her pain and that her door is always open to talk about it. And I think this is the peak moment we see Meredith being the greatest Chief this hospital has ever had.
After this, Meredith is called by Nick, Kai, and Maggie and they start explaining to her Zola took Kai's neurocognitive tests and she nailed them all, more than the adults do (both in time and capabilities), and that Zola is clearly a gifted kid. And as a gifted kid, some behaviors (such as panic attacks and anxiety) are typical for gifted kids and she needs to be among peers who can relate to her, her capabilities, and the way she thinks.
The girl Addie met at the stairs is actually pregnant, she panics when she hears Schmidt say the test is positive and says she's - of course - just a kid and that if she can't take care of her fish it's obvious she can't take care of another human being. After her rant, he explains to her how she can terminate the pregnancy under 10 weeks (she's at 3), by just taking some pills, and she accepts. And after Addison gets out of surgery the prepare the girl explaining exactly how to take the pills and how to face the eventual side effects.
In the classroom, the residents are still talking about sex education, and Jules is the one leading the group the most, explaining how "adult entertainment" doesn't give a real example of how relationships, intercourse, and consent actually work. And to "sell it" even more to the internet, she plans to make a music video with all the doctors. It was such a fun idea, and she was brilliant both in the way she talked and in the way she led the lesson. She's still my favorite above them all.
After this, we see Richard and Bailey talking about the said video (it was such a fun bit), and she explains she wanna come back to the hospital the day after, reopen the clinic and dedicate it to reproductive health, while still being an attending and a teacher. And she also explains she has no intention of being Chief again so I wonder…who is gonna be Chief when Mer goes away? Still, I'm very happy we'll get Bailey back on the team, she's the heart of the show and I've missed her.
Simone and Adams end up talking about what happened during the day and she said she found out about Addie being Lucas' aunt. They both decided she would keep his secret if he kept hers.
In the meantime, Amelia and Maggie talk about Maggie's childhood, how she was a gifted kid too and she used to make those cognitive puzzles all the time as a kid and she almost feels guilty for not noticing Zola was gifted too.
At the end of the episode, we see Owen and Teddy finally getting together again (let's just hope they won't fight again after this). And so it happens to Kai and Amelia and…surprising…Jules and Blue? That was a REAL shock.
And finally, FINALLY, we see Nick and Meredith together again, kissing. IT'S CONFIRMED NOW! FINALLY! I hope we get to enjoy the few episodes left with them.
A lot happened in this episode, and I liked it a lot, probably the best of the season yet, and the most educational one in a long time. What did you think of this episode? Did you like it? Let me know in the comments!