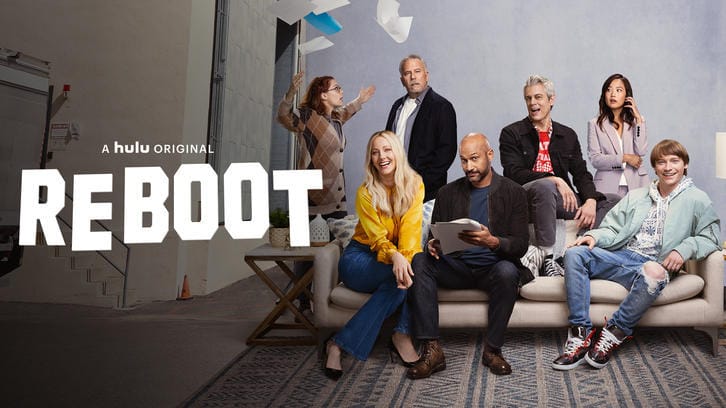 It was only a matter of time before someone made a show about the age of reboots, revivals, and remakes that we are all living in right now. But a snappy premise alone does not make a TV show. Luckily, Reboot proves in its first three episodes that it has a lot to offer.

Created by Modern Family's Steve Levitan, Reboot tells the story of an early 2000s family sitcom that is rebooted on Hulu, forcing its dysfunctional cast back together after all those years. The show takes multiple jabs at streaming, working in television, and the irony of reboots in the modern era, and it is almost certainly elevated by its spectacular ensemble cast. From Rachel Bloom (Hannah) to Keegan-Michael Key (Reed) to Judy Greer (Bree), including Johnny Knoxville (Clay) and Calum Worthy (Zack), the cast is just phenomenal at every turn, with top-notch chemistry and perfect delivery of one-liners and zingers.
The first episode alone, accurately titled Step Right Up after the name of the fictional family sitcom in which Reboot is, ahem, rebooting, has more wisecracks and witty jokes than any sitcom I have watched all year. The show, which appears to title its episodes after popular sitcoms (including fictional ones, if we count the first episode), such as New Girl and Growing Pains (and yes--I love this gimmicky naming convention already), is reminiscent of many other ensemble comedies that bring together a dysfunctional group of people for hijinks and shenanigans, but the one it reminds me the most of us is the wickedly underrated and short-lived Trial and Error. Besides being laugh-out-loud funny here and there, both shows know how to throw a twist. Case in point: the fantastic reveal at the end of Step Right Up that Gordon (Paul Reiser) is Hannah's father.
The second and third episodes do a significantly better job at revealing what kind of show Reboot wants to be as it introduces a team of writers (also dysfunctional group of folks from various stages in life) while forcing Hannah to work with her estranged father, the creator of the original show which appears to be loosely based on the life he had with his other family. Those episodes don't have the pressure of establishing the main characters' backstories very much, giving them a chance to breathe on their own for a bit. This gives characters like Clay the opportunity to interact with who is arguably the least developed character yet, Zack, who was just a child back when the original show aired. Additionally, we get to learn a little more about Elaine (played by the fabulous Krista Marie Yu), the Vice President of Comedy at Hulu who is...new to humor.

The show promises to do plenty more with its characters, but I do have small concerns about the longevity of a show like this. Much like a lot of other sitcoms that couldn't quite find their footing and/or an audience (still upset about Trophy Wife), it's not clear whether the writers have a long-term plan about where the show, both the fictional one and the one we are experiencing, would potentially be going after 10 or so episodes. It's obvious there will eventually be a will they/won't they situation between the two main leads, Reed and Bree, as well as a better understanding of how the Hannah/Gordon dynamic works, but here's hoping Reboot has enough juice to keep it going. I would hate for this one to get the axe and have to be rebooted in the future.
Favorite Lines On Set:

- "Average viewing time: 63 minutes."
- "Are we sure that's not just people leaving it on for their dogs?"
- "No, we tack that."

- "It's both the funniest thing you've ever read, and you won't laugh once."

- "Oh my god, you have such a large penis. Why do you always have to bring up Yale?"

- "I heard that too, Carrot Top. Or Carrot Bottom. I don't wanna make assumptions."

- "I thought gay people were supposed to be fun."