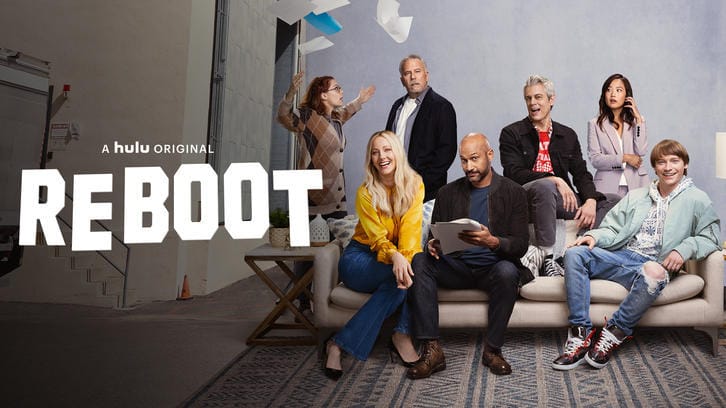 One thing Reboot has managed to do just four episodes in is first and foremost cement itself as an ensemble comedy. This cast has so much chemistry together that I cannot get enough of the "writers room" scenes.
What could have easily faltered in the hands of a lesser charismatic cast and group of writers easily shines when the show doesn't solely focus on the clash of "old" vs "new and hip". In fact, it makes the best of those stereotypes by making fun of everyone while introducing some legit laugh-out-loud moments. This week, it was an absolutely delight watching a group of millennials explain the concept of "scissoring" to the older generation of writers. There are multiple standout moments there, all with a ridiculous number of one-liners and fast-paced zingers, but the show takes it to another level when it uses this seemingly comic subplot to highlight the fact that Hannah never came out to her father.

What follows is a number of hilarious, if not incredibly realistic, failed attempts at coming out to Gordon. It isn't entirely made for laughs as Hannah defers to Benny, another queer writer, for help on this matter. Giving Benny a few more lines and a hint of a backstory is essential in early episodes of ensemble sitcoms, and here's hoping the show continues to find a good balance between developing these characters and humor in the future. It is not the easiest thing to do, especially in a show full of many eccentric characters like Reboot, but I'm optimistic we are headed in the right direction, especially when the payoff is a tender, almost tear-inducing moment between Hannah and her father after she finally tells him she's a lesbian. While an expected outcome, it was still sweet of Gordon to admit that he "knew" ever since he's started reading her interviews where she calls herself a queer filmmaker. More intimate father/daughter moments, please.
Elsewhere, Elaine sets up her first "actor meeting" with Zack, and while I was a bit confused at where this plot was going (are they on a date or is this a work lunch, who can tell?), I was pleasantly surprised by how sweet it all wrapped up. Zack has often been relegated to being the "dumb, carefree" character, so pairing him up with Elaine, who is perceived as overworked, nervous, and generally Type A, is a brilliant creative decision. The two end up bonding by the end, and we get to see a fun side of Elaine we have not seen yet. If anything, this subplot finally moved Zack away from his mother for a bit, which is a huge relief because that was getting a little old already.
The main focus of the episode, which drives the writers' room debate on scissoring, is the fact that Bree and Timberly were "gay last night". Reboot takes lessons from a lot of previous sitcoms that have placed two characters of the same sex in the same bed for laughs except that this show takes it a step further to talk about gender fluidity and Gen Z's. It's a refreshing stance on the subject, and something I wholeheartedly appreciated coming from a show in this genre. Of course, this drives home the idea that the writers are still toying with the possibility of Reed/Bree again, but the longer they tease this, the better. Let the actors breathe a little more life into these characters and the audience become a bit more invested in this relationship before you bring them together; when they inevitably do, I have no doubt it will turn out both hilarious and chaotic in the hands of these extremely skilled actors.

Check out some of my favorite lines from this episode, then feel free to let us know if you enjoyed this week's episode!

Favorites Lines On Set:

- "What does 'yous laid' mean?"

- "The last time I got busy with a coworker, Reed, it got awkward."
- "Maybe because you used the term 'got busy'."
- "What do people say now?"
- "Fucking."
- "I'm used to network television."

- "You can't put me in a box."
- "Not for another year or so."

- "Alright, let's not pry into each other's sex lives."
- "That's half the reason I come to work."