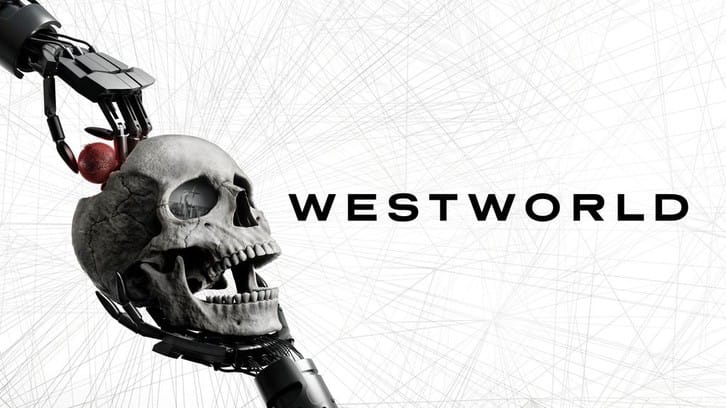 One of the most impressive things about this season of Westworld is how it's managed to tell coherent, entertaining stories consistently from the start while giving its stars a chance to shine in ways they haven't since season one. This week's episode absolutely belongs to Aaron Paul.
"Fidelity" puts Caleb through the wringer, giving Paul a chance to really show off his acting chops throughout this stellar hour. Whether he is confronting previous versions of himself, looking at clues and breadcrumbs he's left in his attempts to escape Halores' captivity, or excruciatingly finding ways to leave a message to his future daughter, Paul is magnificent and extremely difficult not to root for. His escapades reach a particularly bone-chilling twist when he realizes he needs to use a previous version of himself as scapegoat to jump off a crawl space vent. It is brutal, harrowing, and equally shocking in ways I didn't think
Westworld
can be anymore. Color me intrigued.
Caleb's adventures sadly end up taking him exactly where Halores wanted him to, which is only slightly disappointing from a narrative standpoint but completely understandable to point Halores as the ultimate Big Bad this season. I've said this before and it is worth repeating: Tessa Thompson is phenomenal in the role, portraying a ruthless villain set to get what she wants, no matter the cost.
The smart thing about this week's episode is putting Caleb's daughter Frankie/C just as front-and-center as him. Her adventures with her mother during the episode's opening scenes are eerie, especially as the rebels pretend to be hosts instead of outliers. Meanwhile, adult Frankie/C, while helping Bernard bring Maeve back online, has to deal with a mole in their group. This reveal could have been a little more exciting, but the big brawl with C against Jay adds a nice layer of exhilirating action to an otherwise character-focused, tense hour of television. Plus, we get to see C kick some ass. More of this, please and thank you.
Luckily, the writers give us a little bit of Maeve again this week. After Bernard and C spend some time finding and replacing her control unit, Maeve is officially revived (to no one's surprise), and Thandiwe Newton wastes no time being badass. For her, she has been
years
in slumber, but while it's only been a couple of episodes for audiences, it is still immediately relieving to watch her return and save C from getting killed. I can't wait to see her eventually reunite with Dolores/Christina in an attempt to take Halores down for good.
Additional Thoughts from the Park:
- The visual of Caleb on top of the drone hosts (the creepy, white robots) with him stabbing it in the eye is such an incredible shot. What a gag.
- I let out a huge sigh of relief when C's girlfriend Odina
didn't
turn out to be the mole, despite all the obvious signs pointing at Jay. Please no "bury the gays" trope on my
Westworld
, thank you.
- What is the deal with Clementine this season? And does anyone have any guesses as to why Halores is "bleeding"? Is she somehow becoming an outlier in her own world?
- "Your hosts would rather die than live in your world." Ouch, that must've hurt.
- That remix of the Westworld theme at the end had me cheering. The music on this show never fails to give me goosebumps.
- What did you think of this week's episode? Did you love Aaron Paul's performance half as much as I did? Sound off in the comments below!