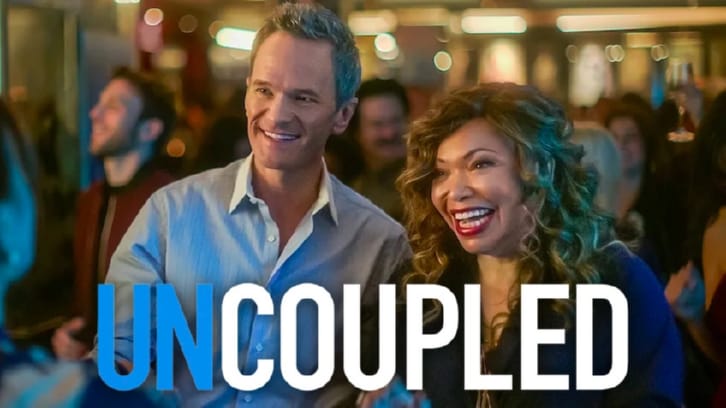 This review contains spoilers that may reveal entire plot points from the first season of Uncoupled, so read at your own risk!

On first glance, Uncoupled appears to be a gayer Sex and the City, to which you may ask "is there such a thing?". The answer is yes, minus a few dating escapades.


The new Netflix comedy, which dropped all eight 30-minute episodes last week, is a fantastic vehicle for Neil Patrick Harris. Much like his role on
How I Met Your Mother
, NPH's Michael Lawson wears fancy suits, lives in New York City, and is pretty rich. Unlike Barney Stinson, Michael is a middle-aged gay realtor who is thrust back into the dating pool after his boyfriend of 17 years moves out, ending a long-term relationship with little to no explanation. The show promises dating hijinks and awkward first dates, but doesn't always deliver on that promise (for better or worse); instead, creators Darren Star (
Sex and the City
) and Jeffrey Richman (
Modern Family
) focus on taking their characters on a much more dramatic journey.
It's not a bad thing, by any means. On the contrary, seeing a vulnerable and sometimes angry Michael gives NPH the opportunity to showcase his acting skills in a way that he hasn't done in years. While characters like Suzanne (Tisha Campbell) and, my personal favorite, Claire (Marcia Gay Harden) get most of the laughs throughout the season, it's still refreshing and exciting to see NPH play a gay man on TV, a nice change from his playboy womanizer role he previously helmed for nine years. While
Uncoupled
doesn't quite go for the
Grace and Frankie
vibe, the writers do often focus on middle-aged characters existing in a millennial-centric world. As a gay millenial myself, I found these storylines authentic and much needed at a time when queer stories are often relegated to Gen Z characters. More, please.
Not that
Uncoupled
pulls back from dating hijinks completely. Mind you, there are dick picks, Grindr jokes, needy dates, blowjobs, almost-threesomes, Botoxing buttholes, and more. It's all perfectly fitting for a sitcom about gay men played by queer actors, but it left me wanting more. When it came to Michael's dates, I could probably say the same about the diversity given that he is always paired with white men, but perhaps with more dating romps and woes, we would have been treated to a little more in that area. Ultimately, if the show wants to exist for multiple seasons, I can definitely see it embracing more stories about awkward dates, something along the lines of Luke's storyline from "Chapter 6", played by the handsome Dan Amboyer, who gets a little too attached to Michael, starts calling him "babe" within a week and almost moves into his apartment. It's a hilarious, if slightly stereotypical, depiction of "gays move fast", but executed in a way that is sitcom-y in the best way possible.
While the setting isn't anything original or revolutionary by any means,
Uncoupled
manages to give New York City a lot of love. It's absolutely reminiscent of
Sex and the City
in that way, as well as in the show's love for an ensemble cast. Characters like Stanley (Brooks Ashmanskas) and Billy (Emerson Brooks) only get a little bit of forward development near the end of the season, and it's always lovely to see André De Shields of
Hadestown
fame on screen. Here's hoping he gets to come back to some capacity if the show secures a renewal, and here's hoping that Netflix doesn't axe yet another queer-led TV show because this one in particular definitely deserves to see the light for a little while longer. Unfortunately for Netflix, I'm now as attached as Michael is to his ex.
Additional Uncoupled Thoughts:
- Much love to Marcia Gay Harden for her incredible role, playing a middle-aged woman grieving over a nasty divorce. I found myself rooting for Claire over and over again, and I'm hoping she gets to come back.
- The last couple of episodes certainly go in an unexpected route, particularly Stanley's breast cancer storyline in the season finale. Not sure where that is going next, but I'm rooting for you, Stanley.
- I'm not very happy seeing Colin at the apartment in the finale's closing moment, but I will admit it feels like a classic sitcom cliffhanger. I suspect Michael will take him back for an episode or two, and then they will
uncouple
again, horrible pun intended.
- Speaking of cliffhangers, Suzanne's reaction upon seeing who her baby daddy is took me by surprise. Not sure if it will be a character we will recognize (but doubtful?), and yet I'm fully invested in this.
- What did you think of
Uncoupled
and are you hoping the show returns for another season? Sound off your comments and observations below!