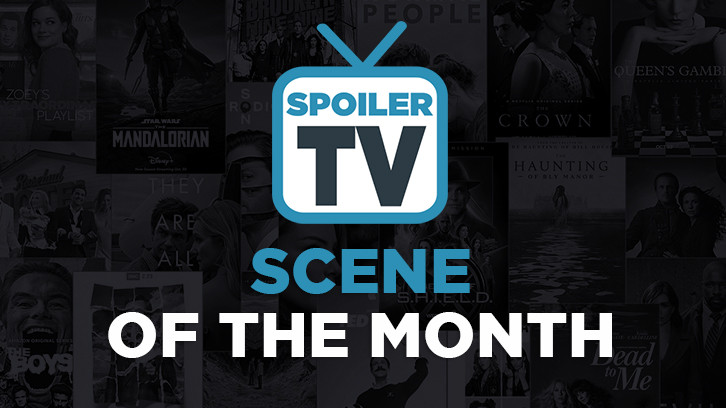 A monthly feature in which we're trying to find the most compelling, best acted, written, directed and just generally great, memorable scenes that we've seen in the past month.
BETTER CALL SAUL, "Fun and Games", July 18th, 2022, Actors: Bob Odenkirk, Rhea Seehorn, The Scene: Jimmy begs Kim to stay
Natalie:
Jimmy desperately begs Kim to stay, but fails - A heartbreaking scene that everyone knew would come eventually, but still felt like a punch to the gut. Some of Rhea Seehorn and Bob Odenkirk's finest work.
BLACK BIRD, "The Place I Lie", July 29th, 2022, Actors: Taron Egerton, Paul Walter Hauser
The Scene: Larry confesses to Jimmy
Folie-lex:
It's been 3 episodes of Jimmy trying to get close enough to Larry to have him talk, and finally, in the show's penultimate episode, he did... and it was chilling... just absolutely chilling. Accentuated by both performances, Paul with his deadpan matter-of-fact delivery as well as Taron playing Jimmy's suppressed horror while putting on the friendliest of faces, the scene leaves you numb in all the right ways.
BLOOD AND TREASURE, "Into the Forbidden Zone", July 31st, 2022, Actors: Matt Barr, Sofia Pernas, The Scene: Danny and Lexi say their I love you's
Beth:
This show has been sorely missed and part of that is because of the amazing dynamic of Danny and Lexi. Each week, they showcase why we root for them as a couple and it culminated in this episode when they finally said those 3 words. I loved how it happened because it encapsulates their relationship so well.
Folie-lex:
It was fun and off the cuff and genuine and honest and in the middle of absolute chaos around them... just so them in every way. This is why these two are OTP material after all.
EVIL, "The Demon of Algorithms", July 17th, 2022, Actors: Michael Emerson, Christine Lahti, Patrick Brammall, The Scene: The reveal about Andy
Laura B:
It's revealed that Andy is in Leland's storage space. Ok, I knew the Kings would eventually have to do something with this, 'the death of Andy' storyline, because of the David & Kristen romance-thing, and while it's still playing out, I have to say I never expected this! Climbing and dying on Everest (accidental or not) or making us think he died, only to have him show up again later, or even being a semi-annoying ghost/guardian angel all came into my mind, but this whole idea of whatever Cheryl and Leland are doing to him is a true twist that not only shows how deep Cheryl's own jealousy and hatred reside (in besting Leland and trying to seemingly control her family), but also may further Evil's weird mythology in some unexpected new way!
GOOD TROUBLE, "Baby, Just Say 'Yes", July 14th, 2022, Actors: Booboo Stewart, Emma Hunton and more, The Scene: Everyone welcomes Luca home
Luana:
This moment was just so sweet, I'm loving Luca.
MAGGIE, "Things End Where They Began", July 6th, 2022, Actors: Rebecca Rittenhouse, David Del Rio, The Scene: Maggie's last vision
Luana:
I did not expect to like this show so much, and that ending gave me goosebumps. I'm not sure what it all means but I just hope we get to watch how the story unfolds. I'm sure I'd just fall deeper in love with these characters.
MOTHERLAND: FORT SALEM, "Book Club", July 26th, 2022, Actors: Jessica Sutton, Jillian Fargey, The Scene: Tally's mom tells her to get back into the fight
Luana:
This episode focused a lot on family and though I loved the interactions between Raelle's dad and Scylla, I can't forget the moments with Tally and her mom, especially their last talk where it's so clear how much Tally has grown up and how much her mother respects her. It was beautiful despite happening before the battle.
MS. MARVEL, "No Normal", July 13th, 2022, Actors: Iman Vellani, Brie Larson
The Scene: The post credit scene
Alejandra:
It's a little introduction to The Marvels that leaves you wanting more & we see Captain Marvel's face once again.
ONLY MURDERS IN THE BUILDING, "The Last Day of Bunny Folger", July 5th, 2022, Actors: Jayne Houdyshell, Steve Martin and more, The Scene: Bunny wants to join the trio in their celebration
María:
During the whole episode we get to see a side of Bunny that we hadn't seen before, and in this particular scene, that goes from funny to awkward to sad, it is very clear how lonely she felt, because she's even willing to get closer to the least likely people, maybe because she thinks that she could fit with them being kind of outsiders like her. So she brings them a bottle of champagne and even agrees to wear the sweatshirt they give her, but still, our main trio, probably because of the antipathy they naturally feel for her, miss these signs and don't realize her intentions in time. As Charles sums it up, if they had, they might have been able to save her life.
PAPER GIRLS, "Weird Al Is Dead", July 29th, 2022, Actors: Riley Lai Nelet, Ali Wong
The Scene: Young Erin meets Adult Erin
Chris C:
Every time-travel story has a "younger self meets older self" moment, and Paper Girls' execution of the two Erins meeting, asking loaded questions like "are you happy?", and realizing just how different her life turned out to be is nothing short of exemplary.
STRANGER THINGS, "Chapter Nine: The Piggyback", July 1st, 2022, Actors: David Harbour, Millie Bobby Brown and more, The Scene: Hopper and Eleven reunite
Justyna:
This is one of the hardest choices for SOTM I've had to make in a while. In these final two episodes alone there were so many fantastic scenes worth to highlight in the article. No wonder this show is one of my all-time favorites. To name a few: Vecna's message to Eleven had me on the edge of my seat, Eleven confronting Brenner after years of his abuse was so satisyfing, Joyce and Hopper getting together was long-awaited and heartwarming, and it was lovely to see Jonathan and Will have a moment of shared love and understanding. Then there's all the heartwrenching parts - Max's confession about Billy, Eddie's sacrifice and Dustin telling his uncle about his final stand. But while Eddie's death had me emotional already, Max's truly broke my heart. I also seriously considered choosing the moment when our good guys fight back (Hopper with a sword and Steve, Nancy and Robin going after Vecna in the Upside Down), especially due to the incredible editing and a stellar remix of "Running up that Hill" and the show's main theme. But in the end, after the absolute rollercoaster of emotions that this season has been, there finally came the scene that I've been waiting for since the end of season three - the reunion of Hopper and Eleven. And honestly, I really needed it at this point. It was beautiful, incredibly emotional and wonderfully acted by both David Harbour and Millie Bobby Brown. This father-daughter duo is probably my favorite duo on the show, which really says a lot, considering how many great ones we've had over the years. Loved their exchange and all the callbacks. Let's never separate these two again. Please and thank you. Kudos to the entire cast & crew of the show for all the work on the series.
THE BOYS, "Here Comes a Candle to Light You to Bed" & "The Instant White-Hot Wild", July 1st & July 8th, 2022, Actors: Karl Urban, Dominique McElligott, Jensen Ackles and more, The Scenes: Queen Maeve sacrifices herself to contain Soldier Boy & Butcher begs his past self not to leave his brother
Alejandra:
Queen Maeve sacrifices herself to contain Soldier Boy - Even if we find out before the end of the episode that Maeve doesn't actually die and just loses her powers, still managed to make me cry while it was happening.
Luana:
Butcher begs his past self not to leave his little brother alone - This scene broke my heart, Billy begging his past self to stay and not leave his brother alone with their abusive dad, you could see in his face what was going to happen, which didn't make watching it much easier, but it was brilliantly performed.
THE SUMMER I TURNED PRETTY, "Summer Love", June 17th, 2022, Actors: Rachel Blanchard, Christopher Briney, Gavin Casalegno, The Scene: The boys beg their mom to get treatment
Luana:
I don't know if it's my age but I found myself much more interested in the adults' storylines on this show. And this particular arc with Susannah and Laurel was heartbreaking, but even more painful was the moment when the boys beg their mom to try to get treatment and see her realize she will accept even though it will bring her a world of pain with no hope of it truly working. The performances were truly incredible, especially Rachel Blanchard's.
THE UMBRELLA ACADEMY, "Wedding at the End of the World", June 22nd, 2022, Actors: Elliot Page, Tom Hopper, Robert Sheehan and more, The Scene: Luther's bachelor party
Justyna:
Choosing a single scene out of five episodes full of memorable moments? Let's think... Klaus is my favorite character, so his interactions with Reginald, Ben and the rest of the siblings are certainly high on the list. There's also the shocking and brutal betrayal at the end of episode nine and the absolute insanity of the finale. But the episode that stayed with me the longest is actually the least action-packed of them all. It's the wedding hour, where we finally get a chance to see the whole group interact and celebrate together, despite it being the end of the world. Loved all the siblings dynamics on display (except anything with Allison), especially the impromptu bachelor party. It's just a sweet, heartwarming moment, nicely summarized by Luther and Viktor's conversation. Such a good change for this family to simply spend time together, genuinely relax and enjoy each other's company. Singing and dancing to the "(I've Had) The Time of My Life" karaoke, led by Five and Klaus. I even enjoyed the brief glimpse of Ben's reaction, because we finally get to learn more about him, and understand him better. It's clear he wants to be a part of the group but can't bring himself to become a member of this family. Kudos to cast & crew for all their work on the season. Hopefully there's more awaiting us in the future.
WESTWORLD, "Generation Loss", July 17, 2022, Actors: Evan Rachel Wood, Jeffrey Wright, Aaron Paul and more, The Scenes: Caleb's discovery & Christina and Teddy on a date
Justyna:
I enjoyed season three, but watching this one has made me realize all the things that I've been missing. Now at last, Westworld is truly back to its best days. And it's Caleb's realization at the end of episode four, in parallel with the discovery of the weapon that Bernard has been searching for, that completely changes the game. We are no longer fighting to stop Charlotte/Dolores, she has already won, a long time ago, and now it's time for humanity to fight back. I'm not sure at which point during the episode I realized that Bernard was looking for Maeve but I love the way the pieces came together and made complete sense. Perfectly done. The music, the slow realization, Aaron Paul's incredible performance. I realize that this show may not be for everyone, but for this scene and episode alone - it most certainly is the right match for me. Can't wait to see what's next. Kudos!
Chris C:
Christina and Teddy on a date - It was a very emotionally charged scene, toying audience with their cheesy pickup lines and the "have we met before" question so well and so beautifully. It's made all the more impactful thanks to Ramin Djawadi's choice to play a solo piano cover of Frank Ocean's "Pink + White" in the background. I'm still tearing up.