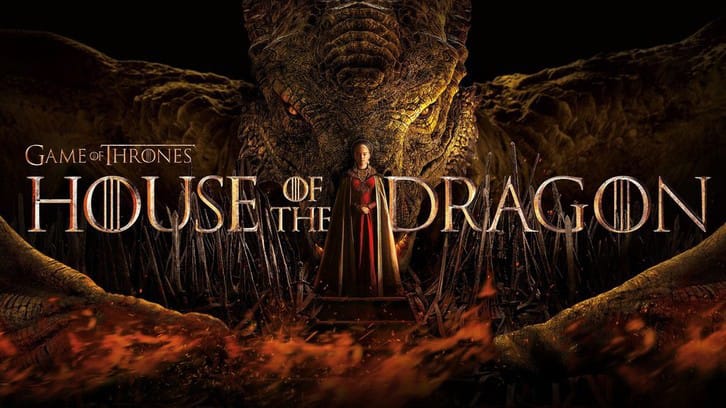 It's no surprise that Game of Thrones' long awaited prequel is taking the world by storm, breaking viewership records for HBO and Sky, securing a season renewal after just one episode, and dominating social media again. House of the Dragon promises to be on par with the first few seasons of GoT, so it's hard not to get excited about must-watch Sunday night television again.

Set 172 years before Daenerys Targaryen was born, The Heirs of the Dragon introduces us to young princess Rhaenyra Targaryen (played by Milly Alcock), who would much rather spend her time on the back of a dragon with her friend Alicent, wandering across the Narrow Sea, and eating only cake. Instead, she finds herself constantly confined within King Viserys' world, one where the King, her father, is anxiously awaiting to have a son, the only obvious choice for an heir. The only other contender for such a position is none other than his own brother, Prince Daemon (played by Matt Smith in a horrendous wig to remind us that these are Targaryens). Daemon is sleazy, slimy, cocky, and just plain horrible, whether he is mass murdering townfolks, celebrating family tragedies or crossing the lines during the Heir's Tournament.
Much like the earlier seasons of Thrones (and yes, I promise to limit the parallels as the season progresses), House of the Dragon aims to be a serious drama full of family woes, throne intrigue, and engaging conflicts based on George R. R. Martin's Fire & Blood novels. It's safe to say that it succeeds on almost every account with gorgeous visuals (hello, $200 million budget for one season), fantastic performances all around, and that sweet, familiar, goosebumps-worthy score. It swaps out action-packed realm wars for a family affair that is just as gripping and compelling, and it still does it in a way that delivers gory, dark material.
And yes, the premiere sure delivers on the goriness during the brutal birth scene in which Queen Aemma Arryn is forced to have her baby delivered when King Viserys makes a deliberate choice to sacrifice her life for the chance to have a boy. It's an emotionally charged, horrifying sequence made all the more shocking as it is intercut with knights tussling for a cheering crowd at the Heir's Tournament. The camera doesn't shy away from these crucial moments, purposely focusing on the Queen's abdomen as it gets sliced open with a blade, followed by the overflow of blood everywhere. It all makes for a very shocking viewing experience culminating with the reveal that both the Queen and the baby boy die shortly after. Goodness grief.
It's a pivotal moment for the premiere and for Rhaenyra, who is undoubtedly going to have to learn the ways of the throne as the show progresses. Alongside her is an ensemble of many fascinating characters, including Otto Hightower, the King's Hand, Ser Criston Cole (a possible love interest?), and most intriguing to me Lord Corlys and Princess Rhaenys Velaryon, aka the Queen Who Never Was. The possibilities are endless, and I can't wait to see Rhaenyra's dynamic with each and every one of them.
It's a smart move to center a universe as expansive and epic as Westeros onto King's Landing alone, and it grounds
House of the Dragon
in a way that is much needed. It's much more focused on the journey rather than the destination, brilliantly shedding the light on just a small number of characters in its first episode while still giving
Game of Thrones
fans something meaty to chew on: Viserys' reveal that the entire monarch has been sharing the secret that Aegon's mission was to unite the realm against the threat beginning with Winter. It's a spectacularly executed twist that feels much more compelling than a simple cameo, not that we should expect any Thrones' characters to pop up in this show, and it ends the premiere on a breathtaking high note: Rhaenyra Targaryen becoming the Princess of Dragons and heir to the Iron Throne.
Additional Thoughts from King's Landing:
- Dragons! We see just a couple of them, including the chills-inducing moment Rhaenyra says "Dracarys". Excited for more sightings!
- "The gods have yet to make a man who lacks the patience for absolute power, Your Grace." Wise words from Otto.
- I'm not saying that Princess Rhaenys Velaryon is already my favorite character, but I'm not saying she's
not
after this quote: "It's been 70 years since King Maegor's end. These knights are as green as summer grass. None have known real war. Their lords sent them to the tourney field with fists full of steel and balls full of seed, and we expect them to act with honor and grace. It's a marvel that war didn't break out at first blood."
- No, but seriously, Matt Smith's wig. Prison, honey.
- What are your thoughts on the series premiere? Did it win you over immediately or do you need more time to decide? Sound off in the comments below!