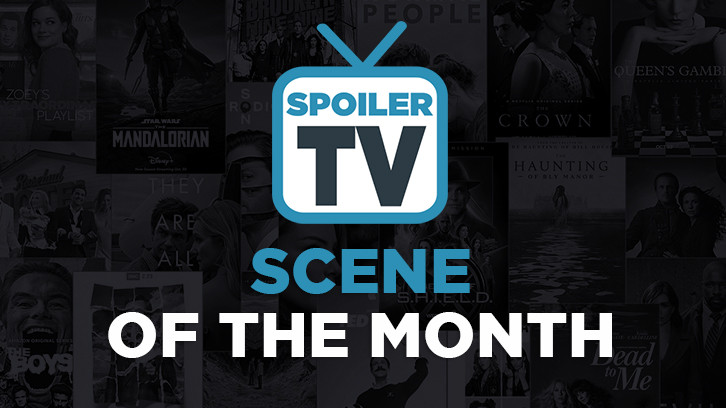 A monthly feature in which we're trying to find the most compelling, best acted, written, directed and just generally great, memorable scenes that we've seen in the past month.
CHARMED, "Be Kind. Rewind.", June 3rd, 2022, Actors: Nazneen Contractor, Sarah Jeffery, Melonie Diaz and more, The Scene: Inara kills everyone
Marko:
The way the situation escalated just in a blink of an eye, just when it seemed like The Charmed Ones were getting the upperhand Inara killed one after the other. The emotional work delivered by Sarah Jeffery and Melonie Diaz broke my heart in million pieces. The show destroying all hope with just a glimmer of it surviving was a perfect setup for the finale.
EVIL, "The Demon of Death", June 12th, 2022, Actors: Wallace Shawn, Mike Colter and more, The Scene: Frank comes back to life
Laura:
It was so fun to have Wallace Shawn in this "fringey" episode, mostly because of his stint on The Good Wife & The Good Fight where his lawyer character Charles Lester was often in tangent with Mike Colter's sophisticated drug dealer Lemond Bishop, but in the same breath and as funny as Shawn almost always is, the forbidden romance between him and Father Matt ended up also being tragically heartbreaking, since Frank leaves their church in search for another. But I was glad Frank made it and hope that we will see Shawn again later in the season!
FIRST KILL, "First Betrayal", June 10th, 2022, Actors: Aubin Wise and more, The Scene: Talia fights for Theo
Luana:
First Kill was definitely a mixed bag, but Aubin Wise as the Mother in this Hunter family was an amazing standout and she absolutely killed it when she had to fight for the life of her son, she tried pleading with her husband and with Apollo, and when she wasn't successful she found another way. I hope we get to see more of her.
FOR ALL MANKIND, "All In", June 24th, 2022, Actor: Joel Kinnaman, The Scene: Ed sits in the captain's chair
Milo:
For All Mankind Season 3 has been the best season of the show thus so far, and Ed is at its epicentre. Pushed aside by NASA after being on the wrong end of a boardroom conflict between his superiors, he joins the third party in the race for Mars - driven again by the belief that the race to be the first person to accomplish something would fix all his issues (it won't). His All American boy scout sensibilities make him feel like he'd be right at home with Top Gun's own Maverick by sticking it to NASA, and joining Helios. The whole set-piece that led to the revelation of him changing sides felt like watching a surprise football transfer happen - and changed the game nicely.
HACKS, "The One, the Only", June 2nd, 2022, Actors: Jean Smart, Hannah Einbinder, Paul W. Downs and more, The Scenes: Deborah's emotional goodbye to Ava & Someone dies during Deborah's performance
Natalie:
Deborah's emotional goodbye to Ava is a full-circle moment between the two. Both have grown so much since season 1 and it shows here when Deborah frees Ava to work on other projects, telling her she needs to make space for her own work. This taking place during the celebration party when both are feeling on top of the world is like an extra punch to the gut. "You're just like me" Deborah tells her, while Ava starts to cry at the realization she's about to lose the people she has begrudgingly come to love. Beautiful work by both Jean Smart and Hannah Einbinder and an interesting setup for season 3.
Alejandra:
Someone dies while Deborah is performing. They can not escape chaos. It was such a weird/intense moment. Loved it.
KUNG FU, "The Source", June 15th, 2022, Actors: Yvonne Chapman, Olivia Liang, The Scene: Zhilan sacrifices herself
Marko:
Zhilan takes Nicky's place and sacrifices herself for the greater good. Zhilan's emotional journey in this episode was heartbreaking and Yvonne Chapmann just blew my mind with her performance. The single-minded and selfish Zhilan repented all of her evil doing with this choice. Coming to peace with her mistakes and accepting the punishment. Zhilan sending Nicky away knowing she would die broke my heart.
LEGACIES, "Just Don't Be A Stranger, Okay?", June 16th, 2022, Actors: Danielle Rose Russell, Joseph Morgan, The Scene: Klaus' final goodbye
Luana:
I can't say I like everything about how the show ended, and especially how sudden the cancellation news was, but they managed to give us some amazing moments and I appreciate the love they gave the fans by bringing both Caroline and Klaus back, and boy did Klaus' final goodbye made me tear up, this is exactly what Hope needed and I hope I get to see Danielle Rose Russell on something else because she's an amazing performer.
LOVE, VICTOR, "Brave", June 15th, 2022, Actors: Michael Cimino and more, The Scene: Victor's speech
Luana:
I love this show and I'm so glad they were able to give it a proper conclusion, and though the romance was a big part of that, I think the speech was a perfect encapsulation of what made the show so great. I will miss these characters and I'm glad we got to see this story.
MOTHERLAND: FORT SALEM, "Homo Cantus", June 21st, 2022, Actors: Taylor Hickson, Amalia Holm and more, The Scene: Scylla's ex shows up
Alejandra:
Scylla's ex shows up right in front of The Unit and everyone's too stunned to speak, specially Raelle. Comedy gold is what this scene was.
MS. MARVEL, "Destined" & "Seeing Red", June 22nd & 29th, 2022, Actors: Iman Vellani, Matt Lintz, Yasmeen Fletcher and more, The Scenes: The wedding reception & Nakia confronts the DODC agents & The final battle
Justyna:
I've had a hard time choosing which scene from the show to highlight in the article. I've been really enjoying the series so far. Truth be told, any family interactions or culture aspects win over the superpowers and fighting the villains parts of the story for me. It's the genuine moments between Kamala's family and friends, and the history and traditions that steal the show most of the time. That is why I wanted to give a shout-out to a beautiful and heartwarming scene that combines it all - the wedding celebration. Aamir, Kamala's brother gets married and the whole family and their friends gather for a joyful wedding reception that features a couple of musical numbers performed by the guests themselves. It's lovely to see everyone's display of love and support for the couple and each other. Kamala and Aamir's parents are a great duo. They may not always be what Kamala would want them to be, but they're always there for her and rooting for their kids to succeed. (Side note: How wholesome was the idea of her dad dressing up as Hulk for the AvengerCon, even if all went badly in the end?) Also loved Bruno being embraced as part of the family and joining the dance number with Kamala and the others. He doesn't seem to have a lot of family of his own, making this even more special. Just an all-around moment of joy and celebration to raise the spirits. Exactly what I needed. Kudos to cast & crew for all their work!
Chris:
Nakia kicks Department of Damage Control out of the mosque - Very rarely do we get to see mosques depicted in media, so Fletcher schooling a Damage Control agent about needing a search warrant was satisfying on every level. The camera work making sure audiences see just how dismissive the agents are, especially as they enter the place of worship without taking their shoes off, was a nice villainous touch. Nakia spinoff when?
Marko:
The final battle. One of the best executed Marvel fight scenes to date. Such a glorious and intense chase with so many shifts and turns. Major kudos to cast, stunt cast and crew for delivering a fast paced, exciting fight sequence.
OBI-WAN KENOBI, "Part V" & "Part VI", June 15th & June 22nd, 2022, Actors: Ewan McGregor, Moses Ingram, Indira Varma and more, The Scenes: Tala and Ned's sacrifice & Reva brings Luke back
Folie-lex:
Tala and Ned's sacrifice. It is hard to single out one moment from such an excellent episode of the show. However the emotional impact the loss of these two original characters of the show (one of which was also a droid no less) is a testament to Obi Wan's excellent character work and world building.
Laura:
Reva brings Luke back to Owen & Beru, and Obi-Wan offers further redemption. It was hard not to choose a scene without Princess Leia, as Vivien Lyra Blair did a fantastic job all the way through the series, but I chose this scene because it is so significant to both Obi-Wan's & Reva's character arcs respectively (and unknowingly super ironic for Luke's), but also to the Skywalker Saga spiritual mythos, which had yet to really let a dark-sided character redeem themselves and live to tell the tale!
SHERWOOD, "Episode 1.1", June 13th, 2022, Actors: Lesley Manville and more, The Scene: The police breaks the news to Julie
Milo:
"There's Somebody at the Door" - This British crime series has been a sensational masterpiece and one of the best of the year so far - and the usage of the words "there's somebody at the door", such a simple thing that a normal family does to show you a quirk of their life early on in an innocent situation made it all the more harrowing that Julie was so shocked by when she was told the second time and opened the door to find the police there to break the heartbreaking news - her husband was killed by the crossbow killer and was left lying in the streets not far from her home. Devastating is underselling it - and Manville's performance has not left my mind since.
STAR TREK: STRANGE NEW WORLDS, "Lift Us Where Suffering Cannot Reach", June 9th, 2022, Actors: Anson Mount, Lindy Booth and more, The Scene: The boy is sacrificed
Laura:
Strange New Worlds has been an excellent entry bringing back a lot of classic Trek feels, but I'm also a viewer that had been enjoying some of the other new series too, such as 'Discovery'. Its first season had a kind of darker psychological edge to it occasionally reminiscent to Deep Space Nine (a show I definitely miss), something that I suspect had to do with Bryan Fuller's draft before he was fired from the series. So I was a bit surprised to come across an episode like this where really was a no-win situation and where Pike is continuously forced to reasses all of his previous feelings (because of the prophecy/vision), since this was something that was accepted and enacted by his long lost love interest, Alora. It was just a hit in the gut I wasn't expecting, giving it a bit of modern edgyness that was well-balanced with its usually hopeful outings.
STRANGER THINGS, "Chapter Seven: The Massacre at Hawkins Lab", May 27th, 2022, Actors: Jamie Campbell Bower, Millie Bobby Brown, Natalia Dyer and more, The Scene: The Vecna reveal
Justyna:
This has to be my favorite season of the show so far. It might be the recency bias talking, but I honestly can't remember the last time I felt so engaged and constantly on the edge of my seat when watching something. It must have been a while. The moment when Nancy falls into the darkness and hits the bottom of a pool took me completely by surprise. Such a terrifying and sudden shift in the story. But there's a reason why Vecna attacks her. Though he initially uses his normal tactics to scare and break her, his main goal is revealed in parallel with Eleven remembering the truth about the day of the massacre at the lab. We watch a series of events and memories that shed a light on our main antagonist. His own narration reveals that Vecna is none other than the Friendly Orderly from Eleven's past. Not only that. He is also One, the very first subject of Dr. Brenner's experiments on children with powers. And if that wasn't enough, he is also Henry Creel, the same one that we, as an audience, met back in episode four during Victor Creel's tragic story. I admit that I was fully expecting the orderly to be introduced as One, but to be ALL of these seemingly unrelated characters? Such a wonderfully done and satisfying revelation. Jamie Campbell Bower has done a fantastic job in his portrayal of One/Vecna/Henry and his work had made this villain a much more interesting and layered character than I expected. The entire sequence, changing between Nancy's and Eleven's perspectives is easily worth every minute it takes to be fully told. I also want to give a shout-out to the music that accompanies this scene. The music in season 4 in general - both the soundtrack and the score - has been one of its biggest strengths. Kudos to cast & crew for all their work on the show!
THE BOYS, "Herogasm", June 24th, 2022, Actors: Karl Urban, Jack Quaid, Antony Starr, Jensen Ackles, The Scenes: Soldier Boy and an empowered Butcher and Hughie join forces to fight Homelander & Homelander's mirror conversation
Justyna:
It's "The Boys" so of course this has been an insane season with a lot of memorable scenes (even some that I'd rather forget or at least skip). But I actually loved the clever marketing done around "Herogasm" episode. Sure, there was some stuff not suitable for... well, most places, but it also had some of the best character moments and one spectacular fight that I really wanted to highlight in the article. The most shocking part of the hour for me was probably its ending, Annie in general had some excellent scenes and ideas throughout the season. But it was just so entertaining and simply satisfying to watch a fight which Homelander could actually lose. Can't imagine how happy it made Butcher to finally hit him in the face and exchange punches on a much more equal terms. Also, really enjoyed the team-up between Soldier Boy and Billy and their actual cooperation during the fight. The cape trick was brilliant, especially considering Soldier Boy's earlier comment. And Hughie's arrival was both unexpected and perfectly timed. I'd be very curious to see what would have happened to this series if this really was the end of Homelander. But either way, great action sequence and an important milestone for the characters. Also appreciated that small moment when Butcher tells Hughie to run, trying to protect him from the blast. These two have a very complicated but truly compelling relationship. Kudos to cast & crew! Wonderful work by all the actors and the entire crew behind this scene.
Giulia:
I know, I know, Herogasm was the episode everyone was waiting for and with good reason. It's actually a great hour of television and not just for what one might think. Yes, there's A LOT going on in that episode and I feel like the orgy itself isn't even the most interesting part, even though it was shot with mannerism and care. The standout part for me is Homelander literally looking at himself in the mirror; a very powerful scene, where Antony Starr shows how great he is at playing Homelander. It also shows the depths that the show has and how introspective it can be.
THE FLASH, "Negative, Part One", June 22nd, 2022, Actors: Grant Gustin, Candice Patton and more, The Scene: Barry accidentally kills Iris
Marko:
What a terrific performance by both leads. Iris seeing what was coming and narrating the upcoming events while Barry was charging for his attack was executed perfectly. The way the intensity build up and how the seconds after the strike felt like time wasn't moving, breathtaking.
THE OLD MAN, "III", June 23rd, 2022, Actors: Jeff Bridges, Amy Brenneman, The Scene: Dan Chase is attacked in the rental
Prpleight:
I just loved the way this sequence was directed. I'm usually ahead of what happens in the shows I watch. This was a rare moment where I was as caught off guard as the character. Watching Zoe sit in the car I was waiting on her to change her mind about walking away. I wasn't ready to move into the fight sequence. I was just dropped into it. I love when I have moments like this. I can only remember one other time that the directing of an episode of television made me sit up and think 'oh wow, I love that'. (Babylon 5 ICYW)
THE STAIRCASE, "Seek and Ye Shall", June 2nd, 2022, Actors: Colin Firth, Toni Collette, The Scene: Kathleen and Michael at the Chinese restaurant
María:
The scene begins with a very light tone but as it unfolds, the atmosphere changes completely and we see how the characters lose the mask of the happy and perfect couple they are always keeping in front of others, because they finally say what they really think of each other. Great performances from both actors.
THE UMBRELLA ACADEMY, "Meet the Family" & "Kindest Cut", June 22nd, 2022, Actors: Robert Sheehan, David Castañeda, Tom Hopper and more, The Scenes: Klaus discovers one of his powers & The Footloose Dance-Off
Justyna:
So many great moments to choose from in the first half of the season. There's the Footloose dance-off, and the fact that I honestly thought it might be real for a second, considering it's "The Umbrella Academy". Viktor coming out to his family and their reactions were heartwarming. Diego and Stanley were hilarious, while Luther and Sloane were genuinely sweet together. Klaus and Five on their road trip were simply the best. Also really enjoyed both "House Of The Rising Sun" sequences. This show definitely knows how to use their music choices and has one of the best soundtracks. But ultimately I decided to highlight a scene that leads to one of my favorite journeys of the season - the moment when Klaus realizes that he's immortal, capable of returning from the dead. The part when he's accidentally shot by Stan had me worried for a bit and I was relieved to see Klaus at the start of the next episode. But the realization that he died 56 times and no one even noticed is much more tragic than I expected. The fact that Reginald experimented on his kids isn't anything new of course. Still, seeing him actually kill a traumatized kid as part of his tests is something different. It's no wonder that Klaus spent years trying to numb his pain and powers. Really hoping there's actually a happy ending for him somewhere in the future. What a way to start an episode. Kudos to the brilliant Robert Sheehan and the rest of the cast & crew for all their work on the show.
Beth:
Diego hallucinates the Umbrellas and Sparrows dance to Footloose. The scene was pure perfection, plain and simple.