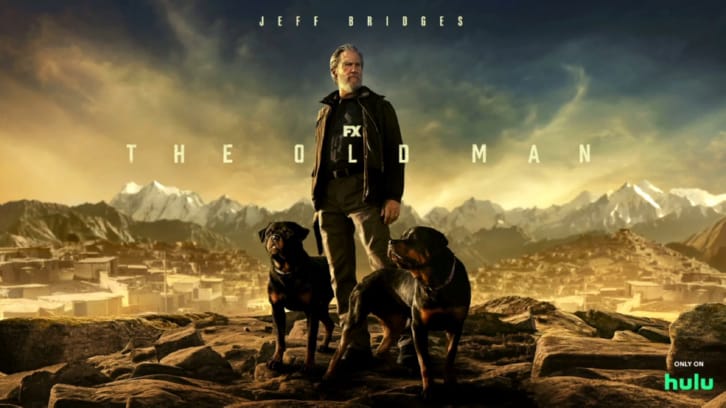 I'm not sure what I was expecting from The Old Man, but it definitely was not what I found myself watching – and it blew me away! I was likely expecting something like Mare of Easttown - not Mission Impossible or James Bond... The show is based on a novel by Thomas Perry (2017). Jonathan E Steinberg (See, Black Sails, Human Target, Jericho) and Robert Levine (Black Sails, See, Touch, Human Target) developed the show and wrote all the episodes, starring Jeff Bridges (Dan Chase) and John Lithgow (Harold Harper). Episodes 1 and 2 were both directed by Jon Watts (Spiderman: No Way Home - definite action-cred here!).
There is a ton of backstory to support the current situation which finds one former CIA operative – Dan Chase (Jeff Bridges) – on the run from a former colleague, now Assistant Director for Counterintelligence, Harold Harper (John Lithgow). Lithgow and Bridges are fabulous! Also, serious kudos to the casting director for finding Bill Heck to play the younger Chase and Christopher Redman as the younger Harper. They both capture the mannerisms of their older counterparts perfectly. Alia Shawkat is introduced in the second episode as Harper's protégé Agent Angela Adams.
The plot is grounded in shady dealings in Afghanistan – both past and present – and it's clear that things are going to be teased out slowly. The first episode features an amazing chase/fight sequence. It's also unclear exactly what may be going on with Chase as he seems to hallucinate a lot – which doesn't prevent him from being highly effective. Is he developing dementia or is that a cover? I also love that a huge part of his personal protection is two giant – and extremely well trained – rottweilers.
Episode two teases out more of the backstory but we are kept wondering about what is the truth. Harper meets with Morgan Bote (Joel Grey) – another super shady government/agency contact who appears to be retired but clearly knows what's going on. We know that Harper's son has recently died, and we think we know that Chase is desperately trying to keep his daughter out of it and alive – or did she die years ago by suicide? Or was that a way to keep her safe? It's unclear….
Episode 2 also sees Chase put his escape plan into action, but when he shows up at the place he's rented, there is the ex-wife of the guy he rented from living in the house! Amy Brenneman plays Zoe McDonald, and it will be interesting to see how their relationship develops. Meanwhile, Chase continues to have disturbing visions of his wife Abbey (Hiam Abbass), who died of Huntington's disease – or did she???
I'm all in for this – and I'm not giving away any more details of the plot! The show began filming in November of 2019, was halted due to Covid, got started back up, got halted again due to Bridges' cancer diagnosis and treatment and then contracting Covid, and finally wrapped in February 2022. You will definitely notice a difference in Bridges' appearance – but never in his acting! If you aren't already watching, find a way to catch up! If you are watching, what did you think of the first two episodes? Are you rooting for Chase or Harper? Or maybe both (spoiler alert, I am!)? Let me know your thoughts in the comments below!