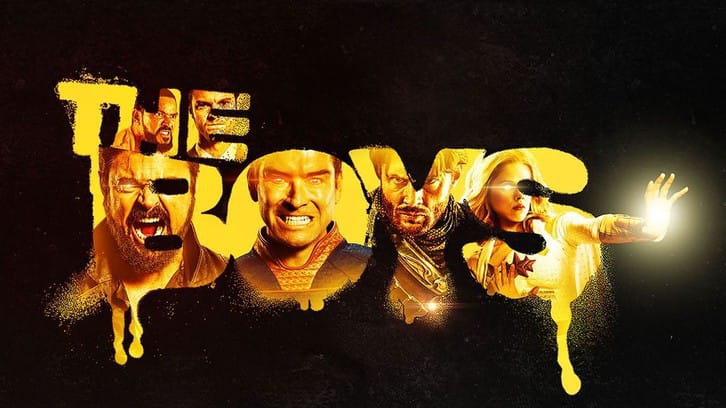 The Boys "The Only Man In The Sky" was written by David Reed (The Magicians, Aquarius, and Revolution) and was directed by Phil Sgriccia. There is lots more carnage in this second episode and both Butcher (Karl Urban) and Hughie (Jack Quaid) start sliding toward the dark side. Homelander (Antony Starr) slides every more dangerously towards becoming unhinged. It looks like things might be on the right track for Starlight (Erin Moriarty), but you had to know that wasn't going to last long. Great performances in this episode from all of the above!
The show continues to shine that satirical light on almost every aspect of our lives. The episode begins with the Deep's (Chase Crawford) Women's Network expose lifetime movie about escaping from the cult. It's followed by a promo for Homelander's B-day special – on about 8 different streaming platforms. Gotta love a show that skewers it's own source of revenue!
There's also all the critique of gun culture and the religious attachment to the second amendment – did you catch Gunpowder's (Sean Patrick Flannery) license plate? All the kids at the gun show? And what about the fact that A-Train's (Jessie T Usher) entire attachment to his cultural heritage comes to him through the television series Roots and possibly Black Panther (based on his own movie poster)… And what exactly is with that new costume?
Hughie and Starlight are struggling a bit – loved how their morning starts in this episode with Hughie burning the toast – and Starlight again opening the jar for him – and he's clearly feeling emasculated by it as he goes to check out Red River without her after cutting his hand on another jar that he can't open. Hughie discovers that Victoria (Claudia Doumit) was adopted – after unintentionally killing her own parents – by Edgar (Giancarlo Esposito) – sort of. He raised her at any rate – and we see him later in the episode at home with Victoria and her daughter, Zoe (Olivia Morandin). He reassures Victoria that he will look after her.
I loved the scene at the office when Hughie shows up and Victoria grills him about where he's been and asks about the guy asking for Nadia – and once again Starlight jumps in for the save. However, it's hilarious when their code for what's going on clearly turns into a real argument, and Victoria simply backs away at that point. Starlight is furious at Hughie for going to Red River without her.
Butcher dreams about taking the 24-hour-V – which he hilariously keeps in a cookie jar that looks like Terror (his dog). He's woken up by Ryan (Cameron Crovetti) who ends up being a bit short with. It's a nice contrast to see Butcher with Ryan and MM (Laz Alonso) with Janine (Liyou Abere). When Butcher goes to MM for help about Soldier Boy, we learn that MM is totally obsessed with him – but won't endanger his relationship with Janine. However, by the end of the episode, Monique (Frances Turner) tells MM to do what he needs to do – the medication he's taking clearly isn't helping. She assures him that even though they can't be together, Janine will be there when he's done.
Kimiko (Karen Fukuhara) and Frenchie (Tomer Kapon) go to try to get information about Soldier Boy's death from the Crimson Countess (Laurie Holden). Kimiko is thrilled to be in the amusement park and wants to go on the rollercoaster. She's also taken by a cute little brother and sister sharing cotton candy. Frenchie tells her – work first, then play. Did you catch the booth for Maeve's Tacos? It's a pride themed park…
Holden is great as Crimson Countess. She has been singing at this cheesy tribute to her former boyfriend for about 20 years, 5 times a day. Kimiko and Frenchie buy the backstage package. Kimiko thinks she's nice – and Frenchie thinks she's crazy. When Kimiko compliments her music, she shows her her new song – "Chimps Don't Cry." CC explains that Chimps can't cry – but they are crying on the inside. This might seem silly – and crazy at first – but it's really about the Supes being chimps. They do whatever Vought dictates, and they can't show weakness. It totally resonates later in the episode when Starlight refuses to demean herself by singing a sexy Happy Birthday to Homelander and Edgar tells Homelander that she doesn't have to sing if she doesn't want to – but it's Homelander's party and he can cry if he wants to.
Naturally, everything goes bad when the next backstage group shows up. CC gets away and takes off through the park, stopping to send a fireball at Kimiko and Frenchie and hitting the poor kid in the Homelander suit, exploding him – all over the little kids that Kimiko had been taken with. When Frenchie later tries to interest Kimiko in a day out at Six Flags, she turns him down. It's not about the rides – she knows that she can never be a normal girl…
Homelander has a really terrible birthday – no question. Stormfront (Aya Cash) won't acknowledge him, Starlight won't bend to his will, and his b-day save goes wrong. He's clearly not into it as he arrives on a roof to save Chelsea (Nia Roam) from jumping. They are interrupted by news that Stormfront has committed suicide, and Homelander loses it – eventually forcing Chelsea who had decided she didn't want to jump… to jump. Starr it truly fantastic in this scene and we see that he really is devastated that she'd leave him.
Butcher goes to question Gunpowder about Soldier Boy's death. I've already mentioned the rabid gun culture that Gunpowder feeds into. In his spot at the Gun show, he sounds like any ultra-conservative, right-wing conspiracy theorist, suggesting it might be necessary to free themselves from the legitimate government – January 6, anyone? And we'll circle back to this point…
Needless to say, Butcher's meeting with Gunpowder goes from bad to worse. He accosts him in the bathroom first – and really? At least Gunpowder washed his hands while Butcher just wiped them on his coat! YUK!! I do love how
The Boys
has to set every trope on its ears – the "ward" being molested – because come on, a barely pubescent sidekick? – is right out of the comic. Gunpowder denies it and storms out. Butcher fares even worse in their altercation in the parking garage, getting shot in the calf and then having a bullet graze his face. It doesn't seem like Gunpowder has super powers beyond the ability to make crazy good shots.
Butcher is at a low point when he gets home and watches the video that Ryan sent him. He's taken an old phone message from Becca, in which she tells him she's running late and loves him, and he's made a little Lego movie out of it. Butcher is clearly touched and calls Hughie to tell him he's going to back off – only to catch Hughie in a bad moment, finally telling him about Victoria.
Butcher takes the V and goes back to talk to Gunpowder, who finds him leaning on his car. He shoots Butcher – and it looks like he might be dead… but he stands up and the bullets just pop out. Butcher then grabs Gunpowder's gun and easily breaks it in two. Gunpowder tries to fight back but has no effect on Butcher, who beats the crap out of him. Gunpowder tells him that Soldier Boy's death was a lie, but he doesn't know what happened – they were attacked, he was just a kid, and he didn't see. He also tells Butcher that they were working for the CIA – and Grace Mallory was their handler! Butcher is furious and is suddenly shooting lasers out of his eyes!!!!!!!!!!! He cuts Gunpowder's head in two – and his car! I love Flannery here - and especially as big
Boondock Saints
fan...
Homelander's horrible birthday gets worse – Starlight is introducing her new project as she wishes Homelander Happy Birthday when a heckler asks if his Nazi died. Starlight tries to smooth it over, but Homelander has had enough and loses it. He tells the audience that Starlight saying he'd donated to her cause as a token of how he's changed is a lie. It's all a lie. He's better and smarter than they are – he's not a mere human, he's a fucking hero! He's the man they need – he's been denied the right to be himself for too long. He's not going to be told how to behave anymore! It's the same kind of rhetoric that Gunpowder was spouting – and we see Monique's creepy new boyfriend, Todd (Matthew Gorman) respond eagerly.
This was another great episode – with so much to talk about! So, I'm sorry these reviews are rolling out a bit slowly, but it's so worth it to savor and pay attention to these episodes. Another thing to keep an eye out for? The Vought Tower toy that Butcher gives to Janine? What is that giant red thing on the side? I loved that it's pointed at Todd's face when MM drops it off… Look for it again in episode 4… What did you think of the episode? Let me know your thoughts in the comments below? Favorite satirical target??