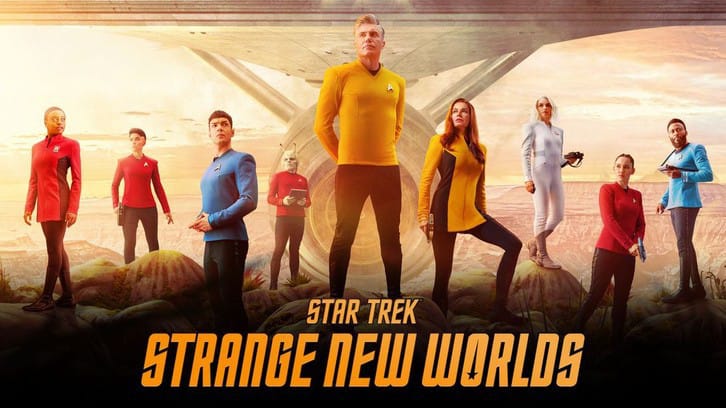 Star Trek: Strange New Worlds
"Spock Amok" was written by the team of Henry Alonso Myers and Robin Wasserman (
What/If
,
Seven Deadly Sins
) and was directed by Rachel Leiterman, whose other credits include
New Amsterdam
and
The Good Doctor
. Once again, this didn't feel like a "strange new world" but a very familiar one – the episode began with Spock (Ethan Peck) dreaming of T'Pring (Gia Sandhu) wanting a kal-if-fee in a sequence that mirrored the TOS episode "Amok Time." Except this time it was Spock's human side fighting his Vulcan side. And a quick shout out to the excellent casting her as Sandhu looks a lot like the original T'Pring played by Arlene Martel. The body swap between Spock and T'Pring is also a call back to "Turnabout Intruder" when a similar body swap happens to Kirk. LOVED IT ALL!
While most of the crew enjoy some shore leave, Pike (Anson Mount), Spock, and Uhura (Celia Rose Gooding) help Admiral April (Adrian Holmes) in negotiations with the R'ongovians – Vasso (Ron Kennell) and Brax (Carlisle J Williams). I loved Pike getting to flex his negotiation muscles as they try to convince the R'ongovians to side with them and not the Klingons and Romulans. In the end, it's his keen observation of them and his use of extreme empathy that wins them over.
We get some fun buddy-ing-up in this episode. Ortegas (Melissa Navia) and Chapel (Jess Bush) head to the surface with Chapel anticipating a hook up with an old friend. Dr M'Benga (Babs Olusanmokun) opts for fly fishing to relax. La'an (Christina Chong) and Una (Rebecca Romijn) are baffled by the crew's need for R&R, and Una discovers that among the crew, she is known as "where fun goes to die." Seemingly having something to prove, when the two discover two ensigns playing "Enterprise Bingo," they decide to play – to better understand the crew. The two playing good cop/bad cop was fun enough, but them struggling through the actual bingo game was hysterical.
Some of the highlights of the episode included Spock getting relationship advice from Chapel – and TEASING her! I really like Peck's Spock, but I still say he smiles too much. I think Peck is just a happy guy… It's clear by the end of the episode that Chapel's crush on Spock is already well underway.
Taking up Chapel's advice, Spock tries to get closer to T'Pring by sharing a mind meld ceremony that results in their body swap. I thought Peck did an especially good job of seeming a bit more feminine that usual. Naturally, Pike shows up to get Spock to help with the negotiations, and they have to tell him the truth. Pike/Mount once again gets the best lines – perfectly delivered – "Get outta town!" It's hilarious!
While Spock is away negotiating with the R'ongovians, T'Pring is also summoned back to work. Spock doesn't appear to be helping much at the table and Pike intervenes – even though he is only supposed to be an observer. Perhaps a bit heavy handed that he was actually singing Spock's praises to T'Pring – and the ambassadors – but it was once again a nice demonstration of his leadership.
T'Pring – or Spock in T'Pring's body gets Chapel's help in detaining Barjan T'Or (Alden Adair). I was a little at sea as to what exactly her job was. Why talk with him at all if you can simply punch him and take him captive?
M'Benga is almost gleeful as he uses a special goo – and some silly straws – to put Spock and T'Pring back in their own bodies. The two then make good use of the time they have left together by sleeping together – this has to be one of the wasted experiences that Chapel was thinking about – imagine what a great lover you could be if you experienced sex in your partner's body!
Pike gets one more try at diplomacy and tries extreme empathy. It's hard to see what the outcome is as Vasso and Brax get up and leave rather abruptly. However, it works, and I thought their ship with the solar sail was one of the coolest ships we've seen in a long time. Pike and April get their answer when the ship hoists the Federation flag as they sail off. Looks like they'll be joining!
There's also a nice moment between Una and La'an as they complete Enterprise bingo by signing the scorch. As the two sign their names, the R'ongovian's ship flies over them.
I thought this was another terrific episode, not only capturing the spirit of TOS but really paying homage to two iconic episodes. Great performances all around, and I am aware that Spock is fighting his human side and that is a perfectly logical explanation for all those little half smiles… What did you think of the episode? Let me know your thoughts in the comments below!