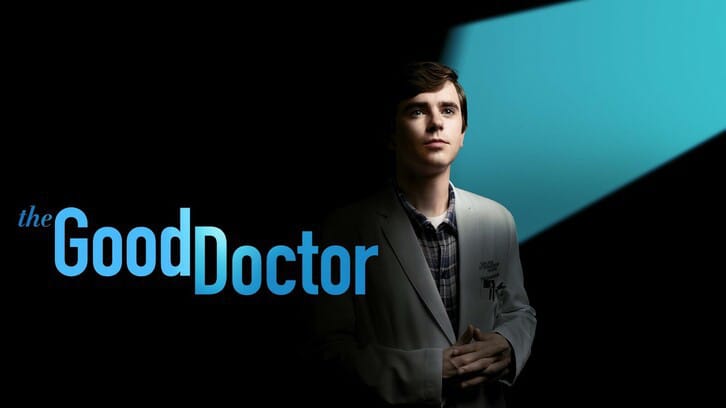 The season finale is here!
The Good Doctor
5x18 "Sons" has us crying our eyes out. In this episode the protagonist is love. The love of a couple, the love of family, the love of friendship. What is in the center is love in all its forms. Every episode of this show touches my heart for one reason or another but none touched me more than this one. Time for a review!
Here we go!
The first thing is SHEA IS MARRIED!!!!! Do you hear me scream!? They're married and it was…perfect. To get married you don't need anything big. You just need that person by your side. And your family with you. It's symbolic that the wedding is in the hospital, a place that is like a second home for both. And the way everyone who loves them joined forces to give them the perfect wedding, the wedding they deserve. I'm crying, I swear.
I didn't imagine Andrews would be the minister but that's great too. Every detail is taken care of, every word, every gesture. And we feel that love filling the screen, going through it until it touches the center of our hearts.
The way Shea looks at each other…goddess, true love is breathed. The two of them overcame so much…they grew so much together…and every moment, every sweet scene, every heartbreaking moment, brought them here. To the choice of sharing the rest of their lives. To the choice of always walking together.
I can say little more about this wedding than it brought tears to my eyes, especially when we look back and see where they started and where they ended. We really had a review of Shea's history and it only remains for me to thank the entire team for making something so beautiful. And if Shea's wedding made me cry, what broke me was Glassy's look and proud smile looking at Shaun and Lea. Shaun is his son in every way that matters…and Lea became his daughter. Glassy's speech was a demonstration but what really moved me was him giving the rings to Shaun. There, Glassy wasn't just acknowledging Shaun as his son, but Lea as well.
Let's remember that Glassy was never Lea's biggest fan. As a father, he feels protective of Shaun, and when he saw him suffer for Lea… Glassy just wanted that to not happen again. But Glassy realized how Lea loves Shaun madly and that they're made for each other. And that brings tears to my eyes again.
Speaking of the ring scene, that moment will be seared into me. Shaun always loved Glassy like a father, but he never felt able to show it…until now. Shaun's biological father rejected him and never loved him. That was a huge blow to Shaun, as it would be to any kid, but Glassy was always there. Glassy helped him, understood him, supported him, and tried to understand him. He's his father. He always was and always will be.
Shaun doesn't feel a great loss that his biological father and mother are not with him at this important moment in his life, because the truth is that his father is by his side. And Glassy is his real family. He doesn't need anyone else by his side. And…tears again! What a shocker!
On another note, I tried to understand Asher's parents, I promise. I really tried to put myself in their place…but I couldn't. Religion or belief should never be above love for a child, above accepting him/her for who he/she is. It hurt every time Asher would hide in himself and try to be a different person for them. It's hurt me every time he was despised.
I'm not the one to judge because I'm an atheist so I always look at religion with a bit of suspicion and I had no contact with orthodox or ultra-orthodox Jews so I'm not familiar with the way they live their faith, but I can say that the love for a child must come first.
Luckily, in
The Good Doctor
5x18 "Sons" love prevails. Asher, like me, may not understand his parents but he understands the love that exists between them and he wants to have that. Asher can understand decisions based on love. And his parents can focus on their love for his child and make that their priority, which is what Asher deserves.
I'm so proud of Asher. You have to be very strong and very brave to show yourself as you are to parents who you know will despise you. And you have to be even braver to stand up to them and, despite everything, try to understand them.
But not everything could be happy in
The Good Doctor
5x18 "Sons." The ending leaves us with our hearts in our throats. Filthy and abusive pigs always want to be in control and believe they're entitled to anything to get it back, including abusing, attacking, and attempting to murder a woman.
Fingers crossed that they're both okay and that the son of a bitch who did this rots in jail. Fingers crossed that this story, unlike most stories of abuse, ends on a happy note. What do you think will happen? I think they'll both recover but I'm more sure about Lim.
I don't want to end this review without commenting that I'm grateful that
The Good Doctor
dealt with the issue of physical abuse in women AKA gender violence, because I think it can help people who are suffering from it to ask for help or, at least, to raise awareness in society about this scourge.
This is where our
The Good Doctor
review ends. We will be back this fall with new reviews! Thank you for joining us this season!
Agree? Disagree? Don't hesitate to share it with us in the comments below!