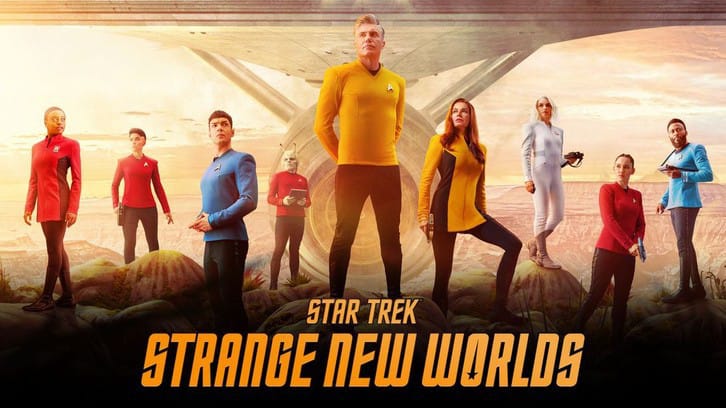 Star Trek: Strange New Worlds is the Star Trek we've been waiting for since 1969. Right from the first glimpse of that original communicator and the credit music that is totally evocative of the original and Anson Mount's (Captain Pike) voice over, I was in. None of this is to disparage the other iterations of the franchise, but I grew up with the original, so the nostalgia card played well with me.
The first episode "Strange New Worlds" was directed by Akiva Goldsman with a teleplay by Akiva Goldsman based on a story by Goldsman, Alex Kurtzman and Jenny Lumet. Goldsman is co-showrunner with Henry Alonso Myers who is the co-writer of the second episode. Goldsman's ties to the franchise are deep, spanning
Discovery
,
Short Treks
, and
Picard
.
The episode does an excellent job of reminding us where we last left Pike – when he'd been shown his own future on Discovery. A future that Original Series fans are completely familiar with. We learn later in the episode that Pike also knows when his death will come – in ten years. So, I guess we know how many seasons to expect? But fans of OS also know that Pike's "death" isn't quite what he thinks either. I really liked how they wove the threads of canon together here.
The sets did a nice job of being enough of an echo of the original series without seeming cheap or corny. Pike's quarters, for instance, are a lot nicer than Kirk's ever were! It's really fun to see what a more modern transporter looks like – even though it's clearly a lot less sophisticated than what we're used to.
Even more so than many series, STSNW has a lot of characters to introduce in a short span of time – after all, we had to get Pike back on the ship, back to loving his job, and save a planet and his Number One in the episode too. Like all good Star Trek series, the heart of the show is the characters – and here again we have a terrific blend of old and new. Am I the only one absolutely loving how very female the bridge is??? Communication officer is CADET Uhura (Celia Rose Gooding) – complete with her classic ear piece! Joining Dr M'Benga (Babs Olusanmokun) is sick bay is Christine Chapel (Jess Bush)! Already love these younger versions of the characters we came to know and love.
We didn't get to see much of Lt Erica Ortegas (Melissa Navia), but her exasperation at things going awry when she had the bridge bodes well. Also looking forward to seeing more of Lt Jenna Mitchell (Rong Fu) on the bridge and Chief Kyle (André Dae Kim) on the transporter. While we didn't see much of Number One Una Chin-Riley (Rebecca Romijn), we did get to know her on Discovery.
On the mission to rescue Una, Pike has to take a new number one: La'an Noonien-Singh (Christina Chong). She doesn't seem to be a terrific fit, but finds her footing as the episode unfolds. I loved that her backstory involved the Gorn – another nice easter egg to a classic episode of the Original Series.
Anson Mount delivers a strong performance, moving Pike from introspection and almost despair brought on by the knowledge of his own mortality to acceptance and embracing the future he does have. He's the Captain we need. I loved that he's watching
The Day the Earth Stood Still
– the classic science fiction movie as the episode opens. It's a wonderful shout out to the debt the show owes to its many antecedents. Pike is hiding out on his ranch, not even sure if he's going back to the Enterprise, when Admiral April (Adrian Holmes) shows up and presses him immediately back into service to find out what happened to Una. Pike is helped along in coming to terms with his fate by faithful Spock (Ethan Peck). Now please, somebody calm down Mount's hair just a bit…
The episode picks up Spock's story ad T'Pring (Gia Sandhu) proposes to him. Hilariously, they are interrupted in consummating their marriage by a call from Pike. I have to say that I miss Peck's beard – not because I found it attractive, but because it hid a lot of his face. It felt too much like he had a half smile on his face for the first couple of scenes. Sandhu also didn't really sell the non-emotional facial expression we've come to expect of a Vulcan either. Perhaps we can excuse these very un-vulcan scenes because they were in the throes of the mating ritual?
As for the storyline, it's also classic Trek. Two civilizations on the brink of destroying their world – as an indirect result of
Discovery
saving the universe. We don't get a lot of backstory on the two sides, but then we don't really need it. Pike is Klaatu from
The Day the Earth Stood Still
– showing them what happened to Earth during WWIII – and did everyone catch a glimpse of the January 6 riots and the veiled remark to the "United States"? Their current path will lead them to self-destruction… OR they can join the Federation… The best of Trek grounds us in our own reality. Considering that this was written and shot before the war in the Ukraine started, it's clear the writer's room is also following in the best of traditions.
Overall, I give this first episode an A+. Mount as Pike is a cross between Kirk, Picard, and Archer for me – my favorite Captains. The rest of the crew is intriguing, and they've already done a great job with the legacies of Uhura and Chapel. They've situated the show between
Discovery
and the Original Series and established the Prime Directive. I'm hoping that we won't spend a lot more time on Pike seeing horrific visions of himself, and we'll just get on with exploring those strange new worlds – one of which really is our own. What did you think of the first episode? I'm really curious to know what your favorite Trek series are and how you'd compare this to them so far! Please let me know in the comments below!