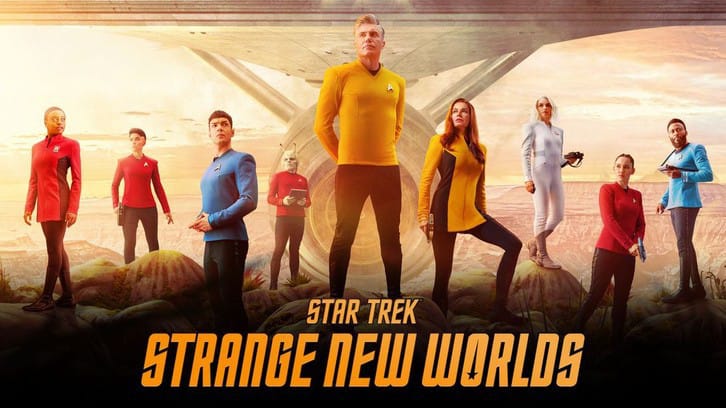 Star Trek: Strange New Worlds "Ghosts of Illyria" was written by the team of Akela Cooper (Luke Cage, Avengers Assemble, The 100) and Bill Wolkoff (Once Upon a Time, Star Wars: Rebels, TRON: Uprising) and was directed by Leslie Hope, whose other credits include Snowpiercer, Lost in Space, and Van Helsing. Once again, this episode was an homage to TOS and felt like it could have been part of TOS. I loved the message of diversity and inclusion over racism. The episode also continues to reveal more about the characters. And there's a nice little bit for fan-shippers as well…
The crew's mission this week is to investigate the disappearance of a colony of Illyrians, who have been banned from the Federation because of their genetic engineering. This ties into La'an Noonien-Singh (Christina Chong) being related to the infamous Khan, but ultimately, it's revealed that Una Chin-Riley (Rebecca Romijn) is actually Illyrian. La'an is furious that Una has been able to avoid her own horrible childhood. It's clear why Una took La'an under her wing though. There's quite a good fight scene between the two. Una is able to survive the virus because of her genetic modifications, and ultimately, they are responsible for saving the entire crew.
We get a bit more screen time with the irascible Hemmer (Bruce Horak), and we start to get a bit more insight into Nurse Chapel (Jess Bush) – she might be young, but she's ready to do whatever needs to be done. It looks like Dr M'Benga (Babs Olusanmokun) may not be a good guy – he's hiding something that seems to be endangering the crew… but in fact, he hasn't upgraded the transporter in sick bay because his terminally ill daughter – Rukiya (Sage Arrindell) is being kept alive in it. Una figures out that the virus got through the filters because of this, but rather than expose M'Benga, she finds a work around for him.
Naturally, Spock (Ethan Peck) and Pike (Anson Mount) are trapped together in a severe ion storm on the planet after everyone else is barely able to transport out. Peck and Mount are knocking it out of the park with their chemistry and banter. I'm willing to be there's already a lot of fan fiction out there centering on the scene that sees the two huddled in the fetal position with the Illyrian light entities keeping them safe. Was anyone else surprised to find out that the Illyrians had morphed into this – or that they are a peaceful race?
Star Trek
does love its object lessons. Here, it's don't judge a book by its cover – don't judge a race based on prejudice. Rebecca Romijn does a great job in this episode as we see Una struggle with her very well kept secret. I really liked the clues dropped along the way – we see Una burn the virus out of herself, and we see the exact 'mutation' demonstrated as Una studies two write ups on the genetic modifications of Illyrians. Naturally, Una tries to do the "right" thing and resign, and Pike, also doing the right thing, is having none of it!
What did you think of the episode? Let me know your thoughts in the comments below!