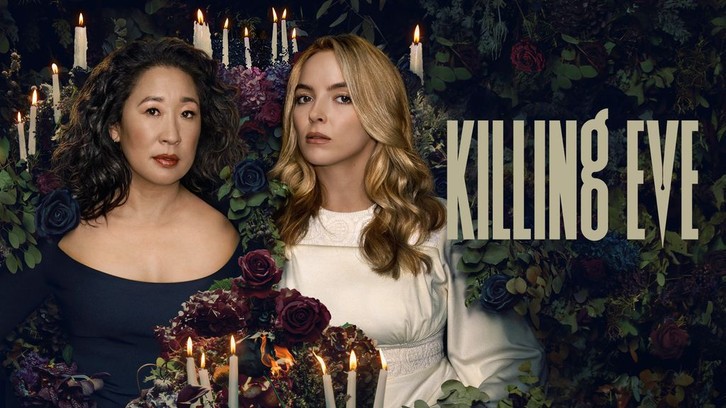 Warning: This double review may contain spoilers.
Killing Eve continues to be a major disappointment. Midway through the middle episode, something interesting finally happens, or to be more accurate, something interesting starts to happen. Episodes 3 "A Rainbow in Beige Boots" and 4 "It's Agony and I'm Ravenous" toy with the same stray threads the season has been flapping in the wind since the premiere. The problem dates back even farther than season three, though. Absolutely no one is dying to know more about who the members of the Twelve are, an appallingly boring mystery this series treats as its backbone. "It's Agony and I'm Ravenous" shows the briefest signs of life, but it's a textbook case of being too little, too late, especially for the chances of this show to pull all these flailing threads together into a cohesive story and nail a satisfactory ending for the series.



Killing Eve this season comes midway through episode 4, "It's Agony and I'm Ravenous." (Just as episode 3's title unintentionally described the show, episode 4 describes the show's viewers who haven't lost their appetite yet). This episode focuses on a group of odd pairings or couples. First, Konstantin begins training Pam as an assassin. The writing for Pam leaves no room for the actress to carve out an engaging character, and the storyline wastes Bodnia's talents. Konstantin throws in the towel until Pam pushes back after he pushes her too far.

Killing Eve used to flex regularly. When Villanelle takes Carolyn at her word and the two team up to torture the injured member of the Twelve for names of his colleagues, then and only then do we see Comer channel the Villanelle viewers know and love. Later when they use the information gleaned from him, Carolyn is shocked to encounter a past love she long thought dead. The chase is on.
Killing Eve . The scene of Shaw's Carolyn indulging Villanelle's "Truth or Dare" with an all-in air guitar performance will be an iconic Killing Even memory. (The outtakes from that scene must be legendary and pure gold.)
Killing Eve looks to be ending its run as a mere shadow of its former self. Seeing that tiny bit of life in episode 4 was both heartening and sad. Heartening that the show still has those moments of uniqueness in it, but sad that those moments are too little and too late to make a difference.

What are your thoughts on episode 3 "A Rainbow in Beige Boots" and episode 4 "It's Agony and I'm Ravenous"? Share them in the comments below.