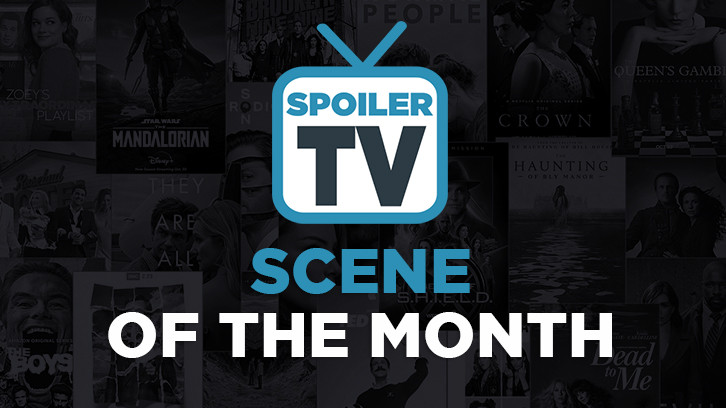 A monthly feature in which we're trying to find the most compelling, best acted, written, directed and just generally great, memorable scenes that we've seen in the past month on TV.
1883, "Behind Us, a Cliff", December 19, 2021, Actors: Tim McGraw, Isabel May, The Scene: Elsa remembers it's her birthday
Laura B:

I have yet to see Yellowstone, so I'm sure I'm missing some grand connections, but as far as a western goes, 1883 is shaping up to be a great character piece in its own right. It's hard to choose individual scenes when the scenes in the episodes really kind of work better together, but I chose this scene because it appears James brought his daughter along not just because he seems to have faith in her abilities, but as Elsa figures out when looking up at the sky as she lays by his side, it was her birthday!



A MILLION LITTLE THINGS, "The Things We Keep Inside", December 1, 2021, Actors: Romany Malco, Christina Moses, The Scene: Rome tells Regina about his depression
Marko
: Rome confesses to Regina that his depression came back. Since the beginning of the show Rome and Regina were its heart, the stable constant keeping the group of friends together. Seeing them live through the consequences of Covid was hard but I never expected the story to climax as it has in the midseason finale. Rome's confession was just so raw and heartbreaking, and unbelievably fitting. Great performance by both Malco and Moses.
Luana
: Given how things were going the last time Rome's depression was at its worst, it was great to see him open up to his wife and perhaps get the help he needs, it also focused on the numbness of it all which was an interesting departure from the stereotypical depiction of depression.
ABBOTT ELEMENTARY, "Pilot", December 7, 2021, Actors: Sheryl Lee Ralph, Lisa Ann Walter and more, The Scene: The vets talk to the newbies about teaching
Folie-lex:
The vets explain to the newbies that teaching is a calling, and they've answered. As the younger teachers find themselves just about defeated by the system it's the two jaded veterans who explain: "It's a calling and you answered". And this is the moment the show won me over. Sheryl Lee Ralph and Lisa Ann Walter stole the show throughout the pilot with their cynicism, pragmatism and deadpan. But they both shine even more in this final moment, each delivering their part of the speech perfectly. There is no doubt Mrs. Howard and Mrs. Schemmenti are in it for the right reasons and despite what they may say, they'll help anyone else who is too.
CHICAGO PD, "A Way Out", December 8, 2021, Actors: Jesse Lee Soffer, Tracy Spiridakos, The Scene: Upstead get married
Jessica C:
This all still feels like such an incredible dream to me! Hailey and Jay have spent their entire partnership consistently showing up for each other. They've built some of the deepest trust and communication, and provided each other with not only physical but emotional safety. All of that laid strong groundwork for so many beautiful relationship milestones this year. We watched as they finally revealed their feelings for each other, opened up about traumas and secrets of the past, love confessions, set healthy boundaries to protect their relationship, not to mention a few proposals. So it should come as absolutely no surprise that this is where we find them now--married, madly in love and leaving the rest of us floating on cloud nine.
DEXTER: NEW BLOOD, "Too Many Tuna Sandwiches", December 12, 2021, Actors: Michael C. Hall, Jack Alcott and more, The Scenes: Dexter saves Molly from Kurt & Dexter and Harrison see a shrink
Laura B:
Dexter follows Molly and Kurt to Kurt's secret little lodge and ultimately saves Molly from Kurt. I don't know if things are going to end well for Dexter in this revival series given Dexter's more thoughtful attempts at trying to absolve the situation, given in this case that Molly is surely a threat too, but I really like how this series has not reset Dexter's emotional awakening to his humanity. I love that it is much more of a driving force of his actions.
Luana:
Dexter and Harrison see a shrink. I loved this scene, obviously they couldn't really talk openly, but the setting made it all feel so much more real, and though I haven't been the biggest fan of Deb's ghost I did like the role she played here.
GREY'S ANATOMY, "It Came Upon a Midnight Clear", December 16, 2021, Actors: Abigail Spencer, Richard Flood, The Scene: Megan opens up to Hayes
Luana:
This episode was definitely a return to Grey's typical (sometimes literal) cliffhangers, but one of the highlights for me was Megan telling Hayes she wasn't willing to survive Farouk's death, there was clearly a cry for help there but it made sense she didn't feel like telling her family, she definitely seemed quite set on her plan b which was quite scary and definitely heartbreaking.
HAWKEYE, "Partners, Am I Right?" & "So This Is Christmas?", December 8 & 22, 2021, Actors: Jeremy Renner, Hailee Steinfeld, Florence Pugh and more, The Scenes: Clint and Kate talk about Nat & The fight on the roof & Yelena learns the truth about Natasha's death
Justyna:
This might be one of the hardest choices I've made when it comes to selecting scenes to highlight for the SOTM articles. There are so many incredible moments in this series - emotional, action-packed, shocking, joyful. I loved Kate and Clint's interactions, their Christmas / training montage, Kate helping Clint with the phone call from his son, her speech about the way he has inspired her to be a hero and of course them fighting together, side by side. That's not even to mention a few fantastic scenes with Yelena at the center, from the Infinity War flashback to her finally learning and accepting the truth about Nat's death. But after a longer consideration, I realized that the moments that hit me the most on the show were probably any and all scenes where Clint is talking about or remembering Natasha. As much as I've enjoyed Clint and Kate, or Kate and Yelena on the show, I really do miss Clint and Nat duo. After a needed break and little bit of Christmas celebration, Kate asks Clint about the best shot he's ever made. He immediately goes to the one he never did, back when he met Natasha. He's reluctant to talk about her, Barton isn't exactly known for opening up about his feelings and it's clear that he's struggling not to break down whenever he's confronted with the memory of Nat's death. Still, he shares with Kate a few details about the way he and Nat met and how important that still is to him. While he's talking about Nat, we also hear the Vormir music playing in the background. I've heard it so many times and it still gets me. Also, after Clint admits to losing his family following the Infinity War, Kate understands and figures out the identity of Ronin, getting Barton to admit how heavily his past choices still weigh on him and endanger his family. I really enjoyed Jeremy Renner's performance during their entire conversation. Both strong and vulnerable, guarded yet seemingly at the edge of tears. It's a great bonding moment for Kate and Clint and a powerful reference to a fallen hero. Finally the scene ends after Kate leaves the room and Clint turns off his hearing aid. As everything around him gets quiet, he's left with the memories of his painful past... And the audience gets a quick glimpse at them too. Definitely a scene to remember. Kudos to cast & crew for all their work on the series.
Folie-lex:
The rooftop fight. The climactic scene of the Hawkeye's 4th episode, finds Clint and Kate facing off with not one, but two badass ladies: Maya and Yelena. Technically the scene is excellent with the fight choreography between the four never missing a beat. But more than that the emotional punches throughout (from Kate going off the roof and Clint running to catch her, to the implications of a Black Widow assassin being brought into the mix) land every time.
Luana:
Yelena finally believes the truth about Natasha. Florence Pugh is amazing, we know this, but that moment felt like it was necessary not only for her, who was looking for someone to blame but also for Clint who's clearly had a hard time letting go as well, it felt like a pivotal moment for both and I'm really looking forward to seeing more of Yelena.
Marko:
The battle on the roof. Hands down one of the best directed and choreographed fight scenes in the MCU. Not much more to say besides major Kudos to cast, crew and the editing department.
HOME ECONOMICS, "Secret Santa Gift, $25 Limit", December 1, 2021, Actors: Caitlin McGee, Jimmy Tatro and more, The Scene: The gift exchange
Folie-lex:
Coming to a cumulation of all the episode's plots everyone receives the exact gift that would make them happy. It's hard to pick which was more sweet: Sarah getting a knockoff fancy bag that says "LuLu" on the brand, or Connor actually paying off all of Denise's students lunches instead of getting her a present because that's what she would have done? And in the end it's exactly these weekly heartwarming moments that makes the Hayworths worth following week in week out.
STAR TREK: DISCOVERY, "Stormy Weather", December 23, 2021, Actors: Annabelle Wallis, Sonequa Martin-Green, The Scene: Zora sings while trying to save the crew
Laura B:
Zora sings "Stormy Weather" to Michael, as she attempts to save Discovery and its crew. Ever since the Short Trek "Calypso" I have been waiting to see how Zora would develop and come into play in the future timeline. I liked how in that episode Zora seemed fascinated by the love and romance of old Earth films and now finally as the character comes to life as an active player in the series, it was so fitting that she would choose this jazzy number as she tries to get over her own self-doubt to save those she loves and has begun to devote herself to!
SUCCESSION, "All the Bells Say", December 12, 2021, Actors: Kieran Culkin, Sarah Snook, Jeremy Strong, The Scene: Kendall's confession
Cecile:
The siblings realize they're getting played by Logan, Kendall breaks down - Succession is a masterclass in acting in general, but this scene in particular highlights just how excellent these three are when they get to play off of each other. Kendall's heart-wrenching confession as Shiv and Roman finally rally around him is so beautifully filmed, it actually looks like a painting, making the scene all the more poignant.
Marko:
Ken confesses his involvement with the waiter's death to his siblings. Jeremy Strong delivered so many memorable moments over the 3 seasons of Succession. Yet he succeeded to deliver another amazing performance. Kendall's guilt unfolded in such an emotional and powerful way gripping me to the edge of the seat asking for more.
THE EXPANSE, "Force Projection", December 24, 2021, Actors: Steven Strait, Frankie Adams, Keon Alexander and more, The Scene: Rocinante vs. Pella space battle
Justyna:
There's so much to love about this scene - the visual effects, the strategic maneuvers, the acting, the editing. Bobbie and Holden turned out to be a fantastic duo in the fight. Against all odds they succeeded in the battle with three other ships, newer and with more ammunition. The maneuver with 180 degrees spin, a single shot and another 180 degrees spin to resume Rocinante's position and the burn, has to be one of the most impressive things we've seen on the show so far, certainly in terms of the space battles. Adding to that, Bobbie's quick thinking allows her and Holden to devise a plan and predict Pella's position in the next strike, leading to the damage of the ship and even a chance to take it down completely. It's clear at this point that Bobbie wants to fire with a torpedo and destroy the disabled Pella, however Holden chooses to open negotiations with Inaros instead. As if the entire scene until this point wasn't intense enough this quick exchange between the two Captains is something I've been looking forward for a while now. While I wish we could see a longer interaction between the two, it's still such a memorable moment. Of course Marco would rather die than live at the end of Holden's leash. Bobbie chooses not to wait any longer and fires a torpedo. The music fits the scene perfectly, as Naomi watches her son about to die and has to look away from the screen, and Holden makes a choice to disarm torpedo instead. No words, just actions and the performances make this one of the best moments of the show for me. As for the decision itself, it's hard to speculate what could have happened if Holden made a different choice, so I won't. All I can say is that regardless of whether it's ultimately a good or bad one, I can absolutely understand the reason why he made it. I suppose that's what makes him Captain James Holden in the end. Kudos to cast & crew for all their work on this fantastic show.
THE FLASH, "Armageddon, Part 5", December 14, 2021, Actors: Danielle Panabaker, Tom Cavanagh, The Scene: Caitlin and Thawne talk
Marko:
This confrontation was 6-7 years in the making and the payoff was just unbelievably powerful and moving. The show never properly explored Caitlin's grief and the unraveling during this episode was just so memorable.
THE ROOKIE, "Breakdown", December 12, 2021, Actors: Melissa O'Neil, Eric Winter, The Scene: The Tim Tests don't make Tim like his dad
Folie-lex:
Fans of The Rookie have long heard about Tim's abusive childhood. Seeing him have to come face to face with his demons finally in the show was long overdue. Yet it was still hard to watch in all the right ways, with Eric Winter (as usual) doing the heavy lifting and making it look easy. Still there was something even more heartbreaking to witness the sheer vulnerability of Tim needing to clarify he isn't like his father. And having Lucy there to offer the reassurance and the comfort (especially after her ill-advised reference of the Tim-tests in correlation to his childhood trauma the episode prior) was the only way to go.
THE WHEEL OF TIME, "The Dark Along the Ways", December 17, 2021, Actors: Josha Stradowski and more, The Scene: The Dragon Reborn is revealed
Justyna:
Over the course of these eight episodes, I've grown surprisingly attached to the series and its characters. Of course there's a number of scenes that I would like to include in the article. Special shoutout to the Battle of the Shining Walls flashback - easily the best opening sequence on the show so far. However, in the end there is no contest when it comes to choosing the most memorable moment of the series for me. It has to be the Dragon Reborn reveal. I've watched and rewatched this scene so many times, definitely lost count a while ago. I love all the pieces coming together, the small and bigger details that didn't quite fit until this moment, Rand's memories flooding him and revealing to the audience just how much he's been struggling all along. His character often seemed to be hidden in the background, his actions or motivations not necessarily clear at times. And I'm so glad that this moment finally lets the viewers in and starts a major development for the character. Mystery solved. Now the journey truly begins. I'm very excited to learn more about the Dragon in general and eventually seeing his full power. Josha Stradowski delivered a great performance in the scene, portraying so many complicated emotions going through Rand's mind. Also huge kudos to the editing team for this one. Love the way the scene is put together with all the flashbacks and the music in the background. If I wasn't sold on the show before, I absolutely am after this episode. Kudos to the cast and crew for all their work on the series so far!
Luana:
I'm loving this show and choosing just one scene seems impossible, but I loved how this reveal was handled, I loved the directing, the performance, and also the fact that they didn't drag the mystery for too long since it's clearly not the real point of the series. I just can't wait to see what comes next.
THE WITCHER, "Family", December 17, 2021, Actors: Henry Cavill, Freya Allan, Anya Chalotra and more, The Scene: The Witchers and Yennefer free Ciri from Voleth Meir's control
Justyna:
It seems impossible to choose just one scene to highlight from an entire season but here we go. There's certainly a number of moments that would deserve a mention, a special shoutout to any and all interactions between Yennefer and Jaskier who surprisingly became my favorite duo of the season, starting from Jaskier's fantastic entrance in episode four. "Burn, Butcher, burn..." Still, for the article I decided to go with a sequence from the season finale. Back in season one, Ciri's storyline was probably my least favorite of all the main characters. Luckily that's changed at the end of 2021 when Ciri joined not only Geralt but a family of Witchers. Watching her on the obstacle course, with more and more of the Witchers actively rooting for her was such a welcome surprise. All those relationships turned out to be exactly what she needed in the end. While Ciri is trapped under Voleth Meir's control, the Witchers, led by Ciri's father figure Geralt, try to reach her and convince her to come home, back to her family. So much for the Witchers not feeling any emotions. They've all grown very attached to this princess and refuse to let her go. It means everything for Ciri to have them all fight for her like that, considering all the damage she has (inadvertently) caused. But the Witchers alone can't save Ciri. As it turns out it's Yennefer's sacrifice that ultimately gives the girl a fighting chance. Yennefer has been struggling with a loss of her power and purpose throughout the season, making some good and bad choices along the way. At this moment she feels connected to Ciri, already caring about her and is willing to do anything to protect her. That's why she decides to become a new host for Voleth Meir, releasing Ciri from demon's control. And the fact that she cuts her own wrists (a significant reference to her past suicide attempt) makes this all the more tragic and emotional to watch. I'm so glad both Yennefer and Ciri survive in the end, but this was such an intense and memorable moment. Wonderful performances delivered by the cast. This one will definitely stay with me for a while. Kudos to cast & crew for all their work on the show.