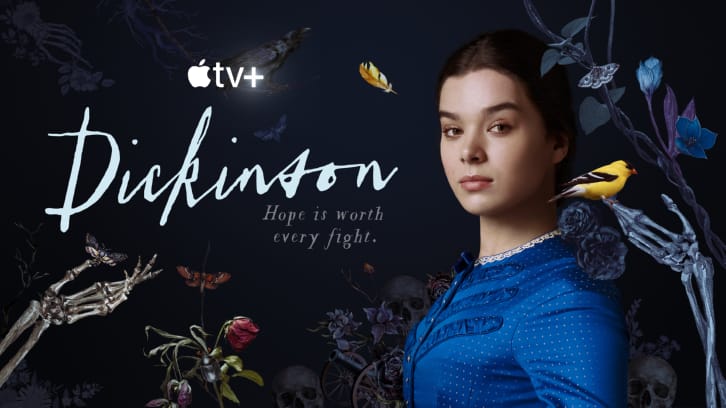 SPOILERS ABOUND BELOW. DO NOT READ UNLESS YOU HAVE SEEN ALL OF THE EPISODES THAT ENCOMPASS SEASON 3.

This article was written by Aimee Hicks and Lucas Oliveira. The open and close of the article were written by Aimee Hicks. Prepared for publishing by Aimee Hicks.

After three seasons we bid a final farewell to Dickinson and its brilliant cast of characters. This series helped launch Apple TV+ and set expectations for what the fledgling streaming service was going to be producing. It never disappointed to be a compelling series with brilliant writing giving life to vivid fully realized characters embodied by exceptional performers. This series left a big impression and will be remembered for a long time to come. The following article will look back on these final episodes as we discuss our thoughts on how the series concluded.

Please continue reading below to see what we felt stood out the most. After reading, please leave your own thoughts in the comments.
Looking back at the whole season, do you feel like it properly concluded the story of Emily and her loved ones? Was there anything you wanted to see that was left out?

Aimee: A show like Dickinson doesn't come around very often. On paper, this is a series about Emily Dickinson and telling her story as it was extrapolated from her exquisite poetry. At least, that's how it started, but the series took on a life all its own. It was a genre-bending series that at times felt a bit like watching a live-action fever dream, in the best way possible. This is a show that the real Emily Dickinson likely would have been very proud of because it more often than not defied labels. The flow of the story never waned in energy nor did it ever stumble in execution. This was, quite simply put, a flawlessly executed series that, in my opinion, impeccably accomplished telling the story it set out to tell while honoring the memory of a truly gifted poet. This final season did a striking job of bringing this retelling of Emily's life to a very satisfying end.

As for if I felt like anything was left out. The basic answer is no, I don't. But, I greedily would have liked to have seen more of certain things. For example, more of Emily (Hailee Steinfeld) and Sue's (Ella Hunt) complex love story, which, for the very official record, I thought was a beautifully told story. I just would have selfishly loved to have seen more just because Steinfeld and Hunt are such magnetic co-stars who know how to deliver stunning performances. I would have liked so much more of Lavinia (Anna Baryshnikov) and Mrs. Dickinson (Jane Krakowski) just to have, again, very selfishly, gotten to see Baryshnikov and Krakowki just devour more scenes. They could have no lines at all and still be the star of a scene and that says something about how truly talented both performers are. I also really wish there had been more time for Austin (Adrian Enscoe) and Jane's (Gus Birney) romance to have played out. They really complimented each other so nicely. But as for anything missing, there is nothing I wish had been added other than just more of what we were already gifted. This show is just so special that it is hard to let go of, but if the story had to end then this seemed like a very fitting ending.

Lucas: This was a Show — such a unique, extraordinary one. What a ride! Looking back at Season Three as a whole, it's clear to me that showrunner Alena Smith, along with the cast and crew, was not only focused on ending things on a high note, delivering all kinds of wonders throughout the season. I felt they were also having so much fun doing it all. At least, I had a great time watching these last moments, amidst all the drama, the comedy, the romance, and every creative way they found to mix it all with fantasy, horror, sci-fi, and poetry, of course. The eternal poems written by E. Dickinson are quoted, staged, glorified in memorable ways, and some of them are so good that they quickly became my favorite moments of the season (not to say of the entire series). When it comes to expectations, this season excelled in my best hopes. Almost every relevant character from the past returned and received a proper ending, and some became bigger — like Henry (Chinaza Uche) and Betty (Amanda Warren). We also got very special episodes that used some very interesting tricks to explore Emily and her loved ones — the time travel one, for example. Anyway, though it was not in any way necessary to the story, I wanted to see Ben Newton (Matt Lauria) again, maybe as a hallucination or part of Emily's fever dream. However, I get that his story was concluded back in the first season, and his absence did not ruin anything for me. Overall, this journey was intense and lovely from the beginning, and I will surely miss Dickinson in the years to come.

In the final five episodes of the season, what were your favorite scenes?

Aimee: These five episodes were some of the absolute best this series has put forth. This was an amazing season in general, but this last half clearly set out to allow the series to go out on a high note and it succeeded. There were moments from each of these episodes that will stick with me long beyond the end of the series.

In A little Madness in the Spring it was the protest that Emily led to try to save the women from the cruelty of asylum. It was a serious moment that the writers brilliantly broke up with moments of levity from Mrs. Dickinson and Abby (Sophie Zucker) who each chimed in at very inopportune times for Emily's influential speech. This was a profound scene that spoke not only to the cruel truth of that era but also to aspects of that same antiquated view that still exists today.

Picking one moment from The Future never spoke is hard to do because it was such a unique episode that all of it was memorable. But if I had to pick just one scene it would have to be the Sue and Emily confrontation. That scene put to words all of the divisions that constantly kept these two women, who love each other so immensely, apart. The way Hunt's voice broke as she declared Sue's deepest feelings and frustrations was poignant. To the way Steinfeld's eyes brimmed with equal measure of hurt and need as she had Emily absorb and ultimately react to Sue's words. It was a scene that had to happen for them to eventually reconcile and find a way to bridge those issues to once again reunite in the glory of their love.

Just like the prior episode, My Life had stood - a Loaded Gun - was such an exquisite episode full of profound imagery and a heartbreaking presentation of the horrors of war that it also is difficult to pick just one single moment from it. The one that I think I'll remember the most was Emily's confrontation with her father, Edward (Toby Huss). Steinfeld and Huss have shared many scenes together. Those scenes have spanned from ridiculous, to hilarious, to serious, but none have left the lasting impact of this scene. Huss, for his part, did a perfect job of expressing Edward's utter lack of understanding of what his daughter was trying to articulate to him. He captured the ignorance of a man from that time that thought a woman under his care was property to be willed away. Steinfeld's passionate portrayal of Emily taking a stand and confronting the antiquated views of her father while her eyes brimmed with tears that slipped down her cheeks as the deep implications of Emily's reality flowed out of her in an impassioned speech, left a mark on this episode that can never be washed away. It was an important scene with an important message and it hit all the right points.

Grief is a Mouse presents a much easier choice. The moment that stood out for me in this episode was the very end with Sue and Emily. After so many trials and tribulations this was them finally landing in a solid place in their relationship where each had found a way to bridge the gaps that continually dragged them apart. This was a love scene between two women who, despite the complications presented to them because of the era they lived, loved each other fully. The scene was also the final showcase that any of us would be graced with to see the beautiful chemistry Hunt and Steinfeld share that lit up every scene they had together. It was a very carefully choreographed scene and each movement had intent, but the way they expressed the emotion that emphasized each action is what allowed the scene to come across the way it needed to. The love these two characters shared was on full display through the eyes, bodies, and talent of these actresses. It was the final culmination of a complex romance rooted in the purest love.

From This was a Poet - the most standout moment has to be the final montage followed Emily's departure from the beach. It was an ending fit for a poet with Steinfeld's silky voice narrating the final moment of the series. A fitting end for an acclaimed poet.

Lucas: The final part of the season was a roller coaster. I mean, I enjoyed the first part, as you may know, but everything that happened in this one, from the funny "madness episode" to the last four chapters was incredibly intense and mesmerizing to watch. In A little Madness in the Spring, the way Lavinia deals with her grief along with another brokenhearted girl is hilarious, and so is Mrs. Dickinson pretending to be crazy just to be spared from all that's happening in her life lately. Finally, Emily gathering with all those locked-up women — her old friend, Abby, included — and starting a riot was so insane and good to watch. I enjoyed how some serious issues were explored in a cheerful, smart way in this episode.

Then, The Future never spoke is one of those episodes I knew people would be talking about even before its release. First, the scene in which Henry and the Beaufort Boys are confronted with a reality so harsh and unfair after doing everything in their power to conform to the norms. That line-up scene was painful, but watching Henry realize they'd have to find another way to survive was thrilling. Also, the conversation between Sylvia Plath (Chloe Fineman) , Emily, and Lavinia is pure gold — but honestly, nothing beats the sisters' final talk filled with acceptance and love. This season focused a lot on Emily's identity, how she deals with it, what she truly wants to be or to do, and the climax of this journey happened in My Life had stood – a Loaded Gun -. After that breakdown between Emily and her father, in a scene brilliantly played by Steinfeld and Huss — which, if I'm not mistaken, is the last one they share on-screen —, there's a whole sequence of Emily lost inside herself, going down and down until she is at rock bottom. Her loved ones are part of this nightmarish hallucination, whispering to her every cruel fear she has been feeling and making her personal hell come true. This sequence is so poetic, scary, and strong, and I got goosebumps watching it. Then, it all ends with Emily watching Henry and the Beaufort Boys fighting for their lives during a battle — and they win. Emily smiles, and it seems like the internal war she's been fighting since the opening scene is finally coming to an end.

Well, that's why Grief is a Mouse is all about ending things. And starting again, maybe — resurrections and all of that. Emily finally makes amends with Austin, and we see a cute moment between them and Lavinia. The poet also helps Mrs. Dickinson face her grief, in a sequence that becomes more profoundly poignant when we think of everything that's happened in real life pandemic-wise. She also reunites with her friends to say goodbye to George (Samuel Farnsworth) in one last big party sequence; finally, her relationship with Sue is back on track after they finally share an intimate, heartfelt conversation that quickly becomes an emotional (and final) love scene. All these conclusive moments we get to see between Emily and her loved ones are so funny and special; they are so simple, and that's part of the reason why I won't forget them. Honorable mention to Edward Dickinson separated from his family, lost in his own journey, and the fact that we never get to see if he changes the way he treats Emily — though I have a feeling he does not.
What did you think about the final episode? Was it a satisfactory series finale?
Aimee:
I think the final episode was a fitting end for the series that brought the focus down almost entirely on Emily. Everything in this episode centered around her as the series concluded the few storylines that hadn't already received a proper ending in the preceding episodes. This was Emily's goodbye to the audience in a poignant way. The prior episodes allowed Emily to say all that needed to be said to the people who shaped her and made her who she is. Each of the final episodes made sure all of Emily's relationships were left in a way that felt complete yet left them in a way that we know life went on after we, the audience, left them for the final time. I enjoyed that the ending wasn't a chaotic mess of trying to rapidly tie up all of the storylines. That is how far too many shows do it and they usually don't succeed in finding that elusive ending that makes the story feel truly complete.
Dickinson
took the smart approach to allow each episode to bring to an end each pivotal storyline to free up the series finale for Emily's few final goodbyes. Then at the end, as that montage played then transitioned to the beach the overplay of Steinfeld's voiceover felt like a soulful goodbye to the audience. It was an ending fit for Emily Dickinson.
Lucas:
It's all about Emily Dickinson in
This was a Poet -
. Episodes eight and nine focus on Emily's relationships with family, friends, and Sue, giving some closure for them — but I didn't realize that until I finished the series finale. When I started watching the show's swan song, I expected something like that: Emily and Austin talking to their father, the house divided finally coming together, maybe some more EmiSue moments, and Henry and Betty reuniting at last. But the thing is: it's all about Emily in the end. When the series finale starts, the show has already said everything it planned to when it came to these bonds, interactions, and family ties. This means Emily interacts with only a few characters, such as Death (Wiz Khalifa), Betty, and Maggie (Darlene Hunt), spending the whole chapter reflecting on her legacy as a poet, all while trying to design a new dress with Betty's help. In the meantime, her family gathers for dinner with Thomas Higginson (Gabriel Ebert), who came to finally meet the woman who's been exchanging letters with him. As we don't get to see Emily coming downstairs, her first meeting with Thomas is not shown, which I found to be another interesting choice. Finally, Betty finds out Henry is alive in an emotional, moving scene — my favorite along with the ones in which Lavinia and Maggie are battling for Thomas' attention and Emily's final monologue. In conclusion, this finale was very surprising to me — touching and funny in equal parts. And one thing I love about it is that the things said here are as important as the ones unsaid — the silences resting under the things unseen. Again: what a ride!
Which performer do you think stood out the most in these episodes? What was their best moment?

Aimee: The entire cast delivered performances of note in these final episodes. The truth is that the true answer to this question is there is no single performer that stood out singularly. They each had special moments of note. Two of them delivered performances together that I think will long be remembered and they are Hailee Steinfeld and Ella Hunt. From the very beginning, Emily and Sue's love was always going to be at the core of the series. They shared two of what I felt were the most pivotal moments of their story in these final five episodes. I mentioned both above in an earlier comment with the first being the big confrontation in The Future never spoke where many things that needed to be said were finally given voice. Then there was their final scene together at the very end of Grief is a Mouse. That scene was a bit of a love letter to fans and a fitting conclusion to a beautiful love story that will never truly end. This version of their love story might be over, but the love story of Sue and Emily is sure to continue to be told, but future creators will be hard-pressed to cast a more fitting duo than Steinfeld and Hunt to bring the story to life. These two actresses alone are exceptional performers but put them together and they are a mighty force that deliver performances that etch in one's mind and leave the viewer forever impacted.

While no singular performer did stand out on their own, it would be remiss to not spend just a moment talking about Hailee Steinfeld on her own. She was the face of the series. In the case of many viewers, she may have been what initially drew them in. What is to be most respected about her, however, is that she didn't make everything about her. She was surrounded by a top-notch cast and she knew it. She took her moments to shine, but she often took a step back to allow her fellow co-stars to have their moments. This show has no singular standout, but instead a full cast of standouts because she took no action to interfere in that. She is the type of lead that all shows need. The type of first-bill that most casts can only dream to have. Hailee Steinfeld played a big part in this series having the impact it has had.

Lucas: This one remains difficult. Especially when we consider everything that happened from episodes seven to ten, and how many actors had a chance to stand out. Nevertheless, for me, Chinaza Uche and Amanda Warren brilliantly played parts that could have felt misplaced when compared to other ones, but instead, they felt essential and captivating. Also, it's hard to not mention Ella Hunt, an actress portraying a character so complex and full of passionate scenes and complicated relationships — and she does it all perfectly! In addition, while what I wrote before about Jane Krakowski and Anna Baryshnikov remains true here — they are as perfect and funny as always — I wanted to highlight Hailee Steinfeld at last. She embodied this show's essence from episode one and played her part with so much heart and soul, making it look effortless, especially in two scenes: that final confrontation with her father followed by the nightmarish dream in the eighth episode and the last monologue in the series finale. Overall, the whole cast is given more than enough material to shine, and I look forward to seeing them all again in other projects. My final words about this show: Dickinson has not the power to die, yet it had the power to kill me with its brilliancy — and I already miss it.
With the conclusion of this article, we now must bid a final farewell to this extraordinary series. It is hard to imagine any show filling the massive void it is leaving anytime soon. From playing a major part in launching a streaming service to leaving an incalculable mark in the push for better overall inclusion, this series will have a legacy that will long outlive its final fade to black. This series helped introduce a whole new generation to the artistic beauty of the real Emily Dickinson's poetry and for that, it has played a major part in ensuring the real Emily's legacy continues to live on as brightly as ever. Thank you to the cast, writers, and production team of
Dickinson
for giving us three incredible seasons.
Please use the comments to discuss all your favorite parts of Season 3 of Apple TV+'s Dickinson.