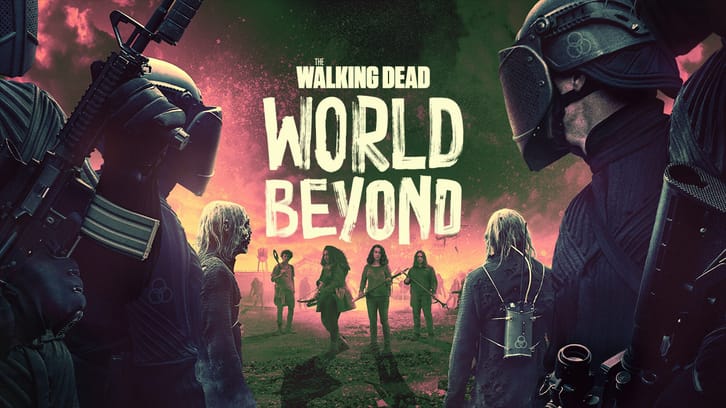 The Walking Dead: World Beyond "Foothold" was written by Carson Moore, whose two other writing credits are Major Crimes and The Closer, and was directed by Loren Yaconelli. Once again, I spent significant amounts of time just scratching my head, wondering what exactly was going on. I did like that the title reflected all three storylines as characters jockey for position in their new situations.
The opening scene is a good case in point. We pick up where we left off with Iris (Allyah Royale) having killed the soldier (who apparently only looked like Newton). Felix (Nico Tortorella) is suddenly there – along with a few walkers and a bunch of CRMs in the VERY sparsely treed forest. They "hide" the body under a tree which gives them ZERO cover and then suddenly Felix is holding a walker and needs Iris to shoot it even though shooting one earlier with a crossbow attracted the CRMs… and then somehow they magically get away.
Iris, Felix and Will (Jelani Alladin) are out killing walkers and hatch a plan to evade the CRMs looking for them. Iris tells the others that she's convinced that it was the CRM who destroyed Omaha and the Campus Colony. Felix sees no reason to kill 100,000 people to get one (and it's a very good point Felix! BUT 100,000 fewer mouths to feed is also substantial.) Will has already been thinking the same thing as Iris – because D'UH!
When they tell Indira (Anna Khaja) and Brody (Lee Spencer) about their plan, they don't want any part of it and tell them it will endanger the community. They are furious that Iris didn't tell them about the code book. Kublek (Julia Ormond) arrives just at that moment and Felix, Iris, and Will duck behind a curtain. It turns out that Indira is a painter and did a portrait of Huck (Annet Mahendru). It's another lame moment when instead of throwing the code book after Iris into the alcove, Brody puts a sheet of paper over it – which the wind blows off just as Kublek is close to it. Even though it's right under her nose, she doesn't see it.
Kublek tells Indira that she's their for a security issue – one of her soldiers is missing. She thinks it's likely someone from the "facility." They noticed damage to their walls, so the soldiers are going to do a house by house check to make sure no one got it. It's a lame excuse, but Indira has no choice but to let them go ahead. Kublek is just about to pull back the curtain where the three are hiding (because it's a ridiculously lame hiding spot) when she gets a call on her radio.
Kublek is dragged away to look at three bodies essentially at the bottom of a cliff by a river. For some reason, she is convinced the bodies will simply float away – not clear why unless there is a flash flood…
In their final scene, Felix checks to see if Iris is ok. She is. The two sisters have completely changed places. Iris trained for research is now the badass fighter. She tells Felix she just wants to hit them back now – this is war.
Meanwhile, Hope (Alexa Mansour), trained to fight, is now the great researcher – even though we've been given no evidence she's studied this at all… Her first night at home is interesting. She explores the bathroom while Leo (Joe Holt) secretly snuggles girlfriend Lyla (Natalie Gold) in his bedroom. It makes no sense… Lyla continues to manipulate Leo about her part in Hope's journey across country, pretending she feels bad about it. Leo forgives her.
The next morning Leo at least makes breakfast for her – presumably after smuggling Lyla out. He tries to get information about the journey, but Hope won't talk about it. Is he the worst father ever? Pretty close.
Afterwards, Leo goes to see Kublek. He wants to go on the mission to get Iris and Felix back, but it's conveniently too late – it's already gone. Leo thinks he has the upper hand and says he knows that Kublek manipulated them into coming and that Huck was her mole. Kublek one ups him by revealing Huck is her daughter and tells him that his daughter is a resource. They needed Hope to see what the world is really like to get her onboard with helping. She tells him that they've run psychological tests on both of them – implying that they know exactly how to effectively manipulate them. She also reveals that she know about the messages he sent to the girls. Leo says that his family is the most important thing to him, and Kublek throws it back in his fact that he still left his family…
Meanwhile, Hope is wandering around taking notes on the security at the facility. When Lyla creepily shows up and offers her a tour, Hope resists at first and then says yes – realizing that it's a way to get more access to know what's going on. When she tries to sneak off under pretense of using the bathroom, she meets Mason (Will Meyers) – another recruit. He explains that the black armband he's wearing – and everyone else – is to commemorate Omaha. There's clearly a little chemistry here. He offers to show her around – but she's still on the tour with Lyla. He tells her that he'll see her around.
When Hope gets to her father's lab, he's once more awol. Lyla doesn't know where he is. She tells Hope that Leo has no choice but to work as hard as he does. She also tells her that he's under tremendous pressure, but she also says that he solved an issue in two months that no one else had been able to solve. She shows Hope a video that he'd made about his research. Hope is clearly proud and impressed. It was actually a pretty cool way to introduce a bunch of exposition.
When Leo finally shows up at home, he tells Hope that he was trying to get an update on Iris and Felix and then needed to clear his head. Yeah. He really missed the daughter who's right there… He is about to tell her about Lyla, but Hope's already figured it out. Leo at least realizes that Hope isn't telling him everything, and asks her to come clean.
We finally catch up with Silas (Hal Cumpston). He has a bag over his head and is in a truck. The guy driving – Dennis (Maximilian Osinski) – takes it off. He takes Silas to what looks like a storage warehouse. He gives him a coat and then takes him through the building and out to an open area where three young people are burning and killing walkers. I will say that their weapons are cool in that they pretty much explode the walkers heads – poke and twist!
Frankly, I think they are trying a little too hard to find quirky characters – Grady (Kellen Joseph) seems to be a cross between Yoda and Harry Potter. Dennis tells Grady, Tiga (Ry Chase) and Webb (Jesse Gallegos) that they are in charge of teaching Silas what to do. At the end of the day, Dennis takes Silas into the warehouse where campers are set up for them to live in. He tells Silas that they are engaged in a mass culling. The others have already told him that periodically, they use lights and noise to attract walkers and then kill them. Dennis tells him that there are 6 other facilities in the state.
Silas finds out that they take the bodies to the Research Facility. Dennis tells Silas that he's also a mechanic and fixes trucks and chopper as well as teaching others how to do it. Dennis leaves and we see he has a walker in the back of his truck that has the tracking device on it that Leo has invented. Is that how they are actually luring walkers there? We also see that he has a picture under the visor of him with Huck – and they seem pretty cozy…
In the final scene Kubrek comes to visit Lyla in her creepy lab. Lyla tells Kubrek that the manipulation of Hope has dampened Leo's enthusiasm for the CRM. Kubrek brutally tells her that that's what she's for. Lyla then asks when she's getting a new test subject. I'm betting they are putting Leo's invention/research to uses he won't approve of - like controlling herds to destroy cities....Lyla is super-creepy. She is clearly some kind of sadist and enjoys killing people to see them turn into walkers. She reminds me of Milton…
It was nice to finally catch up with Silas. Compston and Mansour do some good work in this episode. I also liked the introduction of Mason – even if it is totally obvious where they are going with the character. The show continues, however, to try too hard with quirky characters while not really maintaining much consistency with the characters they have. In addition, the plot holes and some of the silliness sometimes makes the show hard to watch – still thinking about Iris "hiding" under that log with the dead body and the code book left out in the open… Am I being too hard on the show? What did you think of the episode? Let me know your thoughts in the comments below!