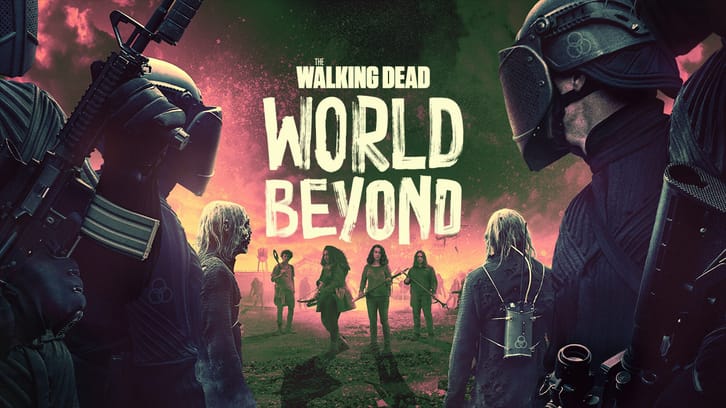 The Walking Dead: World Beyond "Exit Wounds" was written by Rayna McClendon and was directed by Aisha Tyler (who you are likely more familiar with as an actor!). McClendon's other credits include Briarpatch, Deadly Class, and Damnation – nothing I've ever heard of. Tyler also directed Criminal Minds (on which she also starred), Roswell, New Mexico, and Fear the Walking Dead (which she will also be acting on this season). This episode is most notable for the return of Elton (Nicolas Cantu) and Percy (Ted Sutherland).
Elton and Percy have found a horse that Elton names Theresa. Elton is determined to find the others, but Percy is still furious with Huck (Annet Mahendru) – with good reason! The stumble upon Dev (Abubakr Ali) and Asha (Madelyn Kientz) who seem to have a lot of vegetables. I actually really liked how much the scene in which they stumble upon their camp reveals about Percy and Elton. Percy is very world wise and Elton is painfully naïve. Percy notices that the turnips are all the same size, so cultivated, among other clues. Elton is ready to just rush in and say hi, but Percy is cautious, reminding Elton that "the world does things to people. Even good ones."
Elton does go in and introduces himself. It's actually going well and they give him a couple of turnips and water – and then realize that Percy is stealing out of their wagon while their backs are turned. Asha and Dev end up having to take care of some walkers, so it looks like Percy and Elton are getting away until they end up in the middle of a bunch of walkers buried in leaves. Dev and Asha come to the rescue. Elton's industrial corduroy also comes to the rescue when a walker bites his arm. It's hilarious as Asha is determined to chop the arm off asap – and when Elton show her the arm is fine, she makes him strip and give her his suit!
We also find out that Asha and Dev are scooping florists – they scoop out the eyes of walkers, put flowers in the sockets and pray over them. They tie up Elton and Percy, put them in the back of their wagon and take them through a toxic forest – they have gas masks but just put bags over Elton and Percy's head… but in the end they are just playing with them. They are actually a search party sent from the arts colony to look for their missing horse – Theresa – and Iris (Aliyah Royale) and Felix's (Nico Tortorella) missing friends. We get a touching reunion between Elton, Percy, and Iris. Elton is stunned to hear about the Campus Colony.
Brody (Lee Spencer) and a number of the other older colony members are not happy that Asha and Dev have brought two more people who will need to be hidden. Asha, however seems to have taken a liking to Elton and the two share a moment by the art installations. She tells him that the CRM came in and made a deal with them to keep people away from the research facility. She happens to be Indira's daughter. She also tells him that they call the empties (walkers) vessels and believe that they trap souls, so by killing them, they are releasing the souls.
Iris also has a moment with Percy. It's not clear why she waits until it's fully dark to look after his wound, but she tends to it in the firelight. She thanks him for the night in the truck – which never really happened thanks to Huck. He notices that Iris has changed. She tells him that this is their second chance and they have to make it count. Percy tells her that he's still furious with Huck.
Back at the research facility, Hope (Alexa Mansour) is trying to do as she's told. She's taking classes with Dr Ellis (Allan Edwards). She's also struggling with flashbacks. Ellis thinks she isn't paying attention and tries to put her on the spot, but she snaps back with a theory about fermentation. Mason (Will Meyers) tries to prove her wrong, but in the end, he's the one who's wrong. After class, he invites her to hang out with the other kids in the "bunker." She says thanks but she's going to study.
She goes home to try to distract Leo (Joe Holt). He's accosted Huck in the street – and of course, he's angry with her for what she's done to his kids and for dragging them through danger. He tells her that they'll never get their innocence back. But really, Joe? In the zombie apocalypse is it really a good idea to keep your kids innocent? And on the other hand, if she had made them go back, they'd be dead. Leo tells Huck to find Iris and Felix.
Leo and Hope discuss her fermentation idea, but he knows she's just trying to distract him. He also knows she's hiding something. Hope asks him to trust her, and he says he will. She ends up going to the party. Mason offers to show her around, and she gets a little background. He's from the Civic Republic but a lot of the kids are from Portland. He gets to go home for two weeks a year, and he choose studying and science over joining the military – apparently his only other option. When Hope has another flashback while playing a game with Mason, she leaves and goes to Huck, demanding to be taken to Iris and Felix immediately.
Huck, meanwhile has been getting her life back in order. We get some vague handwaving about something that happened with Dennis (Maximilian Osinski) – whom she's having sex with as the episode begins. He did something that got him demoted from active duty to the clean up duty he's doing now. He was also mad at her mother for sending Huck away without telling him. He's playing with a wedding ring – so can we infer that they are married?
Huck also appears before some kind of board who commend her for her service and put her back on active duty. Huck puts Hope off until the next day because she's busy making dinner for Dennis, however, when she goes to change for dinner, she can't do it. She comes back out dressed in her uniform. She tells him that she had to leave two years ago because of what he did and she had to do a lot of things that she regrets. However, she did keep five people alive who should be dead. She asks Dennis to give her the keys to his truck and not ask any questions – which he does.
Huck goes through the checkpoint with Hope hidden in the back of the truck. It's actually a nice echo/parallel of Hope hiding on the bus in the first episode. The Corporal (Gissette Valentin) at the gate smiles and gushes about Huck's mother, but she looks suspicious as Huck pulls out.
Huck takes Hope to the art colony and they arrive after dark. The episode ends as they arrive with Percy peering out a window at Huck and fingering his knife.
So, the show continues to tease out little bits of information that don't really make a lot of sense. Why bring in kids from all over the country and destroy the settlement that was full of people studying? How is Hope the only one who realizes that she's being held prisoner and the others think they actually have a choice? It was great to have Cantu and Sutherland back – and the two have great chemistry together, especially as foils. However, do all the female leads have to have love interests? Really???? What did you think of the episode? Let me know your thoughts in the comments below!