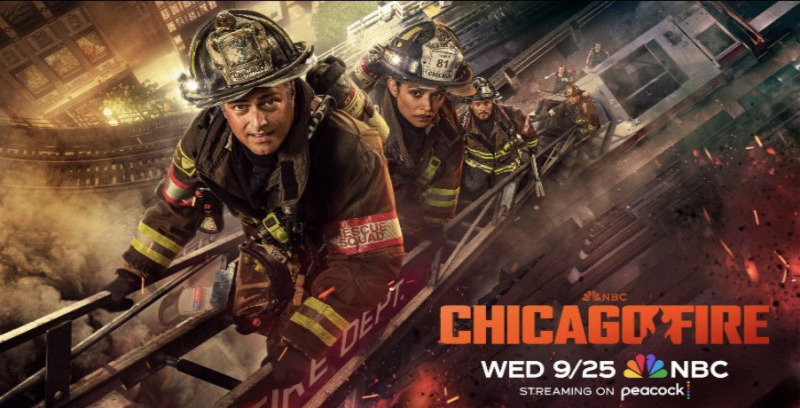 Welcome back Chicago Fire fans! Isn't it just the best that we have a new episode to talk about for a second consecutive week?!?! In this one, Casey goes viral, Hermann and Brett land in hot water, Cruz is still not right after his brush with death and Sheets On Fire makes its triumphant return. Lets discuss!

Matthew Casey, Viral Sensation
Could there be a person less suited for internet fame than Casey? The clip of his daring rescue last episode has gone viral and he has no idea how to deal with insta-fame and teenage girls calling him hot. Now I got a giggle out of all of this because Casey's storylines are usually heavy, but this was just humorous in the best way. From one side, he has the resident social media aficionados Ritter and Gallo pushing him to capatalize on his newfound fame (Casey was having none of this). He also has his girlfriend Brett calling him his newly minted nickname
Firefly
(but that is for flirting and I wholeheartedly approve!). In true Casey fashion he tries to deflect and put focus on Stella's
Girls on Fire
and Brett's new paramedicine idea. The long-game of this is revealed by episode's end when his 15 minutes of fame are up, and a familiar face shows up at 51.
One teen in particular saw the clip and it is not a giggly teenage girl but none other than Griffin Darden. A character we haven't seen since season 2. If you don't remember, Griffin is the son of Casey and Severide's best friend Andy who died in the line of duty in the pilot. Casey took care of Griffin and his brother Ben in season two when their mother was sent to jail for a DUI that resulted in the death of her friend. She got out and moved to Miami with her boys, but things do not seem to be well given Griffin's demeanor.
I am really glad they brought this storyline back into the fold. It'll surely be interesting to touch base with the Darden boys and once the dust of whatever this is settles, could another Darden be in line to join the CFD? It would be an interesting storyline to explore.... Just sayin'. While Casey dealt with internet fame, Brett and Hermann got into some big trouble.
Father First
Brett and Hermann's storylines circled around eachother because they both felt the pressure of how thin CFD paramedics are currently stretched. At episode's open, Brett tells Casey she has an idea on how to help Ambulances get to emergent calls rather than being tied up with non-emergent ones. Brett wants to mirror her program with that of one from San Diego. The idea is basically a seperate service to help people who aren't in an emergency situation but still need some assistance. The need for this is never more apparent than when Brett and Violet are checking on a stable frequent flier when Hermann personally calls them for assistance after he finds a boy in trapped in a car at a scene the house thought they cleared. HQ was of no help when they went through the proper channels so Hermann calls the audible. The boy is saved thanks to this, but Brett and Hermann are in trouble.
When they get back to the house, they are greeted by the new paramedic field chief, Evan Hawkins. This whole scene was ifuriating to watch. The guy is dressing down two of the best CFD have for SAVING A LITTLE BOY! It shouldn't matter how it happened, but that apparently doesn't matter to Hawkins (we hate him already, right?). When he is weighing what punishment to dole out on Brett, Hermann steps in and falls on the sword. This move can very much affect his career, but he doesn't care because a little boy is alive thanks to it and as a father of five, that is all that matters to him.
This issue being in the forefront of the season is so important. Healthcare and emergency workers are in a crisis. Staffing is a critical problem and the show bringing this to light draws major kudos from me. People who step in and take of those at their most emergent moment need all the resources they can get.
Odds and Ends:
* Joe Cruz IS NOT OKAY. He is freezing up in the most critical of moments when he is in a confined space and it is bleeding into everything else. When Stella told Kelly that she knows something is wrong, I guess I hoped he would've done more than a staring contest. Yes, he has trust in his guys, but letting it go that easy, especially when his own fiance is sounding the alarm seemed like a bad idea. This needs to be addressed and soon, before he hurts himself or someone else.
*
Sheets on Fire
made its return and it was HILARIOUS. When Mouch brought in the community library, I knew he had a motive and the payoff was great. Seeing his and Brett's pet project in book form (that he put together) was aces in the comedy department. The angry mom giving him the buisness after her son read the smut was great and him accidently burning down the box at the end had me in stitches. I won't mind Severide doing any more arson investigations if they are like this.
* I would be remiss if I didn't mention Casey and Brett being the cutest little blissed out couple. They have fully earned these light and romantic moments especially since I know this show won't leave them in their love cacoon for long. I do wish there would've been a throwaway line from Severide and Kidd ribbing Casey for never sleeping at the loft anymore though.
* Finally, was I the only one who thought that the new Field Chief Hawkins looked like fellow NBC star Milo Ventimiglia? It was distracting!
That is it for me... What did you think of the episode? Let me know in the comments.