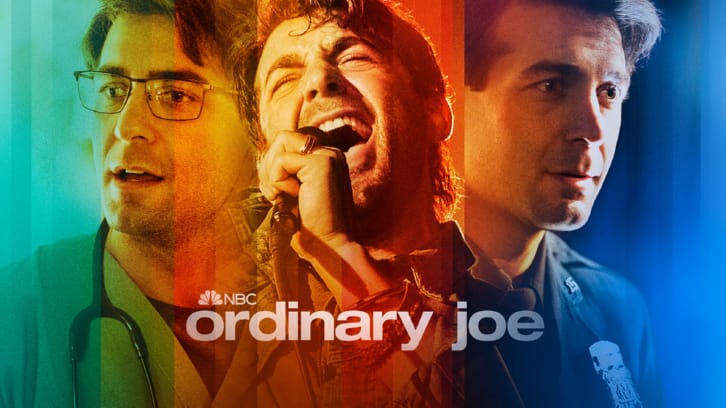 After a pretty solid pilot episode, Ordinary Joe follows up with another intriguing outing. The three lives of Joe start to expand as we add more characters that provide context into each version of Joe. Read on for some teasers.


One thing that all of the versions of Joe have in common is how the death of his dad shaped who he would become. In this episode, we learn that a choice Joe made as a kid in regards to his father has haunted him since his dad's death. It is something that most kids would've done, but the timing of it bumps up against 9/11. You will see the weight of that guilt manifest in all three Joes and it is interesting to once again have the idea of what if? play such a large role in who Joe is in each version of his life. We also see how the 20th anniversary of 9/11 reveals that all the versions of Joe have one thing in common.
Police Joe
After the pilot, Police Joe was firmly my favorite version of Joe and that continues into this episode. His heroics in the pilot do not go unnoticed and it leads to a pretty big shift in his career. On the personal front, this version of Jenny's life with
Lucas
comes into focus and we start to get somewhat of an understanding about why she never told Joe about him. The two are pulled together through work matters and it lays the groundwork for Joe possibly finding out about his son. On the Amy side, they continue to spend some time together but she does something at the end of the episode that makes me side eye her intentions.
Nurse Joe
Nurse Joe is just tired, you can tell that he is carrying the weight of the world on his shoulders and this version of him is the one with the least amount of happiness. He continues to work on his marriage with Jenny but her walls are firmly up. Having said that, she is there for him with the anniversary of 9/11 happening. Chris also helps his dad do something he has never been able to and it is a really beautiful moment. Something having to do with Jenny is the big cliffhanger for this version of Joe, nothing life-threatening but another obstacle in Joe getting his marriage back on track. Also, you do get a blink-and-you'll-miss-it clue as to how Joe got his job.
Rocker Joe
If
police Joe
is my favorite, Rocker Joe is my least favorite. He spends his scenes lying to Amy under the guise of trying not to hurt her. He also does something totally inapporpriate in his quest to get answers about the son he didn't knew he had. This version of Jenny is my least favorite as well. She gives a little bit more insight as to why she never told Joe about the baby, but it still doesn't sit right with me. The person I feel the most for in this story is Amy, when she doesn't give Joe the answer he wants in regards to future plans, he acts okay with it, but goes behind her back.
That is it for me! Hit the comments with your predictions for the episode, and tune in for the second episode.