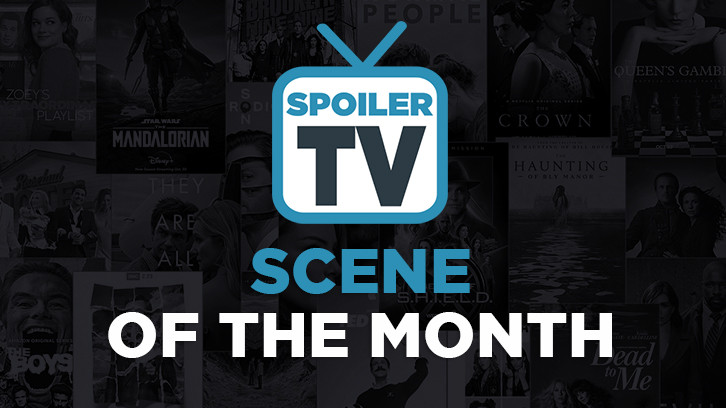 A monthly feature in which we're trying to find the most compelling, best acted, written, directed and just generally great, memorable scenes that we've seen in the past month on TV.
ATYPICAL, "Channel the Cat", July 9, 2021, Actors: Fivel Stewart, Brigette Lundy-Paine
The Scene: "I love you" exchange
Alejandra:
First "I love you" - It was the sweetest and most casual "I love you" I have ever seen.
CHARMED, "I Dreamed a Dream...", July 23, 2021, Actors: Madeleine Mantock, Melonie Diaz, Sarah Jeffery, The Scene: Road Trip sing-along
Marko:
I thought of choosing the emotional goodbye in the Tree room but I choose this moment of pure happiness, cause all I want for these ladies is to be happy and together, to embrace each other like they did in this scene.
EVIL, "E Is for Elevator", July 11, 2021, Actors: Katja Herbers, Mike Colter, Aasif Mandvi
The Scene: Kristen and David find Ben in the subbasement
Laura B:
Aasif Mandvi did such an excellent job in expressing Ben's sorrow, panic and fear! It also amazes me how the Kings and Co. are able to seamlessly play with tone and genre by delivering something so serious and emotional, despite the fact that the show often exists in a state of horror satire.
GOOD GIRLS, "Nevada", July 22, 2021, Actors: Christina Hendricks, Carlos Aviles
The Scene: Mick shoots Beth
Jessica C:
Considering all of the troubles that Beth Boland has gotten herself into these last four seasons, I'd say that her getting shot has been long overdue. I'm disappointed that we won't get to see how a Season 5 would have changed things for the girls, but realistically speaking, I'm glad that some consequences finally caught up with Beth.
IN THE DARK, "Somewhere Over the Border", July 7, 2021, Actors: Perry Mattfeld, Brooke Markham, The Scene: Murphy dreams of Jess
Marko:
In a great hour of television Perry Mattfeld succeeded to surpass her performance with each coming scene. Everything culminated with Murphy hallucinating Jess and getting knocked out by her subconscious. As raw as usual Murphy unraveled under the pressure of the trauma she experienced.
KUNG FU, "Sacrifice", July 14, 2021, Olivia Liang, Eddie Liu
The Scene: Nicky says goodbye to Henry
Marko:
Nicky's journey over the season always had this major burden of sacrifice over her head. But in the final moments of the season's 12th episode, Nick fully embraced her destiny and said a tearful goodbye to Henry despite all the love and security she was experiencing by his side.
LEVERAGE: REDEMPTION, "The Too Many Rembrandts Job", July 9, 2021, Actors: Gina Bellman, Christian Kane, Noah Wyle and more, The Scene: Harry meets the team
Sarah R:
The OG team is planning on stealing something from a museum but end up meeting Harry and having Eliot knock him out when coming out of the museum secret entrance. This scene was awesome, the team back together and planning a heist on the fly with the comedic introduction of Harry trying to steal a painting but setting off the alarms, and then getting punched. It just felt like the old
Leverage
with the comedy and the OG team acting like a quirky family.
LOKI, "For All Time. Always.", July 14, 2021, Actors: Tom Hiddleston, Sophia Di Martino, Jonathan Majors, The Scene: Loki and Sylvie make their choices
Justyna:
For the longest time I've been trying to decide which scene to highlight from the last two episodes of the season. I loved Classic Loki. His story of surviving Thanos, his illusion of Asgard and finally his sacrifice. But ultimately his glorious purpose helped our main Loki and Sylvie reach the Citadel and that's where things took a turn that will surely impact MCU's future for years to come. The introduction of He Who Remains was something that I both expected and was very surprised by at the same time. Jonathan Majors' character is nothing like the one that I've seen him portray before and his story was exactly what we needed to understand to move forward. But the part that I wanted to highlight in this article isn't his monologue or the choice he presents to Loki and Sylvie, but rather their reaction to his tale and the decisions they both make as a result. Sylvie is determined to complete her life-long mission and kill the man responsible for her pain and loss, and I really think that nothing could have changed her mind in this moment. As Loki himself tells her: "you can't trust...and I can't be trusted." Loki, on the other hand, seems to have really learned from his experience, and the experience of the other Loki variants he has met. He declares to be a changed man in the previous episode and he truly shows it in his reaction here. He understands the gravity of the situation, the fact that there is no place for error when the fate of the entire multiverse is in the balance. This time he's choosing to save the world, or at the very least he wants to consider all the possible options before taking an action. And also, he clearly cares about Sylvie and honestly just wants her to be okay. I really enjoyed their fight sequence, nicely done, but I also appreciated when Loki stands between Sylvie and He Who Remains, unwilling to continue the fight but also still trying to reach Sylvie and change her mind. Wonderfully acted and shot scene. In the end, despite Loki's best efforts to stop her, Sylvie makes her choice and the MCU will never be the same...
SCHMIGADOON, "Lovers' Spat", July 16, 2021, Actors: Aaron Tveit, Cecily Strong
The Scene: Danny and Melissa dance and sing to "Enjoy the Ride"
Beth:
This scene was super fun and well choreographed!
SUPERMAN AND LOIS, "Through the Valley of Death", July 13, 2021, Actors: Tyler Hoechlin, Wolé Parks, Elizabeth Tulloch and more, The Scene: John Henry Irons helps Clark break free
Justyna:
There's so many things that I continue to enjoy about this show, but nothing quite as much as its main characters. The relationship between Clark and Lois is not without occasional struggles but even their rare arguments are handled with maturity and care that I don't often see on the other shows that I watch. These two have grown to be the best versions of themselves together which made it even harder to see them separated and Clark slowly losing himself, trapped under Zod's control. During the hour, on multiple occasions, Lois reaches out to John Henry Irons, trying to convince him that Superman can still be saved, sharing her unshakeable faith in him, and even revealing his true identity. Her emotional plea (and later Jonathan's), while heard by John, don't seem to be enough to change his mind. That is until he actually confronts Superman and sees just how much Clark is still fighting with Zod over control, especially when he hears Lois' voice. That's when John truly makes his choice and instead of taking Superman down, he chooses to help him by making him realize that his family still believes in him and losing them would be a pain far greater than the one he's currently fighting against. "Fight back, damn it!" And he absolutely does. I loved what this scene means for all the characters involved, the shift in the relationship between Clark and John, but above all, the music with that excellent editing made it impactful and memorable for me. Wonderful work by the cast and crew. Kudos!
THE GOOD FIGHT, "And the Two Partners Had a Fight...", July 29, 2021, Actors: Christine Baranski, Elaine May, The Scene: Diane converses with Ruth Bader Ginsburg
Laura B:
While the audience doesn't really know if this is the spirit of RBG or not, it served as both a poignant scene in honor of the Supreme Court Justice's memory and an interesting way for Diane to make a hard decision about her role at the firm. While we have seen characters debating things out with imaginary characters going all the way back to The Good Wife, this was rather unique juxtaposition to both the Kings' other current work in Evil, Jay's ongoing hallucinations with historical trio this season of The Good Fight, and callback to Diane's monologues from season 3.
THE REPUBLIC OF SARAH, "Sanctuary", July 26, 2021, Actors: Luke Mitchell, Hope Lauren
The Scene: Danny tells Corinne the truth
Marko:
Each time Luke Mitchell gets juicy material he slays it. The return of his father made Danny unravel and Luke just brought all the feels. His emotional breakdown as he unraveled the real reason behind him leaving Corinne just broke my heart.
TED LASSO, "Goodbye Earl", July 23, 2021, Actors: Brett Goldstein, Hannah Waddingham, Juno Temple, The Scene: Roy tells Rebecca she shouldn't dare settle for "fine"
Folie-lex:
Everyone's favourite stoic cynic grump gives Rebecca sage romantic advice that everyone should follow. The Ted Lasso writers put out into the world yet another infinitely quotable speech and Brett Goldstein delivers it with utmost perfection.
WHY WOMEN KILL, "The Lady Confesses", July 29, 2021, Actors: Allison Tolman, Lana Parrilla, The Scene: Alma and Rita face off
Marko:
The actresses brought all they've got each time they shared scenes in this season of WWK, but this one final face off had all the emotions and intensity as the two were at their most honest and vulnerable place.