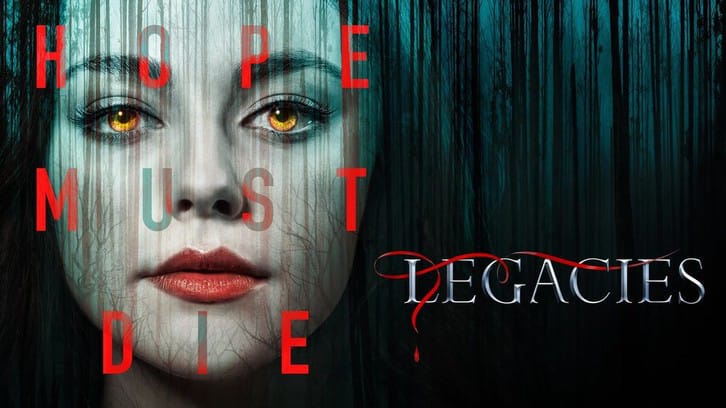 This week on Legacies, Ethan wants to become a vampire and MG narrowly stops him but then compels him to forget their friendship. Josie and Alaric visit Ted because they need help with the box but end up killing him instead. Josie tells Finch how she feels. Hope runs tests on Landon to find out if he's really Landon, only to find out he's a golem sent there by Cleo who has an agenda of her own. And then the real Landon shows up.
I knew it: I should've trusted my initial instinct. When we first met Cleo I felt like something was off but when I didn't see anything suspicious after that, I figured I was wrong. But there was something off… clearly. Though, I don't think she's really a villain. She has an agenda, sure, and she may have gone about things in all the wrong ways but in the end, she wants to defeat Malivore like everyone else. Anyone who wants to get rid of that thing once and for all is okay in my book (I'm so sick of Malivore). I was also right that the guy in the mask was Landon, even if it was pretty obvious by now. What I did not expect was the fact that he seems to have all his memories intact. So, why hasn't he reached out to Hope? He actually looked a bit pissed off.
A hint? I was surprised by the mentions of Hope becoming a full tribrid this week. I have been thinking about that one for a while, how that would basically spell the end of her relationship with Landon. If she's immortal and he isn't, that isn't going to last very long. I was surprised by how aware she was that dying would immediately turn her into a full tribrid since she has a habit of throwing herself headfirst into danger. (which is why I'm still confused by how she survived getting stabbed in the chest last week). I wonder how much consideration she's given all that would mean.
At least he's gone now: Was I the only one screaming at the tv that Josie and Alaric were idiots for trying to reactivate Ted. Seriously? He was a harmless amnesiac, why would you try to ruin that? I'm very glad that they did not succeed. And while I felt a little tiny bit bad by how it all ended, I'm still glad he's finally gone. Now we've just got to get rid of Malivore and this show can start with a clean(ish) slate.
Cowards: Why is it that every time Lizzie and Josie struggle with something they get shipped off the show to deal with it off-screen? Are the writers that incapable of dealing with stuff on screen? How is this the same team behind The Vampire Diaries and The Originals, the same team that gave us Elena's character development, that dealt with the insanity that is the Original family, … I don't understand it. I get that they wanted to be a lighter show but that's clearly not happening. You can't get rid of your characters every time things get hard and you can't ignore it either. And I'd also like to point out that while this episode had a lot of action (and some actual storyline progression) Lizzie wasn't the only one missing. Josie was about as far from the action as she could have been. Are they main characters or what?
Is that it? I hate that MG took away Ethan's memories. They both needed a friend so much, not they're alone again. Why wasn't Ethan still taking vervain? I can't believe that this was the end of their friendship. Mostly because Ethan is a regular now and without this, there isn't a whole lot for him to do, especially if Josie, Finch, and MG go back to the Salvatore school. So maybe he'll figure out something is off with his memory? And can we talk about how MG saved Ethan? I mean, it was brave as hell but it also kind of pissed me off. How far was that barn from the cliffs? How is MG not dead? It took Hayley, Isobel, and Gia a lot less time to burn to death, I don't care how many layers he was wearing.
Best quotes: Hope: "Oh, boys."
Hope: "In case you hadn't noticed, I sort of suck at acceptance."
Cleo: "Perhaps if you had cared about anything other than Landon, you could have seen it too."
That's it for this week. Check in again next week for an all-new review and let me know in the comments what you thought of this week's episode.
Please be respectful in the comments, any unnecessary rudeness isn't welcome.