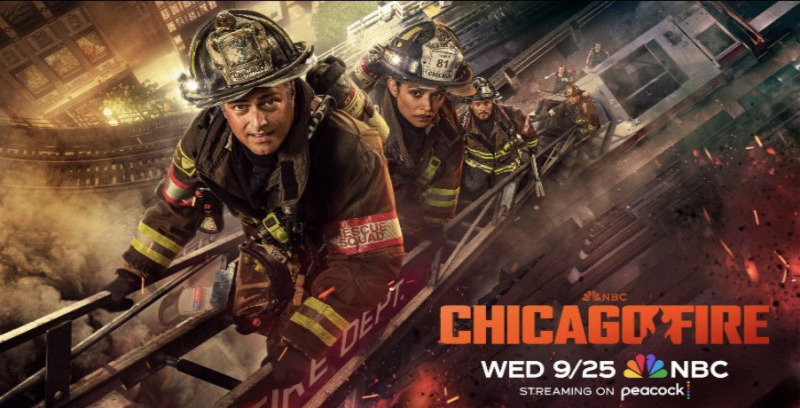 Hello Chicago Fire Fans! This morning I woke up to the best kind of gift, a Chicago Fire screener.... Let me just say, IT IS A GOOD ONE. Read on for some teases.

Stella Kidd, LT

As we saw at the close of the last episode, Stella passed and is a liuetenant. It forces the euphoria of the fact she passed to fade when the uncomfortable truth that there are no open spots for her new rank at 51 avaliable, and she needs a new firehouse home. The show does a pretty decent job of addressing this as everyone just wants to do right by Stella after what she has accomplished. This leads to a pretty great moment from someone who is not Chief or Severide to express what they think of Stella Kidd.
On the personal front, as seen in the preview, Severide seems to have cold feet about marriage. But, previews alway play tricks to get the fans nervous. I cannot say much else, but if you are a Stellaride shipper (and at this point, how could you not be?) this is one you HAVE to watch live.
The Wrath of Cruz
Joe Cruz has impending fatherhood on the brain and a call he goes on inadverenly opens a path that could secure a profitable future for Chole, their baby boy and himself. I have to say that I worried about how this was going to shake out throughout the hour, but we see a side of Cruz that he only brings out when family is involved. It also gives him time with someone we haven't seen him interact with a lot lately and reminds us of how great their friendship is.
The Angst of Brettsey
I really need to choose my phrasing carefully here. Yes, Casey and Brett have meaningful interactions in the episode, a lot of them. Brett also laments to him that she is missing a piece of her life that she recently lost and I was surprised. Also, a call she goes on is a bit more loaded than she realizes when it comes to her current emotional state.
Misunderstandings seem to be the theme of where Brett and Casey stand, but unlike past episodes, someone addresses those head on. Everyone around them can see what most of us see and a new voice enters the fold to tell Brett the two have way too much tension to just be friends. I am rambling at this point, but let's just say that you'll get some answers, one way or another, so again WATCH LIVE!
Other Teases
* Chief's go-to guys Ritter and Gallo are once again tasked with something important. Hilarity ensues as per usual when another party has a say, and they have no idea what they have gotten themselves into.
* I screamed ABOUT TIME more than once in this episode. Especially at a scene towards the end that I may have re-watched several times now.
* Violet has a confidence that is inspiring and not annoying. Please make her a regular next season and end Brett's partner musical chairs.
* I cried at one scene, good or bad tears? You will know when you see it.
That is it for me. This is a penultimate episode you cannot miss! Feel free to drop theories below.