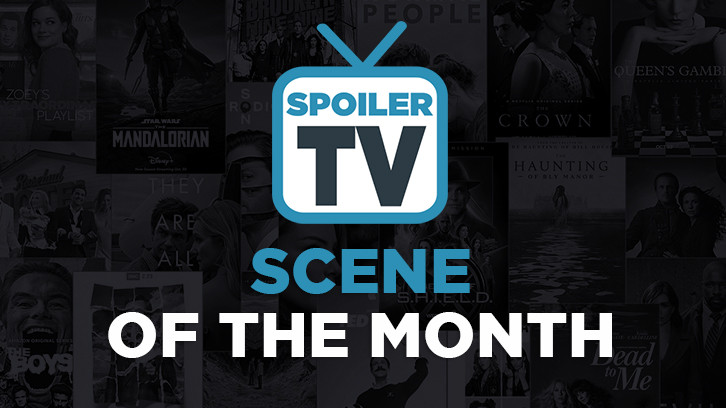 A monthly feature in which we're trying to find the most compelling, best acted, written, directed and just generally great, memorable scenes that we've seen in the past month on TV.
CLARICE, "You Can't Rule Me" & "Get Right with God", March 4 & 11, 2021, Actors: Rebecca Breeds, Michael Cudlitz, Natalie Brown, The Scenes: Krendler tells Clarice why he's been hard on her & Clarice attempts to escape
Laura B:
Clarice attempts to escape, only for Dr. Marilyn Felker to win the fight and give Clarice a dose of something deadly. This is by far my favorite episode to date, given how wonderfully gothic this episode was, but the combination of actresses just really worked, as Natalie Brown was a delightful semi-bonkers character to watch Clarice have to come up against and Rebecca Breeds continues to bring Clarice to life in a way that feels so spot on to the character in the books.
Dahne:
Krendler tells Clarice why he's been hard on her.
CHICAGO PD, "Protect and Serve", March 10, 2021, Actors: Jesse Lee Soffer, Tracy Spiridakos, Marina Squerciati and more, The Scene: The Intelligence unit undergoes psych evaluations
Jessica:
We've not had a check-in with the unit quite like this before. This was a scene that I didn't know I needed until I saw it. It gave a really unique perspective on where each member of Intelligence is emotionally and reflects on the past and present issues affecting each of their lives. It also put them in a position to consider their own fitness for the responsibility that their job entails. From the way the questions were answered to the way it was choreographed, directed and produced; the scene came together phenomenally!
DEBRIS, "In Universe", March 22, 2021, Actors: Riann Steele, Jonathan Tucker, The Scene: Finola stands up for the farmers and fights with Bryan
Laura B:
Finola has been a very kind and low-key character until this scene in this episode, where after discovering what Bryan had been hiding while working on the new case, Bryan insists that there is nothing they can do for the trapped farmers. Finola just basically tells Bryan she isn't having it and I loved that she was willing do stand up to him and eventually goes behind his back to get something done! It's just a testament to being able to see a different side to the character, one that isn't going to just sit idle and not find a solution to do more than one thing. The character has gumption and Riann Steele has been bringing nothing but her A-game since the series started.
FOR ALL MANKIND, "Rules of Engagement", March 5, 2021, Actors: Joel Kinnaman, Shantel VanSanten, Cynthy Wu, The Scene: Kelly tells her father she wants to join the Naval Academy
Jimmy:
For All Mankind is an absolute gem of a series that sits very much in the background because its screens on Apple TV+, but Season 2 has thus far been superb. The series has always been capable of generating genuine tearjerker moments, and this episode delivered the most emotion-filled scene in a TV series that I can remember seeing in years. Ed arrived home from work, and his wife Karen and daughter Kelly were bursting at the seams with excitement as Kelly revealed to her father that she wanted to join the Naval Academy. Unbeknown to them, however, this was a major trigger for Ed, and a large row ensued, but once everyone came to their senses, and the source of pain for Ed was able to work its way to the surface, it was a truly beautiful, powerful and emotional moment for the family. Joel Kinnaman and Shantel VanSanten are brilliantly cast for their roles, and they were doing the best work I've seen them do to date. Topping it off, this scene was just shy of ten minutes in length. The showrunners really did it justice. It was uninterrupted, realistic, superbly written and directed, and showed true depth, human growth and connection. A top job from everyone involved.
Jamie:
Ed loses it when his daughter tells him she wants to join the navy. The acting in this scene was incredible from everyone involved. There was just so much emotion. I wish this show wasn't so underrated.
MAYANS MC, "Our Gang's Dark Oath", March 30, 2021, Actors: Clayton Cardenas, Carla Baratta, The Scene: Angel and Adelita lay together
Folie-lex:
Angel and Adelita take advantage of one of those rare moments of alone and quiet they ever have with each other, to rest and mourn. It's tragic and sad and way too short but Clayton Cardenas and Carla Baratta make the most of it. These two need a win and a break.
Beth:
While this scene was small, we saw them laying together in an ocean of grief and the unsaid. Angel sweetly asking Adelita about their son and if he was beautiful was completely heartbreaking. These two need a break.
SUPERSTORE, "All Sales Final", March 25, 2021, Actors: America Ferrera, Ben Feldman, Colton Dunn and more, The Scene: The final montage
Folie-lex:
It's hard to close out a show in a satisfying way but my goodness did Superstore, stick the landing! For his final announcement Garrett reminisces about working retail inadvertantly making a love declaration to his co-workers and this place they've all reluctantly called their second home. Meanwhile we the audience get to see the moments he's referring to via flashbacks being reminded why we fell in love with this little show, as well as being rewarded with some flashforwards to see where they all end up. It's a love letter to the characters, the fans and retail workers everywhere. And it was utter perfection! More shows should take note.
Beth:
Rarely does a show end with all the characters exactly where you would want them to be, but Superstore did just that. They got it SO right and I was in tears, happy tears.
THE FALCON AND THE WINTER SOLDIER, "The Star-Spangled Man", March 26, 2021, Actors: Sebastian Stan, Anthony Mackie, Amy Aquino, The Scene: Sam and Bucky's joint therapy session
Justyna:
Really enjoying the show so far. Glad we get to explore these characters in more detail after barely starting their stories in the movies. Once again, this feels like a character study, for both Sam and Bucky. There are several moments I could mention from the first couple of episodes but had to go with the couples therapy in the end. There's a bit of humor in the beginning, the staring contest and all, but what really hits me in the scene is that we finally get a closer look at what Bucky's been thinking about lately. He doesn't really have many opportunities to share that in the movies. And his story is one of the most tragic ones we've seen so far. The shield represents more than Captain America to him, the fact that he gave it to Sam was a sign of trust and faith to carry on Steve's legacy. Of course Sam has his reasons for leaving the shield behind, but those aren't exactly clear to Bucky. For him this act raises a question of whether Steve was right or wrong about giving such an important object to Sam in the first place. Because if he was wrong about that, he might have been wrong about so many other things, including his faith in Bucky. Processing his emotions is certainly something that James has been struggling with, he doesn't express them or even voice them most of the time. But he is truly alone in the world, left to carry the burden of the crimes he has committed as the Winter Soldier, but never chose to. After Sam leaves the room there's a short exchange between Bucky and his doctor. "What was rule number two again? Don't hurt anyone." Pretty sure all of this is hurting him... I do hope there's a light at the end of the tunnel for Bucky and Sam when the series ends. Loving their interactions so far. Hope to see them truly rise as the heroes they most certainly can be.
Folie-lex:
The scene starts comically enough, with both Bucky and Sam being childish, emotionally closed off and insufferable, as poor Dr. Raynor is on her last nerve. And then things get serious when the guys are being forced into a corner to be upfront. Bucky finally lets his insecurities boil to the surface, and Sam just tries to explain to him as civily as possible there are things about his life Bucky will never understand either that have nothing to do with Steve, or Bucky, or the shield and the legacy. It's the most honest these guys are throughout their complicated relationship. Stan and Mackie with Aquino's commanding screen presense to assist them, maneuvre themselves through the emotional shift of the scene spectacularly.
THE FLASH, "All's Wells That Ends Wells", March 2, 2021, Actors: Tom Cavanagh, Grant Gustin and more, The Scene: The sacrifice Justyna:
After desperately looking for an alternative Nash finally comes to the conclusion that the only way to help Barry and save everyone is to sacrifice himself, and all the other Wells' in the process. While I'm not sure if this feels like a right ending for everyone else, especially Harry, I do appreciate what this sacrifice means for Nash. He's been carrying around the burden of his mistakes that ultimately led to Crisis of Infinite Earths and this is the best way he knows how to make up for his part in these events. Although in this moment he's not trying to prove any point, he's only trying to protect those he loves and cares about. A true hero at peace in the end. We also get to say goodbye to other Wells' on the Council, including HR, Sherloque and Harry. Harry's final words really got me. Absolutely heartbreaking. I will never not miss him. Tom Cavanagh and Grant Gustin are wonderful in this scene. "Run, Barry, run" has never meant more. I truly hope this isn't over for Harrison Wells. Kudos for this memorable, emotional moment!
THE WALKING DEAD, "One More", March 14, 2021, Actors: Robert Patrick, Seth Gilliam, Ross Marquand, The Scene: Aaron and Gabriel try to convince Mays not everyone is evil
Lisa:
Aaron and Gabriel convince Mays not everyone is evil, and Gabriel maces him.
THIS IS US, "One Small Step ...", March 23, 2021, Actors: Griffin Dunne and more, The Scene: Nicky breaks the snowglobes
Folie-lex:
This is Us is well known for breaking your heart. But it was something particularly devastating to see Nicky at that TCA check. For a man who has a hard time connecting to people and just plain doing "life" in general putting all the hard work into those handmade gifts he made for the twins was a big deal. To see it waste like that, the frustration and devastation it caused both for the character and the audience was immeasurable. And Griffin Dunne was spectacular! It's when TiU pulls these types of emotional punches that it reminds me what made this show special.
WANDAVISION, "The Series Finale", March 5, 2021, Actors: Elizabeth Olsen, Paul Bettany, Kathryn Hahn, The Scenes: Wanda becomes the Scarlet Witch & The Vision and Wanda's Vision face a thought experimentJustyna:
I've been thinking about which scene I wanted to highlight the most from this series finale. There's certainly many memorable moments I could include but it ultimately came down to two options. And since Wanda's transformation is already mentioned in the article, I'll go with "The Ship of Theseus" conversation between the Vision and Wanda's Vision that ends with the original Vision getting his memories back. First of all, this is a really interesting thought experiment that I'm glad we got a minute to explore. In a way both of these Visions feel like the "real" him depending on the perspective. I wish there was a possibility to put them together somehow and make Vision feel whole again, but I never really believed it was an option. It's not that kind of show... However, I'm glad that throughout the course of the series we did manage to get Vision back, as much as we could anyway. What truly got me is the moment when Wanda's Vision ("a memory made real") restores the memories of the original Vision and we get to see glimpses of his story, from his birth, the Avengers, his love for Wanda, everything right till the part where he's killed by Thanos. His eyes become more human but I can't begin to imagine what it must be like to have it all come back to him at once. "I am Vision." Welcome back, can't wait to see what he'll become next. Kudos to cast & crew of the show for all the wonderful work and many, many incredible scenes and performances we got to watch during these nine episodes. Very excited to see what's next for Wanda and Vision.
Jamie:
Wanda's transformation to Scarlet Witch.