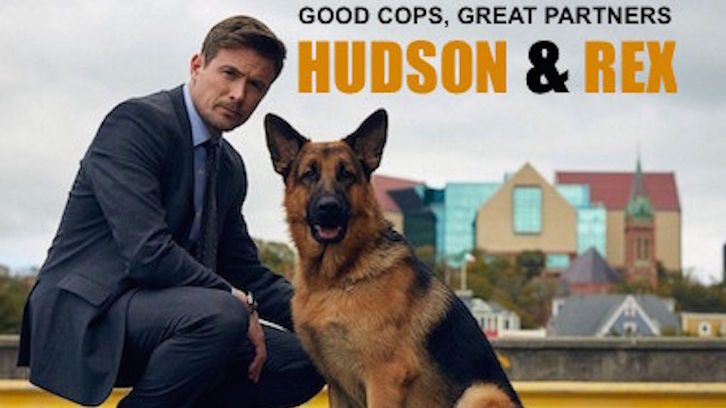 'Twas a dark and stormy night at the mansion on the hill…
Throw in an attempted murder, an actual murder, and a fake medical emergency, and you've got yourself a party!
Mansion on a Hill
is season three's answer to what seems to be the Hudson and Rex tradition of trapping Charlie and Sarah together somewhere (Over Ice in season one/two, and Tunnel Vision in season two). There is more Joe and Jesse bonding this time, and less Sarah/Charlie ship. That isn't to say there aren't a lot of Charlie and Sarah scenes, but for those looking for more than platonic teamwork moments, you're ship out of luck.
Having said that, the look that Sarah gives Fiona when she thinks Fi's referring to Charlie as the coworker she's heard all about tells us Sarah has mentioned Charlie (and Rex) a lot. And that look was a work of art by Mayko Nguyen, by the way (see image above). Meanwhile, Charlie is practically preening over the idea of Sarah speaking about him to her best friend.
swallowedabug.tumblr.com
has gif'd it for us all to enjoy over and over again.
We meet Fiona at the beginning of the episode. Fi is an old friend of Sarah's, and has patented her first app, which is selling well, so she and her husband have moved into a large house. The mansion on the hill.
The guests raise their glasses to toast, they all sip their wine – and it isn't long before Fiona collapses. Sarah suspects a fentanyl overdose and works to bring Fiona back with naloxone from the kit in her car. With the roads washed out the EMTs may not get through. Sarah works tirelessly to keep Fiona alive, and toes the line between keeping it together and falling apart. This is the second time Sarah has almost lost a close friend this season, and in both episodes Mayko Nguyen took the viewers through a rollercoaster of emotions with every smile, every moment of joy, every tear, and every moment of utter despair and frustration that flittered across Sarah's face.
At one point in the episode Rex is alerted to someone walking outside. When Charlie catches up with them, it is Jaime who has left the house. She claims to be diabetic and in need of her insulin, outside because her husband sometimes leaves a vial in the car. Spoiler alert: This will lead to the fake medical emergency a little later.
When Rex needs to pee, Charlie and Sarah both refer to as a "Code Yellow", which is better than the Code Brown that once happened way too close to me for comfort in a public pool. Yes, the pool staff really called it that. No, I will never erase it from my memory.
Sarah gets the job of taking Rex out while Charlie questions Tori, a party guest who remains suspect #1 for much of the episode. Rex leads Sarah to a shed, and the reason for the gasp from the promo becomes evident. There's a body. A woman who no one claims to recognise.
Sarah sends Jesse a photo of the mystery woman's fingerprints and then they lose cell connection.
The fingerprints come back as Jaime Quinn, meaning the notary is the victim. The woman posing as her is Grace Buckley. Grace's husband is in jail and guess who helped put him there. Sarah. The sudden need for revenge spurred on from his death in prison the previous night.
Killers are usually obvious in police procedurals. The point isn't necessarily who the killer is, but the fun and intrigue is in the journey towards the reveal, towards that big speech about why their twisted mind decided that taking someone's life was justified. Still, the notary felt suspicious from the start. The camera focused on moments that were otherwise unnecessary.
The twist that Sarah was her target was a nice touch, even if the show did miss out on opportunities to up the angst. Too much time was spent on the red herrings. I would have liked to have seen the scene in the car where Russell gets between Sarah and Jaime/Grace. I would have liked to have seen Sarah fighting her off.
At the precinct, Joe and Jesse spend the evening bonding. Jesse had had plans to take part in the Laurie Strode Cup, a horror movie trivia championship. Joe agrees to let Jesse multi-task: run background checks for Sarah and Charlie while participating in the trivia. We learn Joe is a bit of a fan of vintage horror, having watched a lot of the movies with his grandpa. It's a nice addition to what we know about Joe (which is still too little).
One grumble: Charlie asks Sarah early in the episode if she's okay. She replies they need to fix this, and then he can ask. It would have been nice to see that question asked again. I'll hold onto hope it's a deleted scene that they will share with us one day.
"That might be why she died so fast," might be my favourite 'It wasn't my fault' line. Lady, you whacked her over the head with a shovel. But yes, try to blame her diabetes.
Overall, Mansion on a Hill was another highly rewatchable episode, and has stepped into top spot as my favorite Sarah-centric episode so far.
Did you know:
Although Diesel's registered name prior to being taken in by Sherri Davis was Diesel Vom Burgimwald, his nick name was 'Dodo', "because he was so aloof".
Davis' nick name for Diesel, however, is 'Mr D's', "because we should address a perfect gentleman with respect".
When work began on Hudson and Rex, Diesel was only a year and a half old. In February, 2021, he celebrated his fifth birthday.
Finally, with only three episodes left to air, it might be time to dust off that #RenewHudsonAndRex hashtag – just in case…