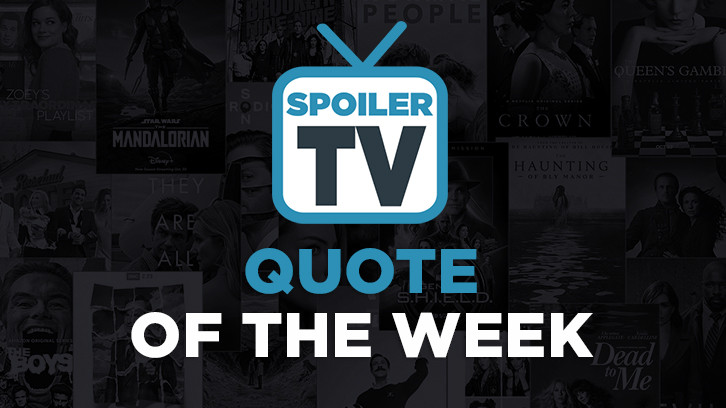 A weekly feature highlighting the best quotes on TV as picked by the SpoilerTV team. We'd love to hear your picks too so please sound off in the comments below.



The Blacklist -

1. Red: "My stars and garters! I do love a surprise." (Kath M)
Chicago PD
-
1. Hank Voight: "You gotta stop covering for him. You gotta start taking care of you." (Jessica C)
2. Adam Ruzek: "After everything that you and I have been through, there just should have been something that held you back from the edge of assumption." (Jessica C)
Clarice
-
1. Catherine Martin gives Clarice a scarf she knitted for her: "I used to love to sew. I know. Ironic, huh? Now I knit." (Kath M)
2. Catherine Martin: "You're reminding her that she's under your control, while simultaneously reminding me that she's not here for me. She's here because of you. You're the Captain of the U.S. Emotional Gymnastics team. Congratulations. You get the gold in manipulation." (Kath M)
3. US Attorney General Ruth Martin (aka Mom): "I have a story, too, Catherine." Catherine: "I'd like to hear it." Ruth: "It's about a young girl who fell in love with the worst thing that ever happened to her. She loves it so much that she makes everyone relive it day after day after day. Nothing else matters. No air can come in. She makes everyone just smell it; she makes the whole house smell of it. She gave it her body; she's in love and the only thing the people around her who love her ever wanted was for it to never, ever have happened." Catherine: "If it never, ever had happened, Mom, you'd still be the junior senator from Tennessee." (Kath M)
~In which Clarice goes to the only place scarier than Buffalo Bill's: dinner at the Martin home.
What We're Watching:
Kenan

-

1. Tami: "The only responsibility we have is to entertain. The world doesn't need more shows telling people the importance of voting or vaccines or science or seatbelts." Mika: "Okay, thank you. You really helped me realize what I need to do." Tami: "Stop worrying about hard news?" Mika: "Oh God, no. The world needs real journalism now more than ever." ~1.02 (Dahne)

2. Kenan: "It's gonna blow over. Daddy just made a mistake, alright. It happens." Gary: "Not anymore. Don't you know there's no such thing as mistakes now." ~Pilot (Dahne)