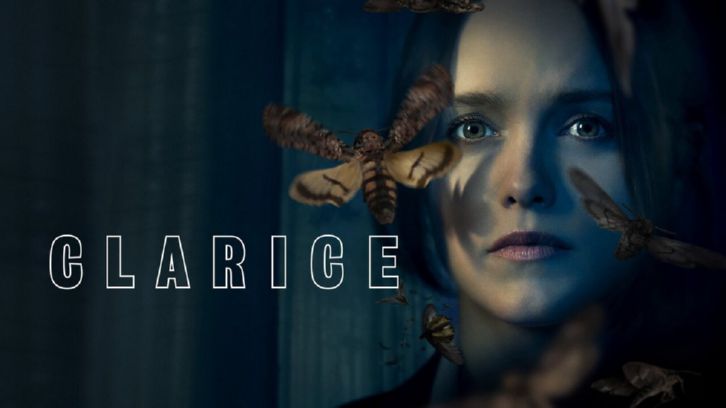 After a two week hiatus,
Clarice
is back and
going to dinner
!
When viewers last left off, a drug-induced Clarice barely escaped the hospital before VICAP showed up at the behest of Adrelia Mapp. Viewers also witnessed the introduction of mysterious new villain, while the other, Dr. Marilyn Felker, took her own life for the cause.
Clarice is quickly side-lined from duty again, while not being able to remember the man's face, but unlike the last time she went and did something on her own, the VICAP team doesn't personally punish her for it, instead they push ahead to find answers (
which was a nice change of pace
).
But as stubborn as Clarice is, she looks for another way to get reinstated by going around Paul Krendler through Attorney General Ruth Martin. Martin is not unsympathetic, but has some serious conditions for Clarice, should Martin use her political influence...Clarice must come to the Martin residence for dinner and Clarice needs to talk a bit with Catherine.
As viewers know, Catherine remains locked away in her room, sketching away and making their maid clean up after Precious. Most of the conversations Ruth and Catherine have had have been brief and unproductive, but upon Ruth's announcement to Catherine that Clarice will be joining them for dinner, we see Catherine come a little more out of her shell in terms of the animosity she holds against her mother, the political destine we begin to feel for how Ruth conducts herself in world.
As for Clarice, she at first resists, but ultimately caves in, wanting to be reinstated so badly. The dinner scenes are as awkward as anyone could imagine and it is through these scenes that the episode was really able to keep it's atmospheric tension that the previous episode also had, and is honestly one of the things that really made the episode.
Ruth Martin was hoping that she could use Clarice to motivate Catherine to leave the house, and the truth is that it almost worked, as Catherine admits to Clarice that she wants to find Buffalo Bill's mother, so she can hear about what kind of son she had (
assuming she doesn't know?
). Catherine is rather put off that Clarice, despite sharing similar death-head moth extrapolations, that Clarice doesn't feel the same way, but it also dawns on Catherine that Clarice actually doesn't remember the events exactly as they happened, with Clarice much more scared and hesitant than she has ever made out being watching Buffalo Bill die right before her eyes.
As for the rest of the VICAP team, Clark, Tripath, and Esquivel try following a lead to a lab, but they turn up empty when a higher up in the company won't let them in or search the premises without a supbeana, which they are temporary denied. Tripath and Esquivel also bond a little more, when it was revealed that Tripath had lost his wife due to cancer.
Earlier in the episode Clarice's fingernails were clipped and sent the lab for DNA analysis, as Clarice insists that there was man at the hospital she touched, but the results came back inconclusive. Adrelia has a hunch and doesn't trust the results, so she tracks down the fingernail/DNA samples in a biohazzrd waste bin and has them analyzed again...there is a match!
As for Paul Krendler an alleged efficient divorce lawyer reaches out to him (over DINNER of course), insisting that he can get Krendler full custody of the kids. If Krendler was dubious of this man's talents (
which I know I was
), he wouldn't be for long, as a call from his son, finds Krendler in situation where his son thought his wife had died (
I almost believed the lawyer did it!
), when she seemingly had taken a very strong pill. Paul takes the kids to his place...
But when Clarice makes one last trek to China Town to try another hypnotic session with Dr. Renee` Li, and probably thinking like many viewers that perhaps Catherine Martin's father might somehow be alive and new villain, Clarice announces that she doesn't recognize him at all, and it's none other than Paul Krendler's new divorce lawyer!
I like almost everything about the episode. Not only did it play with a lot of red hearings and the kept the more atmospheric elements going from the last episode, but it also brought a lot of elements from previous episodes together and is starting feel like Thomas Harris could of wrote this himself.
The layered quality of VICAP exposing yet more corruption from with in (Tony, is that you?), from Calrice continuing on to go down a rabbit hole of pain and denial, and the show having a lot places to start looking over their shoulders, makes everything feel heightened and layered.
And as mentioned many times before, Hannibal too finds himself still in the form of a figurative ghost that looms over the narrative with semi-unconventional therapists and controversial dinners. In fact everything that Clarice experiences in the episode feels so unbelievably Hannibal-esque. Ruth Martin's apartment, a symbol of wealth and fine taste, is so finely juxtaposed to the previous dark-light minimalist hospital, as both buildings have stained glass window skylights and both give an ore of the unsettled interrogation.
In fact I really loved the way the dinner scene homed in on Catherine's eating habits, not being able to stare at or cut into the flesh of her meat, no matter how expensive or well-prepared and the way the skin on her mother begins to crawl with Catherine unpacking her pre-packaged and no doubt bland yogurt was another thing I enjoyed. With yogurt being a food that is perhaps simple and more of a cooking ingredient or snack on the verge of being a dessert rather than a meal, was a real testament to themes and/or elements Thomas Harris often bestows on Clarice in contrast to Hannibal's overall elegant and decadent preferences, which is the truly baffling irony of his over all affection for her childlike tastelessness.
The scene also reminiscent of Clarice being stuck at the table during the
Hannibal
novel, where an intoxicated Clarice is Hannibal's guest, being served Paul Krendler's brains for dinner (
again he's not the same Paul Krendler
), as he sits next to her at the table. There is no one enacting retribution here on Clarice's behalf, but the sociopolitical motives of both of her dinner mates and the way
that
begins to wear Clarice down into acknowledging her own deceptions, seems like an apt juxtaposition.
Speaking of unconventional therapists, I really loved the new inclusion of Dr. Renee' Li and her "bell method" of hypnotherapy. In fact besides the nice references back to
Red Dragon
and Francis Dolorhyde's association with China Town, the bell therapy idea no doubt comes from
FRINGE
.
Executive Producer Alexander Kurtzman and his former writing partner Bob Orci were co-creators of
FRINGE.
And while I suspect they are given that credit, because
FRINGE's
conception most likely comes from season three of
Alias
(something they also co-executive produced with JJ Abrams), I can't deny the HUGE William Bell reference here, despite their seemingly limited work on the series.
William Bell was played by
Star Trek's
great Leonard Nimoy, whose character on
FRINGE
was a likable anti-hero to near villain, as he was preparing for a coming war with...
a parallel universe!
William Bell and main character Walter Bishop had a history the show explored through Walter's redemption arc, but Bell was also brilliant scientist, who created a huge corporate company (Massive Dynamic) to support all manor of fringe science experiments, which are eventually used against him by disgruntle former employee.
At any rate William Bell dies sacrificing himself, but the Fringe team wanted to get into contact with him in order to get some piece of information they needed. As it turns out, William Bell left behind a special bell that could call his conscious back to reality...in conjunction with someone swallowing "soul magnets".
Another main character Olivia is the vessel that houses the brief return of William Bell. In addition the bell was also used previously as a way for William Bell to summon or cause Olivia to travel to the parallel universe where he was hiding/working.
I only bring it up, because the Hannibal Lecter franchise also tread near supernatural, especially where Hannibal's pursuits and almost super abilities were concerned. As mentioned before in other reviews, Hannibal was seeking a way to bring back the conscious of his dead little sister Misha into the body of Starling. The books never explain how Hannibal comes to believe in these sorts of necromancy ideas or why Starling should be the vessel, only that he was an avid fan of Stephen Hawking and his now debunked theory of time moving in reverse.
Bryan Fuller's adaptation of
Hannibal
went more into that metaphysical realm and as a result gave the show a thrilling sense of surrealism at almost every turn, and
Clarice
is starting to feel like it would like to live more in that space too, and I couldn't be more delighted.
But what William Bell and his magical bell might mean for
Clarice
at large, is hard to say, but no doubt we already can surmise that the evil pharma company has an inside man or perhaps there could be a disgruntle former employee who set out to ruin the company?
But I can't help to shake the feeling that perhaps the show might go more "fringe" when all is said in done--that Clarice could transform or elevate into something (
or someone
) beyond herself that would speak to that missing
Hannibal
book explanation, even if Hannibal never physically enters
Clarice's
more intimate picture.
The only other thing that I would like to touch on is another potential book change. Remember I said I liked
almost
everything about the episode, well, this is one place I'm not too sure about.
In
Silence of the Lambs
James Gumb aka Buffalo Bill did what he did to women, because he was trying to transform himself into a more glamorous version of his long-deceased mother. In Thomas Harris' defense, this is what kept Buffalo Bill from becoming a bad trans gender stereotype, and his mother's death is what makes the character's strive to transform into some version of her tragically believable.
But now, according to Catherine Martin, in the
Clarice
version, James Gumb's mother is still alive and seemingly out there. So problem I have is how they could do this without making Gumb seem like a bad stereotype that would be truly hurtful to the trans community, at a time where they have been fighting for the their rights like never before?
I'm not saying that it WILL change anything, should the show ever actually go there, but it does mean that Buffalo Bill's motives are much more circumspect, given that the women is alive and isn't something that Gumb literally lost along the way. I just hope the writers tread careful, especially if they are trying to tie Buffalo Bill to the pharmaceutical company somehow (
his mother was an earlier test subject, perhaps???)
...
But beyond that I thought everything was quite excellent and I found myself on the edge of my seat and pretty much enjoying every scene with all of the characters for once! Cant' wait for next week's episode!!
So what did you think? Any theories or ideas you would like share? Favorite scenes? Sound off in the comments below!!