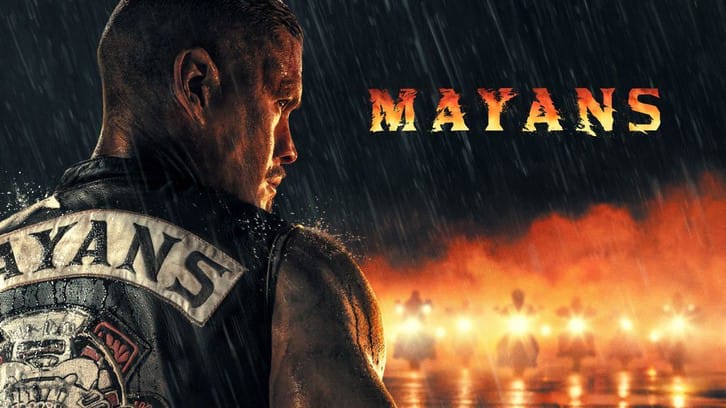 Mayans M.C. returned with "Pap Struggles with the Death Angel" written by Elgin James and directed by Michael Dinner. The show returned without Kurt Sutter – co-creator with Elgin James… It's been a year and a half since the last episode, and I have to admit that I'd forgotten a lot about the last season. What I didn't forget is what a Kurt Sutter show feels like – and this wasn't that.
For me, the episode felt a bit flat and slow and rather heavy handed. It begins with a montage of violence – EZ (JD Pardo) beating up some guy, sex – Angel (Clayton Cardenas) on some random woman, and drugs – Coco (Richard Cabral) snorting white powder. We see that the border is closed and there are army and ICE everywhere. It's great that the show is raising issues of racial inequality, but hasn't it always done that, but in a more nuance way? The Mayans weren't perfect, but they were our heroes – or at least anti-heroes.
Everything seems to be going wrong – we see the border patrol find the tunnel and fill it with cement. Construction on Emily (Sarah Bolger) and Miguel's (Danny Pino) project has been shut down and he's spiralling after his mother's death. Felipe (Edward James Olmos) can't even get out of bed because of her death. It looks like Potter will have his revenge on Adelita (Carla Baratta) who he's been torturing but is planning on returning to Mexico, knowing she will be killed the moment she arrives. Bishop (Michael Irby) is also spiraling as they can get know drugs across the border and his part in stopping the gun trade continues to have repercussions.
Possibly the only bright spot in the episode is EZ's sweet relationship with Gaby (Sulem Calderon). She knows he's been in prison, but how much does she know about life in the Mayans?
This is only the first episode, so it stands to reason that the episode is going to need to lay the ground work for the rest of the season. I wonder if they will be able to recapture the tone and feel of the series as they get back in the groove as well or if that is gone with Sutter… What did you think of the episode? Let me know your thoughts in the comments below – I'll be back with another review of the second episode shortly…