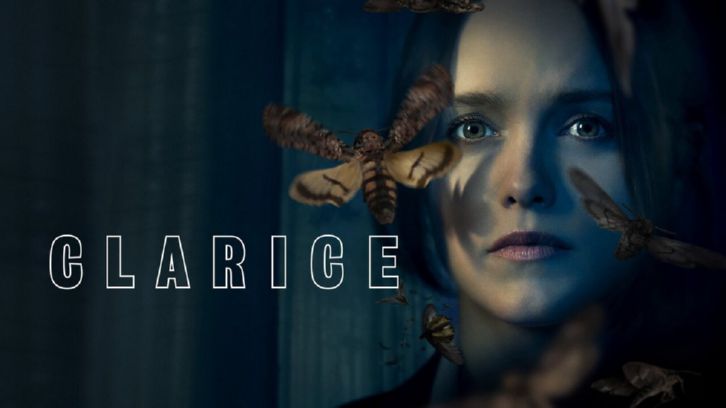 From executive producers Alex Kurtzman (Alias, Fringe, Limitless, Star Trek Franchise) and Jenny Lumet (The Mummy, Star Trek: Discovery) comes a sequel to Thomas Harris' successful novel, Silence of the Lambs made even more popular by a 1991 film adaptation staring Jodie Foster and Sir Anthony Hopkins.



Clarice
is set one year after the events of
Silence of the Lambs
and six years before
Hannibal (novel, film)
, but with the infamous cannibal nowhere in sight. (
In fact, due to split rights issues the good Doctor Lecter can't be mentioned by name.
) The franchise has become mostly dominated by Hannibal himself, even forcing Thomas Harris to write two more novels centered on his Byronic Hero without originally intending to do so. Many '
Silence'
fans were outraged when the
Hannibal
novel came out, as it's strong female hero Clarice Starling is turned on her head, as she continues to battle against heavy misogamy from within the Bureau of Federal Investigations and is semi-willingly transformed into
Leda
by the novels end. There was such backlash that the film adaptation from Ridley Scott staring Julian Moore (instead of Jodie Foster), changed it's ending dramatically, not denying Hannibal's feelings, but leaving Clarice's feelings a bit more ambiguous and with her original identity still in tact.
Thomas Harris also recently wrote his first book in 13 years. Most reviews of
Cari Mora
are unfavorable due to the fact that there is no Hannibal Lecter figure and because it's written more as a fast-pace heist novel, rather than a gritty psychological thriller like
Red Dragon
or
Silence of the Lambs
, but as a long time fan of the franchise, I felt certain after reading it myself, that it was a revisionist work of the
Hannibal
novel, where a more topical female protagonist confronts a Mason Verger-type all on her own.
With that being said
Clarice
itself seems like it's meant to be a revisionist work to either undermine the
Hanniabl
novel (whether or not it will still be considered canon by the series end remains to be seen) or possibly better inform it by better explaining how Clarice eventually gets there. In any case one should expect
Clarice
to give the character credence in a way that has never been done before,
but will it?
The Pilot episode was one of my favorite scripts I read last February. Surprisingly it read like Thomas Harris wrote it himself, but I still worried if the series would be able to visually capture it's text, if the cinematography would be on par with the 1991 film, and/or how will it make it long term without someone like Hannibal serving up delicious scenarios?
After watching the first episode I can say the series' pilot has it's strengths and it's weaknesses. The story starts out with Clarice Starling (
Rebecca Breeds
) no longer a trainee, but being interrogated by the bureau's own therapist, convinced that Starling is heavily deflecting from her previous experience with the serial killer "Buffalo Bill" (aka James Gumb), whom abducted and murdered women and was using their skin to make a new person suite for himself, wanting to transform into a glamorous version of his diseased mother.
The episode is interwoven with flashbacks from the get go, helping the audience unfamiliar with
Silence of the Lambs
better understand it's events, while also perhaps delighting others who know it very well, but there are also flashback's to Clarice's experiences post the events, showing the audience that perhaps this menacing FBI therapist isn't completely wrong about Starling's potential PTSD.
But no matter, even before that dynamic can really go anywhere Clarice is assigned to a new mandate, one that directly ties her back to those previous events. Clarice is seen as a bit of hero in the agency and even in the United States at large for not only catching Buffalo Bill, but also because she was able to save the daughter of US Senator Ruth Martin (
Jayne Atkison
). Martin is now an Attorney General.
Clarice is then thrust into Martin's task force called VICAP, that is also unfortunately headed by another known character in Hannibal Lecter franchise, FBI Agent Paul Krendler (Michael Cludlitz), and he was upstaged by Clarice in
Silence of the Lambs
...
The case of the episode then features a series of women who turn up dead with very specific stab wounds and bite marks. Martin is convinced that this is work of another serial killer, or at least she want the press to think so. Every time Clarice deflects with her behavioral science analysis and continues to decide that this isn't the work of mad sociopath, but rather someone who maybe was trying too make it look that, but was ultimately far too precise, Clarice gets nothing but push back and is ordered not to speak such ideas to the press.
It's only fellow agent Shaan Tripathi (
Kal Penn
) that seems to get along with Clarice and helps her out on the investigation. The two eventually surmise that these women were apart of a drug trial that ultimately gave their upcoming children birth defects that would make them special needs children for life. Essentially they're whistle blowers who were going to expose the pharmaceutical company!
The episode ends with Clarice making a decision to defy whatever Ruth Martin's agenda may be and once again upstaging Paul Kredler by telling the press that is not a serial killer and begins to shed light on the whistle-blower theory!
If what I just wrote doesn't sound all that exciting, you wouldn't be wrong. The case of the episode unfolds pretty matter of factly and the episode may have done better if some of it were slowed down to give some of the other characters (such as Ardelia Mapp) a bit more time to linger in scenes, but I what found was that perhaps the show doesn't always need it's case to shine to make it a good series...
While it's true, one may never find an actress that could be Jodie Foster, Australian actress Rebecca Breeds absolutely shines here and captures the compassionate, self-deflecting, and smart-ass spirit of Clarice to the letter. The episode is rather atmospheric and you can feel the anxiety that is placed on Clarice at every turn, even though publicly and on the job, she is able to deflect almost all of it, until she gets that phone call from Catherine Martin, but even then, it doesn't stop her from telling the truth as she sees it. And this is important, because we know from the source material, particularly the beginning of the
Hannibal
novel that Clarice continually faced heavy misogyny from within the agency, and as other versions of source material, such as Bryan Fuller's
Hannibal
adaptation, so well-played with it's politics
within and without
the agency. All those seeds are sown in this episode, which is perhaps is more important than simply what cases Clarice can solve. It may be
the thing
that makes the series in the long run.
The cinematography is another thing to marvel at. It found away to hold up the gritty look that the Anthony Hopkins film adaptations had, but yet there is still a glamorous update to the quality of film and cinematic shots, especially with the outdoor woodsy imagery. This may set it apart from other crime procedurals on network tv. Speaking of, the series seems like it wants to take hybrid format between the procedural and serialized, which is rarity for any series slated at
CBS
. I was glad that there were not a lot of over explanations to plots or over the top introductions to characters, and that the story dived right in.
That's not to say that show conjures Bryan Fuller's
Hannibal
by any means. The Gothic elements, cat and mouse serial killer games, and superb horror artistry are currently left out to make it more in line with
Silence of the Lambs
film. For anyone expecting something like
Hannibal
, this is probably not going to be it.
However, I was surprised, despite not being able to mention Lecter by name, that his presence was still felt. The choice to mention him in terms of the idea that perhaps Clarice's career-success is in part owed to him might still be telling of other things yet to come in terms of her own internal conflict. Even the opening scene featured Clarice with her mandated FBI therapist, reminding the audience the nature of the missing character. When coming to save a fourth victim and catching the assailant in his tracks, the kitchen-fighting scene felt familiar, reminding me a bit of the ending of the
Hannabal
film, especially the quick shot of the butcher knife.
Again it is still unclear if this really means anything long term, if perhaps Hannibal lingers as an unseen figurative ghost over the series, or if this was just meant to be a thoughtful sendoff?

Paul Krendler is another enigma. Fans of the franchise know that he meets his dramatic end with Hannibal saving Clarice from his and Mason Verger's clutches at the end of Hannibal (novel, film), but that Paul Kredler played more famously by Ray Liotta, was almost cartoony, where as Ron Vwarter comes off more of a pencil pusher-type. The choice of Michael Cludlitz is curious, not because we can't still feel the male authoritarianism oozing off of him like bad lotion, but more so because there is something in his stature and conviction that is reminiscent to various versions of Jack Crawford, whom for whatever reason seems to be missing from the story so far as well. Will Paul Krendler be more redeeming here, and do I really want that? I honestly don't know, but I don't think so.


In any case Clarice so far is not about the story of it's case(s), but the story of how it's lead navigates a sordid and nasty world full of disturbing crimes, unfair expectations, unchecked politics, white male patriarchy, and psychological ramifications of experiencing those things on a daily basis. I'm curious to see where the series wants to take us, despite that it may not be that different from other crime dramas on network tv or that eventually, it may need a good villain or better story to elevate an already memorable character.


What did you think? Did you enjoy Clarice? Do you think it has potential? Sound off in the comments below!