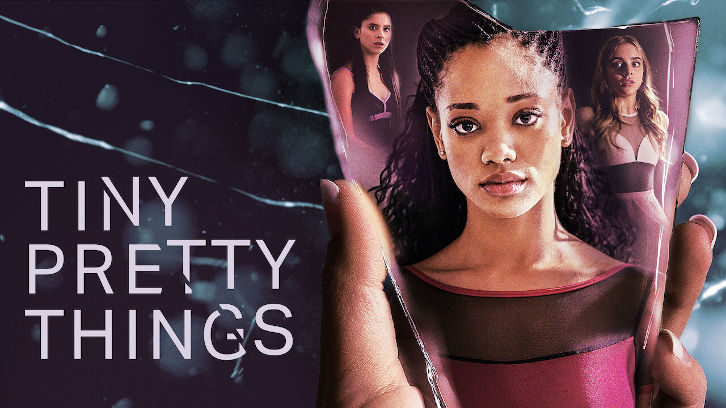 Disclaimer: I was initially planning on reviewing Tiny Pretty Things episode by episode (and you can find the recap of the premiere right here), but the, uh, quality being what it was, I can't quite face writing ten reviews of this. So this post will serve as a combined review of the remainder of the first season.

Between watching the premiere and following with the rest of the show, I gave the first book Tiny Pretty Things is based on a quick perusal and it finally jogged my memory in that I can remember reading it, but if I can give the show one compliment it's that it's at least more...lively than the first book is. (I can't speak for the sequels, I didn't get that far) Unfortunately, it also suffers from convoluted storylines, more instances of insta-love than I care to remember, and far too many characters no one can muster any empathy for, least of all me. But still, there were some fun parts, so let's dig in!

After Neveah takes, in effect, Cassie's spot at the Archer Ballet School, and her not so friendly greeting by the rest of the class, or the teachers, we get the idea that her life at ABS may not be easy. Which brings me to the show's first issue: Neveah. I was all ready to like her and root for her, imagining that she'd be the new kid, and a prodigy at that but... she wasn't. In fact, it didn't seem like the writers knew exactly what to do with her. Sometimes brash and agressive, sometimes demure and sensitive, I ended up enjoying the show more when it focused on almost literally anyone else. It can be argued that the show is more of an ensemble of course, and thankfully it does mostly work that way, but nevertheless... it's always a pain when a main character is a drag on a not so fascinating plot.
It's not all bad though, because some characters do have nice-ish arcs. Eternally second-fiddle June, for example, goes from a roofie-slipping, pampered little rich girl, to a hard-working, bonafide, ballet school star by the end of the season. She fights for the opportunity to dance, struggles through getting emancipated from her own mother and only known relative, gets a job, and basically works her ass off despite the odds never being on her favor. Those odds are usually heavily skewed by Bette, who probably would have roofied Cassie herself if she had an easier time finding pills for anyone but herself. Last but not least though, June, Neveah, and Bette worked together (for once!) to take down a ring of donor/ballerina arrangements that had led to another girl being raped.
Which brings us back to the heart of the mystery: who pushed queen C off the ledge? Just about every main character is a suspect at one point or another (minus Neveah, who would've needed some serious telekinetic powers to achieve this), and all of them had motive. Bette? Eliminating a competitor. June? Ditto. Nabil? She cheated on him. Ramon? They were having a secret affair he didn't want to come to light. The Michi Beach creep? Cassie likely turned him down. The truth, however, comes in the shape of picture perfect ballerina: Delia. As it turns out, Mrs Whitlaw knew all along, and was willing to sacrifice Bette (who, as a minor, would've had a lighter sentence) to save Delia's reputation. See, nothing, nothing good ever comes of associating with Ramon! Overcome by doubts for her future, threatened by Cassie's rising star at the school and Ramon's constant dalliances, cracking under the pressure of being the perfect daughter, Delia finally snaps and Cassie's fall was the consequence. Now, Cassie is no angel either. After discarding Nabil like an old ballet shoe once she woke up (after being threatened by Ramon, no less), she quickly reasserts herself as the HBIC of the school. Once those crutches are off, it's over for the rest of them, etc, etc. Bette would like to think that things have changed, that an almost murder and an escort scandal have brought everyone closer together but alas... I think not.
All in all, a very muddled, if somewhat entertaining, season. Some hopes for season 2, if it happens (I want people to keep their jobs but honestly, of all the Netflix shows that deserve a season 2... This isn't one of them):
- Please give Torri and Wrench a bigger role. They're the only decent people at ABS and deserve more
- Put Shane and Dev's relationship more at the center, it feels like the only genuine one on the show at this point
- Kindly cancel all dream sequences: they're not the high art metaphores the show thinks they are
- I never thought I'd say this but the dance sequences need shortening. None of them were particularly enthralling and 5minutes in, I had to fast-forward so we could get back to the "plot" (if you want to watch a cute ballet show where the dance sequences actually work in the show:
Dance Academy
is right there)
- Switch your leads. Make this show about June, Caleb, Shane, or even that Esme kid. So much wasted potential with the Neveah and Bette show.
As usual, sound off in the comments if you made it through all 10 episodes (and even if you didn't!)!