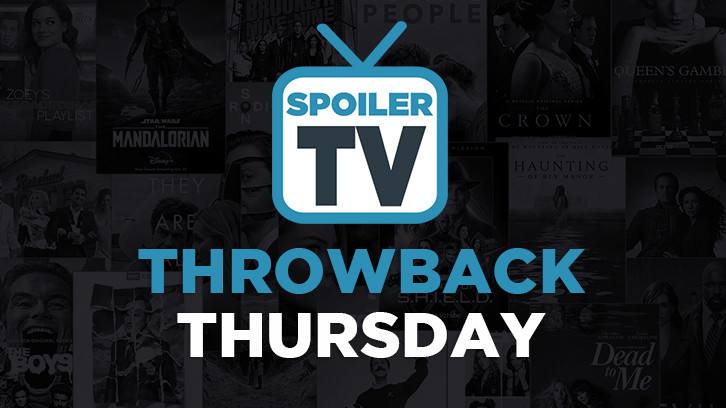 I have to admit it took me a while to decide what episode to feature for this 2020 New Year's Eve Throwback Thursday article after such an unnerving year due to Covid spreading all over the world or for those of us that live in countries where we wished we had better leaders (or even, just leadership at all).
I contemplated Ronald Moore's
Battlestar Galactica
season finale, not because it was a holiday-related episode, but because it's a series about serious human struggles in form of a gritty space opera, in which it's final hours allow for a painful cycle to be broken. But ultimately, this seemed too heavy, despite however on the mark I felt it may be for me personally.
I then thought about something lighter to fit the mood of what this time of year
should be
. And I almost settled on a Christmas-related episode of
Frasier,
but came to feel that this was
too light
, and rather far removed form where I think we are.
It took me about another month to really think about an episode of television that could be a happy medium, but once I found it, it seemed right.
It's been almost five years since Jullian Fellowes' melodramatic 'upstairs, downstairs' period drama

Downton Abbey

graced our tv screens with it's frivolous clothing, romantic home decor, and snarky protagonists.




On the surface,

Downton

does seem like a romanticized flaky soap about servants who work for an wealthy employer, whose better than most, and with character romances that seem unlikely and even at times far-fetched, carrying the shows overall suspense and intrigue, making it all seem like a shallow affair.




But below the surface however,

Downton

was also about dying breed of upper class in time of great change and it's the series season finale,

--it's final holiday special

, that attempts to carry the weight of all of it's previous seasons.
The top of the episode starts in September of 1925 with Crawley family taking a morning stroll outdoors. We are quickly reminded of some of the events of the previous episode where Lady Edith remains a spinster, due to Lady Mary's unruly jealous nature, as Mary became exceedingly retched over the course of the last few episodes to the point where she ruined Edith's prospects of marrying Bertie Pelham, who has become the 7th Marquees of Hexham.
Lady Mary has just previously married Henry Talbot, whose become disillusioned over race car driving after the death of his friend and now doesn't know what to do with his life professionally. But much of the episode has Lady Mary taking a backseat, only to rectify a specific wrong she has cast upon her sister, Lady Edith.
Mrs. Crawly and the Dowager continue to indulge over Lord Merton, whom Isobel had refused to marry due to his sons brazen objections. They find out later in this episode that Lord Merton is sick and under the care of his son Larry and new wife, the former Miss Crukshanks.
Like Lord Grantham during the course of season 6, does the butler Carson now face an illness that makes it hard to do his job, but this leaves room for the Footman Thomas to finally have his day, after attempting suicide and being saved by Miss Baxter in the previous episode. However in the meantime, he's still looking for a job elsewhere.
The new character Andy, a Footman, continues to pursue the kitchen maid Daisy, whose also become very jealous and possessive over Mr. Mason, as both Mrs. Pattmore and Andy become closer to him.
As for Anna and Mr. Bates, Anna prepares for motherhood and continues to work at Downton as a Lady's Maid, all to Carson's ongoing dismay to a never-ending changing world.
And Sprat and Danker too, keep playing games, as Sprat tries to hide his second profession from everyone, but Lady Edith.
The episode moves it's first act at a relatively quick pace, setting the stage for mostly Lady Edith's big moment, when Mary finally decides she might be able to help her sister get back the man and position she lost. After all, it wouldn't be
Downton Holiday Special
if there wasn't a big visual set piece, and Brandcaster Castle is it!
Mary asks their Aunt Rosemond to ask Edith to dinner when Edith goes to London to get some of her affairs in her flat in order, and of course Edith goes with her aunt to a beautiful restaurant only to find Bertie Pelham sitting there waiting!
Edith at first is reluctant and even pretty angry, but Bertie takes a good chunk of the blame, apologizes, and asks her back. She accepts, but now comes the challenge of meeting Bertie's mother and debating if she should explain the truth about Marigold to her as well?
In the meantime, Isobel was able to see Lord Merton, only to learn that he has contracted a deadly version of anemia and doesn't have long to live, but before any other exchange of her affections could be expressed, he is quickly whisked away by the new Mrs. Grey. This leaves Isobel extremely upset as she confides in Violet, whose in rare form in supporting her and recognizing her love for Lord Merton whole heartedly and without any hint of protest. In fact Violet's and Isobel's scenes together are some of best the finale has to offer, given we never get see Violet and Isobel be completely on the same page!
Thomas and Mr. Mosley both get offered new jobs. Mr. Mosely gets a teaching position, which he decides to take and Thomas too goes to work for another family. Unfortunately for Thomas his new place of work only consists of an older married couple, a maid, and a cook. It's clear it's a rather lonely existence, but at least Thomas was invited back for the New Year's celebration at the end of the episode! ;)
Thomas and Miss Baxter also have a few touching moments too. Before he leaves, she tells him to try to be nice to the new people in his life to make it easier on him, and in return, he tells her not to visit Mr. Coil, but to leave him behind so that he will no longer have any power over her. She takes his advice.
As mentioned earlier, Andy begins to pursue Daisy, but they both keep going back and forth on each other with Daisy only seeming interested when Andy decides he doesn't care. It really isn't until Daisy goes to the farm and sees Andy working hard with a good report from Mr. Mason that Daisy really starts to realize what she's missing...

The outing to Brancaster Castle doesn't take up as much of the episode as one might think, but it is fine extension of the previous season's trip to Lord Synderby's estate and it's almost overwhelming to think of Edith having to manage it all.



The audience is teased very early on that Bertie and mother don't get on too well, leaving Edith to wonder if she should reveal the truth about Marigold again to her before the engagement announcement the next evening? Lord Grantham tells Edith that she should not tell her in fear that she may loose both Bertie and this amazing position again, but Edith realizes she can't live with it.

The next morning she tells Mrs. Pelham the truth and soon after Mrs. Pelham and her son get into it with Bertie admirably standing by Edith, pointing out that he couldn't of found anyone more honest and of good moral character.
With no hints in sight we finally come to the evening of engagement announcement, but before Bertie nearly comes to not forgive his mother, she cuts him off and announces the engagement. Shortly after, she explains to Edith and her parents that Bertie was right about Edith's character, making her deserving of the position! The two then plan their wedding for New Year's Eve Day to bring in a new year of change!
Back to Isobel, she was denied entry to see Lord Merton by his daughter in law, so the Dowager makes a plan to storm into their house and try again. Lord Merton hears all of the commotion and believes that Isobel didn't ever come see him, only to learn that they denied her entry! Isobel proclaims that he come and live the rest of his days with her, that she will take care of him for now on, and that they will marry! Lord Merton rejoices at the prospect and even leaves his son and daughter in law the estate!
It's now Christmas time in the big house! The tree is up and the decorations for both the holiday and Lady Edith's wedding begin to put in place!
Mr. Talbot and Tom have figured out a joint venture and take Lady Mary to show them their new "going concern". Mary seems mostly delighted at the prospect of Tom and Henry selling calls, but also tells Henry that she's pregnant!
On the evening before Edith's wedding Daisy decides she wants a new hairstyle and sneaks up to Lady Mary's room to get access to the new hair dryer and begins to try and give herself a new do, only for Andy to see her hair the next morning and laugh at her. Mrs. Pattmore scolds him a bit, telling him no wonder he's alone, sighting he doesn't know women at all!!!!
Anna whose very close to birth at this point, goes to help Daisy fix her hair with a very stylish new cut! Andy then tells Daisy that she looks like Clara Bow and while folding a sheet from off the kitchen floor together, he tells her that they start trying to be "in step" together. He takes a lock of her cut hair before he leaves the room.
After deciding to take Lord Merton for second opinion with Doctor Clarkson, it terms out Lord Merton's anemia is not the deadly kind at all!
And Rose and Attic's also arrive to celebrate Edith's wedding and to ring in the New Year, but not with Rose showing an ongoing disgruntle Lord Grantham how amazing his wife is, when she forces him to stop and see the kind of work she has been doing for the new joint Hospital effort. He realizes that they weren't taking advantage of her at all, and Rose warns, if you want to keep her, then you have to let her go! Lord Granthem later tells Cora, he couldn't be more proud of the work she's doing!
Edith has her second wedding without a hitch and prepares for her honeymoon with an evening celebration at the Abbey just before ringing in the New Year!
And it wouldn't be Downton if a few more revelations turned themselves around! Anna goes upstairs to return the hairdryer to Lady Mary's room. Her water breaks and she gives birth to beautiful son!

Mr. Carson's condition only continued to worsen and they were not sure if they could find someone that would let Carson continue to have some oversight, but low and behold Thomas agrees, and a solution is found!

It's true that Downton Abbey Season Finale had a lot of quick turnovers, trying hard to squeeze a lot in, but what makes it a pleasure to watch, especially this year, was the way the series ends happy, but yet a little bittersweet, embracing all of the series' ongoing changes serving as reminder that we all can face hard times.
As Isobel says to Violet, "We're going forward into the future, not back into the past."



Happy New Years, Everyone!!!!!!!!!!