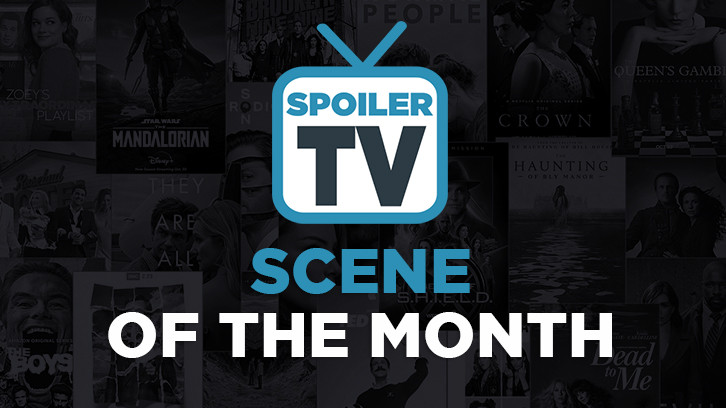 A monthly feature in which we're trying to find the most compelling, best acted, written, directed and just generally great, memorable scenes that we've seen in the past month on TV.
A MILLION LITTLE THINGS, "Hit & Run", November 19, 2020, Actors: David Giuntoli, Grace Park and more, The Scene: Katherine and Eddie renew their vows
Marko:
Just pure perfection. The way the writers are able to dip into the vulnerability of these characters and express the necessary growth through it is just marvelous. Celebrating their love in front of their family was a pure treasure. Grace Park is such a revelation and I just need more of her in my life.
ALL RISE, "Keep Ya Head Up", November 23, 2020, Actors: Simone Missick, Wilson Bethel
The Scene: Lola and Mark finally talk
Luana:
The friendship between these two is definitely one of the best things about this show, and it was a hard thing to have to deal with as is in any kind of relationship, but they both did a great job.
AMERICAN HOUSEWIFE, "Coupling", November 18, 2020, Actors: Katy Mixon, Diedrich Bader and more, The Scene: Everyone's in the bathroom in the morning
Folie-lex:
Cooper is living with the Ottos, Franklin is staying with them until his mum comes back from her cult's excursion and Taylor had Trip over for the night... which leads to a very crowded bathroom in the Ottos' one-bathroom house this fine morning. Now while it's clear American Housewife has been trying to troubleshoot a way to keep its cast contained through the pandemic restrictions, if it gives us scenes like this I'm all for it! AH is always at its best when it has its extended cast interact with each other.
BARBARIANS, "The Battle", October 23, 2020, Actors: Laurence Rupp and more
The Scene: The final battle
Marko:
A marvelous display of peculiar cinematography, with strong and well choreographed writing and exceptional directing. The writers embraced the characters, the spirit, the blood and sweat and most importantly the intensity and importance of the battle. And while the story might not be everyone's cup of tea, the visuals of this scene was just perfect.
DASH & LILY, "Hanukkah" & "Cinderella", November 10, 2020, Actors: Midori Francis, Austin Abrams, James Saito and more, The Scenes: Lily and her grandpa Arthur talk about his proposal & Dash leaves a message for Lily
Giulia:
Lily and her grandpa Arthur talk about Arthur's proposal to his girlfriend in Florida who turned him down. It was such a refreshing scene to watch; two people having an honest conversation on love and loneliness and what it actually means to feel better when someone makes you feel less lonely. The way Lily listens to her grandpa and makes him talk about his feelings is really sweet and I loved how Arthur sincerely apologized to his granddaughter for overreacting.
Beth:
Dash leaves a message for Lily. Dash leaving that message on the mirror because he knew Lily would be nervous was the ultimate 'awwwww' moment.
GREY'S ANATOMY, "All Tomorrow's Parties" & "The Center Won't Hold", November 12, 2020, Actors: Camilla Luddington, Kim Raver, Jesse Williams and more, The Scenes: Jo confronts Teddy about her behavior & Jo asks Jackson for a favor Marko:
Jo confronts Teddy about her behavior. Kim Raver is one exceptional actress, through so many years, through so many roles she always proved she is an emotional juggernaut. During this unexpected confrontation with Jo, Kim's Teddy unraveled all the pain she has built up over the recent days, weeks. Teddy always tried to keep her stuff to herself, work through it like the soldier she is. Seeing her inability to keep it to herself anymore and unravel in front of Jo who is like a stranger to her just showed how big her pain is.
Luana:
Jo asks Jackson for a favor. This is the first time in a while I've liked one of Jackson's pairings, and I love Jo. They were so adorably awkward. I'm not super excited about seeing another Jackson fatherhood story though so I wonder what their plan is for that.
NCIS: NEW ORLEANS, "Something in the Air, Part II", November 15, 2020, Actor: C. C. H. Pounder, The Scene: Loretta sings "Amazing Grace" in the morgue
Dahne:
Loretta sings Amazing Grace to the corpses piled up in the morgue due to COVID. While we've all lived through the pandemic, for most of us it has been lockdown and shortages. It's hard to really understand what COVID has meant to the health professionals that lived the worst of it. I like how NCIS: NOLA has put a spotlight on the medical crisis through the coroner's eyes, giving us a better perspective. In this moment, Loretta does what a colleague is just too overwhelmed to do. She gives the dead their last due and honors all the loss.
SUPERNATURAL, "Carry On", November 19, 2020, Actors: Jared Padalecki, Jensen Ackles, The Scene: The final scene
Justyna:
A quick disclaimer before I get to the scene. I haven't seen the series finale yet. I often don't like endings, especially not-so-happy ones, so couldn't quite bring myself to say goodbye by the time the article is posted. However, I did watch the very last scene of the show and wanted to take a moment to highlight it, as well as give a big shout-out to the entire cast & crew of Supernatural for all their work on the show during its run. The show meant so much to me for the longest time and I appreciate the heart and soul that the team has put into it. As for the actual scene, of course it had to be these two in the end. The love these two brothers have for each other is what made the show work in the first place. It's a huge part of what kept it running for 15 years. I'll take comfort in the fact that in that very last moment they get to be happily reunited and finally at rest. It's fitting to have "Carry on my wayward son" playing in the background, a quiet cover for the heartfelt scene and of course "Hi, Sammy". The most genuine smiles on Dean and Sam's faces say it all. Nothing left to be said. Thank you Jensen and Jared. Thanks to the whole crew. Miss you all already.
SUPERSTORE, "Prize Wheel", November 19, 2020, Actors: Ben Feldman and more
The Scene: The employees take a bat to the "In-store-vaganza" wheel
Folie-lex:
After yet another frustrating shift everyone takes out their anger and frustration on another one of corporate's dumb "fun" things. LOVED IT! Jonah in particular not needing an explanation, but just joining in was aces!!
THE MANDALORIAN, "Chapter 13: The Jedi", November 27, 2020, Actors: Pedro Pascal, Rosario Dawson, The Scene: The Child's name is revealed
Justyna:
I've only ever seen a few scenes of the Star Wars animated shows, but I've heard so much about Ahsoka that it was great to finally meet her on the screen. She certainly appears to be a skilled fighter, experienced Force-user and a hero to the people. And yet the moment I enjoyed the most in the episode was a simple conversation between her and the Mandalorian. Of all the impressive things she's done during the episode, it's the moment when she gives the Child his voice, that I appreciate the most. As much as I love calling the Child "Baby Yoda" it was great to finally learn his actual name - Grogu. The way he reacts to his name, especially when spoken by Din Djarin, it's such a sweet and heartwaming part. But it also makes me think how long it must have been since he's heard anyone call him by his name. Ahsoka reveals to the Mandalorian everything she's learned about Grogu's past. I'm even happier now that Din and Grogu found each other, against all odds. The relationship between this father-son duo is certainly the heart of the show and it meant the world to finally hear about the Child's perspective, thanks to Ahsoka's presence. These three had many great interactions during the episode, I also really enjoyed the training session, but couldn't help but highlight this long-awaited reveal. Kudos to the cast & crew of the show. Thank you for all the great work so far.
THE UNICORN, "It's Complicated", November 19, 2020, Actors: Omar Miller, Maya Lynne Robinson, The Scene: Ben reassures Michelle
Dahne:
Ben is Michelle's biggest cheerleader. He has been celebrating Michelle's return to college throughout the episode, but all it is doing is making her feel more pressure. Finally, she lets him know it. Ben reminds her that it's okay for things to be hard and to feel like you're not making it. He loves her bravery and that makes her a superstar to him. I love how supportive Ben is of Michelle this season and how proud he is of her. It's a big step for a mother of 4 and he's right there to help her through it. It isn't often that we see such supportive marriages on TV, especially in a comedy, and it's one of the reasons why I love this show.
Folie-lex:
One of the Unicorn's most beautiful aspects is the supportive healthy marriages. And this scene was a stellar example of why. A frustrated and stressed Michelle misinterprets Ben's enthusiasm and support, which only stresses her out more. She eventually lets him know as much, only to have Ben reassure her that his cheerleading is rightfully projected on her decision to do something as brave and difficult as going back to school, and that's why he's so proud of her.
THIS IS US, "Changes", November 10, 2020, Actors: Justin Hartley, Caitlin Thompson, The Scene: Kevin and Madison open up to each other Folie-lex:
So far for me the most appealing aspect of this season on TiU is the Madison/Kevin dynamic. This moment where they both let their guard down and open up to each other, acknowledging that keeping up pretenses and things bottled up and hidden will only make things harder, and so instead they just air it all out gives me hope that these two crazy kids might be in it for the long haul. FINALLY a Kevin romance I can root for without any problems despite the character issues.
Luana:
I'm not sure these two are endgame but I'm enjoying their story and I loved this scene, they bare all of their worries and fears and reassure each other that neither of them is expecting perfection, just company.
YOUNG SHELDON, "Graduation", November 5, 2020, Actors: Raegan Revord, Iain Armitage, The Scene: Missy comforts Sheldon Dahne:
Missy tells Sheldon that they can be scared but do it anyway. Although Sheldon gets all the credit for being a genius, Missy rarely gets credit for her high emotional intelligence. Here, she knows exactly what is bothering Sheldon and gives him the courage to step out into his fears. It's a great brother-sister moment, one in which it is Missy that shines.
Folie-lex:
Missy proved herself yet again to be Sheldon's original "Penny". She offers him the emotional support and perspective he needs, filtering the situation through the right spectrum which, despite all his smarts, he's always had a hard time interpreting. It's one of those sweet bonding moments between the twins that allow Raegan and Iain to shine and showcase that in spite of how different these two are, deep down they love and respect each other.