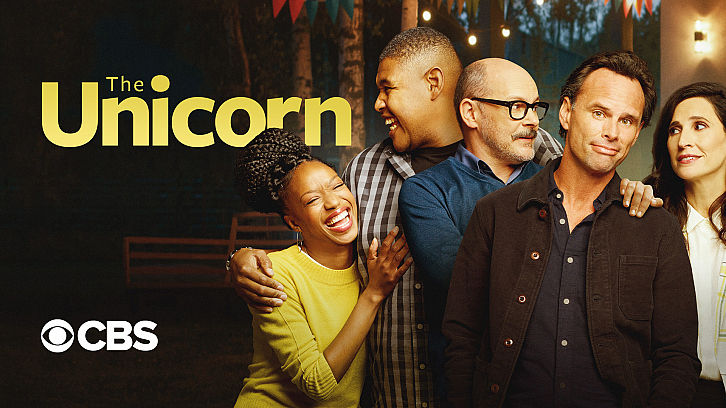 There's something to be said for the ensnaring power of a good actor; without the reliably charismatic Walton Goggins as the focal character of The Unicorn I would have never tuned in, and would subsequently be missing out on a weekly dose of charm and levity, something we need now more than ever. Luckily, the heart-warming comedy survived its first season and has now returned, introducing widower Wade to a whole new world of relationship realities and teen tribulations (on the part of his daughter's Grace and Natalie that is).
We left him previously after a, slightly pungent, meet-cute with Natalie Zea's anonymous character, when he helped her rescue a skunk who unfortunately put up a bit of a stink. It may just be the Justified fan in me, but I was already rooting for the selfless pair. Thankfully, season two kicked off with Wade on a quest to find this mysterious skunk saviour, visiting vets in the hopes of tracking her down. As highlighted by his friends, the pursuit toes the line between creepy and romantic, with Wade even breaking out his artistic side by sketching the sticker he saw on her car, before he is eventually forced to put down his detective cap for the time being. The storyline is one of optimism with a splash of serendipity, we get caught up in Wade's search for another chance at love. I even felt like shouting "she's behind you!" through the screen, as if at a pantomime, during their narrow miss at the restaurant.
Whirlwind romances aside, the humorous heart of the show comes in the form of Wade's friendship with married couples Forrest and Delia, Michelle and Ben, who he can always count on to offer support and advice. It is not only Wade hunting for something new, Michelle has been applying for colleges and finds herself agonising over the one she is on the waitlist for. The pair seem to share the familiar desire to want what you (at the time) can't have, romanticising the seemingly unattainable. However, it all turns out smelling of roses at the end.
Delia connects the dots when she sees the logo Wade has been doodling on one of her patients' shirts (it's from an elementary school) but despite her plans to protect him from any more heartache, Forrest sees his downtrodden friend and can't resist spilling the beans. Soon, Wade is at the school, dodging the glares of suspicious parents, and spots her climbing out of a car with her son. Though he plans a quick retreat after seeing the man driving it, fate finally intervenes and they meet once more. The episode ends with the roles reversed. We learn the name of Shannon when she tracks down Wade and confesses he's been on her mind also (and the man driving was her ex-husband). Though it's still early days you can almost see the bloom of hope unfurling in his chest as Wade goes to celebrate with his onlooking friends...only to race back seconds later when he realises he forgot to get her number.
If you're wondering about what's to come, the second episode's title 'It's Complicated' just about sums it up. Wade and Shannon's plans for a date start to crumble when her ex doesn't show up to look after her son, but not all is lost. As you may remember after her miso glaze run-in with Delia, Shannon is a chef, and so offers to cook up dinner for two at her house. It will come as no surprise that her ex eventually shows up, but the predictability is worth it to see Wade wielding a whisk at this clattering intruder before Shannon clears things up. However, after learning that he still lives in her garage, which is pointed out as basically her house, Wade is left uncertain.
Meanwhile, in the spirit of complexity, Michelle is struggling with her algebra college course and enlists Grace to help her out while the latter ponders whether she wants to stick with her newfound anime-obsessed friends. Also, after some well-meaning interference from Delia to help him fit in with his younger colleagues, Forrest is facing a familiar conundrum of his own: using memes on a group chat.
There is a comfort in watching the group grapple with their everyday problems and by the episode's conclusion we come to learn that the truth, not to be cliché, will usually set you free. Wade's realisation that he has perhaps not been quite so honest with Shannon about his painful past leads to them deciding on a take-two of their first date, while Michelle's confession to a enthusiastically supportive Ben about her problems has her deciding to hire a tutor. Which is good for Grace, who took the if you can't beat em', join em' approach and is now lost to the colourful world of anime.