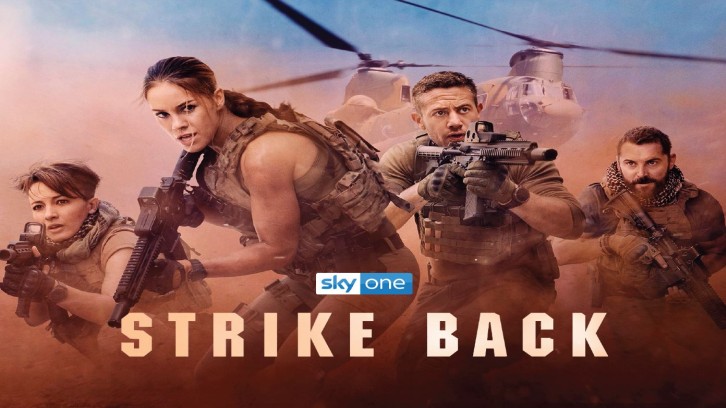 From the start of the season Strike Back has been living up to its adrenaline-pumping, ass-kicking, blow-s***-up name but this time there seems to be something different – something that I didn't manage to put my finger on until it was too late...But more about that when I come to it, lets start from the beginning.

Unsurprisingly, they know how to make an entrance, crashing back onto our screens in true Strike Back tradition – an explosive gunfight set to a dramatic operatic score. This sets the scene for what promises to be a memorable last season. Soon we discover all is not as it seems, the British are the bad guys this time, sneakily making bio weapons and causing the first rift in the group as Mac opposes Coltrane when he moves to kill the doctor on orders from above (to prevent her becoming a whistle blower). This is one of the intriguing moments that gives a glimpse into Mac's character and his inner battle between being a 'good soldier' and doing what is right – an obvious character trope in some respects but no less captivating and definitely a driving force behind his arc this season. This duty vs. morals conflict also crops up for Novin briefly when she accidentally shoots a civilian, but although it clearly weighs on her conscience, she instead throws herself back into her work - a clear reflection of their different approaches. It seems Mac's unwavering sense of right and wrong pays off, as Coltrane tells him he will be recommending him for officer training.


As the series propels into full force, we are introduced to the initial villains of the piece. Italian-Albanian crime family the Demachis are after the weaponised virus in an effort to restore their good name. The patriarch is typically ruthless and cold, but it is his wife that quickly won my attention (and suspicion) because it is played by no other than Banshee alum Ivana Miličević! Knowing her capabilities as an actress and how they quickly established her as equally power hungry and callous I knew there would be more to come. They capture Demachi's sniper Jovan, and it quickly sets them on the path to discover our main antagonists, Zayef and Mahir Hijari who are looking to buy the virus. In the ensuing chaos, the team manage to secure some help from the tormented Loric Demachi, who is looking to settle a score after his father brutally killed his lover. But ultimately Mac's quick trigger finger would prove to be his father's demise, and Loric, regretting his betrayal, joins his mother in swearing a blood feud against Section 20.
The second episode was one of my favourites: it provided all the gut-wrenching tension that the show is known for, but also some brilliant character moments, putting our guys in peril and showing the bond that has grown between Mac and Wyatt, with the latter offering his support for Mac to pursue the officer training. It really warmed my heart to see their brotherly connection, as previously it had seemed tumultuous at best, but this also put me on edge – why were they putting so much emphasis on the team's friendship? I am a sucker for character development but in a series that had recently been all action it was kind of out of the blue...
Novin had also been getting some brilliant moments, she has been such a stand out since her first appearance, going from impenetrable hardhead to letting her guard down around the team – and over time we have seen a bit more of her more vulnerable side, making her even more relatable. She is the perfect encapsulation of a badass female character, and even though she beats herself up for giving into the torture at the hands of Danny Dahar (drug runner accomplice of taxi-driver-turned-money-grabbing-opportunist Topal) I found this to be one of her strongest character defining acts as it showed she was human, and this makes all of her other actions even more impressive. I could not look away from her fight scenes as she tore her way through the goons that had flooded into every crevice of the building she was held in.
From episode to episode there was no lapse in momentum, and they juggled the characters and action ridiculously well. I would say this is one of their strongest seasons so far. Other highlights have got to be the reappearance of Zarkova, she is magnetising to watch as she plays her cards so close to her chest but her affection for Section 20 is clear. After playing an instrumental part in helping them, Coltrane assists her with faking her death and she fades into the shadows once more, I can only hope the two might meet again in some distant future if not at the end of this series. Another is overarching bad guy, Zayef, his brutal condemnation of his brother was shocking to say the least and certainly marks him out as a formidable character, anyone who has the capacity to blow up their own flesh and blood will not be easily conquered. Last but not least is the naïve beacon of light Spiegel, a fearful Israeli police officer who grasped onto the hope Mac offered him when he was determined to be an asset and consequently built up heroic aspirations. This ultimately lead to his sad demise when he attempted to arrest the Hijari brothers and instead inadvertently brought hell down upon his little police station. He was a little splash of innocence in the violent and jaded world of Strike Back that I found endearing and also a valuable spark that lit the fire under Mac - leading us down a deep and dark rabbit hole.
This leaves me with episodes five and six, and a a completely unexpected tragedy I am actually still processing. Warren Brown was the main reason I tuned into the more recent seasons. I was hesitant to watch because I had loved the duo of Philip Winchester and Sullivan Stapleton and wasn't sure how they could recreate that magic. But, having witnessed Warren Brown's brilliantly heart wrenching performance on Luther, I knew it was worth a shot. True to form, he delivered from start to finish, and it was a joy to watch him work with some great material this season. So, you can imagine I was – just a tad – stressed out when he pursued Zayef, driven by anger, vengeance for Spiegel and that damn morality that has cursed him from the beginning. We are met with two blows when he sees Ivana Miličević's Arianna Demachi, freezing him only momentarily but still long enough to be shot in the neck by Zayef. As he lies bleeding out, he seems strikingly and suddenly innocent, calling for help from the team who are on their way and hopelessly ruminating on the choices that led him to this heart-breaking end.
And heart-breaking it is, episode six does offer false hope that he somehow survived just for it to be torn away. However, I can't complain as it led us on a unique Strike Back journey, giving an insight into Mac's inner workings and some juicy emotional scenes with Wyatt and Novin. As the dreamy charade of domestic bliss begins to be stripped away Warren Brown offers a captivating depiction of a man coming to terms with his mortality. The scenes of Section 20 finding him moments from death were gut-wrenching to say the least and they did a fantastic job of pouring emotion into their goodbyes. Daniel MacPherson in particular tugged on my heartstrings with Wyatt's tearful denial. In those final moments we are forced to watch the life leave his eyes with the team and know that while he escaped to a bittersweet illusion of an afterlife they are stuck with the harsh reality of his death. The only silver lining for me is knowing the utter nightmarish hell that Wyatt and Novin will unleash in their pursuit of Zayef, and I for one can't wait to see it…