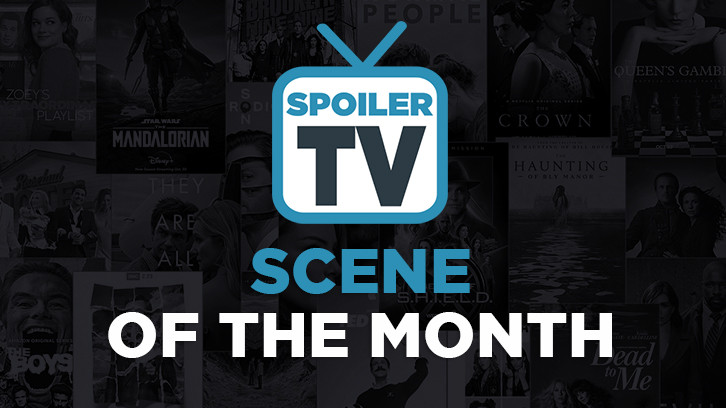 A monthly feature in which we're trying to find the most compelling, best acted, written, directed and just generally great, memorable scenes that we've seen in the past month on TV.
AMERICAN HOUSEWIFE, "Graduation", October 28, 2020, Actors: Peyton Meyer, Johnny Sequoyah and more, The Scene: Trip's "I love you" to Taylor during the wedding
Folie-lex:
It was really hard to pick a favourite scene in an episode which included a Katie/Oliver hug AND Cooper declaring he loves the Ottos, AND Lonnie admitting he just wants Greg to like him and stick around. But in the end Trip saying to Taylor he loves her kinda wins by a hair. Taylor has been freaking out because an online test keeps on finding them incompatible. Taking Katie's advice and tricking Taylor into listening to what he has to say, Trip incorporates a beautiful declaration of his love to Taylor during his speech at Maria and Ablin's wedding ceremony. It's very "Trip" in making sure to explain how science and math, like love, don't make sense. But unlike those things where love is concerned it doesn't matter. Love is something you feel. And he does. Move over Greg. Your future son-in-law is king of the grand gestures now.
BLACK-ISH, "Election Special", October 4, 2020, Actors: Anthony Anderson, Tracee Ellis Ross, Marcus Scribner, The Scenes: Dre explains to Junior why it's important to vote & Bow yells at Junior for meeting up with his girlfriend Folie-lex:
Dre explains to a dejected Junior who after learning about all the voter suppression throughout the years, has given up on even trying to register, that he should try regardless, because the vote is their only weapon. Punctuated by a beautiful historical montage, like Black-ish does, the scene is inspiring and emotional, and offers a rare sweet father/son moment between the two.
Jamie:
Bow yells at Junior for meeting up with his girlfriend. This show sure knocked it out of the park with its first episode and this was without a doubt my favorite scene. Bow absolutely nailed the reason why it's so important to follow the guidelines. Even people who don't watch the show should watch this scene!
FEAR THE WALKING DEAD, "Alaska", October 25, 2020, Actors: Maggie Grace, Austin Amelio, The Scene: Al's decision
Ellys:
The third episode of what may be a redemption tour for the show concluded with an incredibly moving reunion, yet the scene that immediately preceded it was no less poignant. After sending Isabelle away, sacrificing their chance of reconnecting, Al returned to help Dwight and the others, explaining that she couldn't lose another brother. Dwight's joy at her return, despite how he had gone above and beyond to get her back to Isabelle, was cathartic. It was an intensely happy and hopeful moment, one that Grace and Amelio made all the more powerful with their performances.
FILTHY RICH, "Psalm 25:3", October 5, 2020, Actors: Kim Cattrall, Melia Kreiling
The Scene: Margaret has Ginger on her show
DJRiter:
Margaret has Ginger on her show, Wings of a Dove, following the latter's scandalous baptism. Watching the characters these two actresses play go toe to toe with one another is a highlight of this irreverent show each week. During this scene they were at the top of their games, both melt in your mouth sugar sweet on the outside but seething with anger on the inside. They are the reason I come back to this show each week.
LOVECRAFT COUNTRY, "Rewind 1921", October 11, 2020, Actors: Jurnee Smollett, Regina Taylor, The Scene: Leti stays with Hattie in the burning houseJustyna:
This show has truly been one of the biggest TV surprises of the year for me. Unlike anything I've seen before. I'm not sure I'll ever be able to forget the many haunting moments and horror in this story. One of the hardest scenes to get through for me was Leti staying in the burning house. The nightmare of the Tulsa race massacre should never be forgotten and I expected this episode to be an emotional experience. But Leti holding Hattie's hand as Tic's great grandmother burns to death... that's an image that will stay with me for a long while. Deeply tragic, heartbreaking and painful story. But one that had to be told. Both actresses delivered wonderful performances. Jurnee Smollett steals the show on more than one occasion during this season. Thank you for this important and memorable work, to the entire cast & crew.
NEXT, "File #1", October 6, 2020, Actor: John Slattery
The Scene: Paul LeBlanc's opening monologue
DJRiter:
Paul LeBlanc's chilling opening monologue to audience about nerds with the ability to burn down the world. His very thought-provoking and sarcastic speech about nerds, AI's and the dangers of the wrong people having power in their hands set this tone for this gripping show. I love Slattery in just about anything he is in and he is perfect for this part and show.
SUPERNATURAL, "Gimme Shelter", October 15, 2020, Actors: Jensen Ackles, Emily SwallowThe Scene: Dean's conversation with AmaraJustyna:
I'm not fully caught up with the show, but I'm happy to highlight an excellent scene from last month. After initial unsuccessful attempt to convince Amara to join him and Sam in their fight against Chuck, Dean comes back to confront her. As painful as this topic is for him, he can't help but ask Amara why did she bring his mother back to life, what was the point of her action, since all it ultimately did was lead to another tragic ending. Her answer is honest, makes it clear she understands far more than it may seem and her words mean a great deal and hit Dean hard. But his pain quickly turns to anger, to fury. He's more than tired to be stuck in a story, unable to control his own fate, trapped, just like everyone else, including Amara. She wants to trust him, she asks whether she can. Amara is a very interesting chatacter, I am certainly curious where she'll end up in the end. I've always enjoyed her interactions with Dean. These two have this unexpected connection, a shared story and the actors seem at ease with each other, both delivering memorable performances in moments like this one. Special shout-out to Jensen Ackles, Dean's internal struggle and a dozen of conflicting emotions he's experiencing during this one conversation, are all wonderfully portrayed here. Kudos!
TED LASSO, "The Hope that Kills You", October 2, 2020, Actors: Brett Goldstein and more
The Scene: The crowd cheers Roy out of the stadium
Folie-lex:
Aften an impossible save where the "old timer" took down Jamie's rising star and to quote Ted "stopped him from the getting an easy one" a badly injured Roy needs to leave the game (possibly for good). The crown, and the people in the pub chant in unison Roy's chant, cheering him out of the stadium like the legend he is. Roy visibly moved and emotional, claps back to the fans in gratitude. It's a signature Sports Movie moment sure, but it hits all the right notes as Roy has proved himself throughout S1 a character to truly root for.
THE BOYS, "What I Know", October 9, 2020, Actors: Karl Urban, Shantel VanSanten and more, The Scene: Butcher's choiceJustyna:
There are so many outstanding scenes in these last two episodes of the season. I was very tempted to go with the "girls get it done" moment or one of the rare light-hearted exchanges, so needed in this dark and action-packed story. But ultimately I decided to highlight the one scene that truly took me by surprise, in the best possible way. William Butcher is a very complicated man, he's not exactly a hero that we can all root for, or even a good guy torn by internal struggle. He is what he is, what this world, the people around him and his own choices made him. His deal with Edgar was unfortunately something we could expect from him, but him admitting the truth to Becca and actually making a selfless choice to keep Becca and Ryan safe and together, that is a side of Billy Butcher we are not very familliar with as the viewers. It clearly makes an impression on the rest of the group and it's rather heartbreaking to watch, with Becca asking him to leave with her and him realizing why he can't. This scene makes everything that follows so much harder, starting with the car crash a minute later. Both characters share quite a few important moments in this episode, but this one stayed with me the longest. Karl Urban and Shantel VanSanten are absolutely wonderful in this scene, and the finale overall. Kudos to the entire cast & crew for all the fantastic work on the series.
THE CONNERS, "Keep On Truckin' Six Feet Apart", October 21, 2020, Actors: Lecy Goranson, Sara Gilbert, The Scene: The job interview
Shirleena:
Becky and Darlene go to Wellman Plastics plant for a job interview. Darlene was having a hard time dealing with the reality of having to give up on writing and having to get a job at the factory. Both Becky and Darlene get hired, hoping that their mother's spirit is with them.
THE HAUNTING OF BLY MANOR, "The Two Faces, Part Two", October 9, 2020, Actors: Victoria Pedretti, Oliver Jackson-Cohen and more, The Scene: Dani learns the true extent of the scheme
Ellys:
It's You. It's Me. It's Us. The follow-up to the viewer-acclaimed Hill House miniseries works far better when you view it as an audition reel for its ensemble of beyond perfectly splendid actors. In terms of the story itself, however, there are occasionally standout scenes, one of which is this dramatic event when Dani (Pedretti) finally finds herself face-to-face with Peter Quint (Jackson-Cohen) and Rebecca Jessel (Sharif) and learns the true extent of their scheme involving Flora (Bea Smith) and Miles (Ainsworth). The chilling scene belongs to Jackson-Cohen as Quint delivers a tearful appeal to Miles that is cloaked in raw grief and fear so impeccably that even we forget for a moment just how very sinister his intent is.
THE MANDALORIAN, "Chapter 9: The Marshal", October 30, 2020, Actors: Pedro Pascal, Timothy Olyphant and more, The Scene: The battle against Krayt Dragon
Justyna:
This is such a great and entertaining show. I would never think I'd enjoy a story centered around a guy who prefers silence over conversation and is only ever seen with a helmet on his head. And yet here we are. I genuinely think it might be my favorite Star Wars story overall. This premiere was heavily focused on an impossible fight of the town of Mos Pelgo against Krayt Dragon. A huge, almost invulnerable creature eating everything in its way. The town's Marshal, Cobb Vanth, the Mandalorian, a tribe of Tusken Raiders and the townsfolk all join forces (despite their many differences) to defeat the dragon in a battle that ensues. The visuals are wonderfully done, the fight is well choreographed and Mandalorian's final idea proves to be both insanely dangerous and ultimately successful. The Wild West of the space indeed. Kudos to the entire cast & crew of the series. Always glad to be a fan.
Laura B:
The Final Battle against Krayt Dragon. What an action-packed first episode to kick off the second season. Everything was wonderfully choreographed, and despite my dismay at using Banthas for bait, this is the "wild west" era of Star Wars in the Skywalker Saga and the pairing of Cobb, Banth, Din Djarin, and Tusken Raiders was a winning combo! Not to mention a fun easter egg in parallel plot to The Old Republic!
THE RIGHT STUFF, "Advent", October 23, 2020, Actors: Jake McDorman, Ella Paige
The Scene: Alan teaches "Alice" how to raise the flag
Marko:
Alan is a faulty character with questionable moral choices but he is always there for his family. The connection he established with his emotionally disturbed niece grew from scene to scene and highlighted with this moment which gave her a place in their life/family. Giving her purpose, acceptance and stability was all Alice could've asked for.
THIS IS US, "Forty", October 27, 2020, Actors: Justin Hartley, Caitlin Thompson, The Scene: Kevin doesn't take the proposal back
Folie-lex:
Unlikely parents-to-be and tentatively falling in love duo Kevin and Madison spent the majority of the show's 2-hour S5 premiere worrying about the fate of one of their babies, during which time Kevin proposes to Madison. After they get the all-clear "good news" in fear it was just an emotionally motivated proposal Madison lets Kevin know he's off the hook. An adorable back and forth ensues where each of them seems to realize mostly for themselves they're both in this for the long haul. This non-conventional love story for Kevin is off to a great start.
TRUTH SEEKERS, "The Girl with All the Ghosts", October 30, 2020, Actor: Malcolm McDowell, The Scene: Richard decides to make his first YouTube video
Prpleight:
Gus' dad Richard decides to make his first YouTube video. Unfortunately, dealing with the filters is NOT a user friendly feature. Richard is shocked to discover the rabbit ears and bunny tail in his video. Of course his attempts to cancel and delete the video result in him posting the video. It's an odd moment to feel real, but it did and it was really funny.