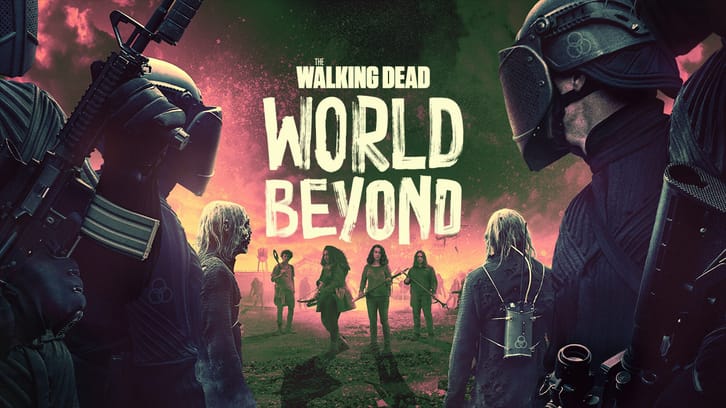 The Walking Dead: World Beyond, "The Tyger and the Lamb" was written by the Farahanis (Dana and Siavash) and was directed by Sharat Raju, whose other credits include The Walking Dead, Criminal Minds, and Fear the Walking Dead. The writing team of the Farahanis only have one other credit – Blood & Treasure. The title of the episode refers to the famous William Blake poems. "The Tyger" dwells on the dangerous animal asking numerous questions and ultimately not giving many answers – that annoying theme runs through the story of Silas (Hal Cumpston) as we are teased with his story and ultimately left with more questions than answers. "The Lamb" contrasts with "The Tyger" as meek and mild – the other side of Silas. Of course the binary is also picked up in Iris (Aliyah Royale) and Hope (Alexa Mansour).
I found the Silas storyline annoying more than intriguing – assuming that's what they were going for. He's clearly been involved in some violent incident in the past – I think it's safe to say that we are supposed to think that he may have hurt his grandparents. He keeps looking guilty and listening to tapes of their voices. I'm betting he killed them when they turned... Or he snapped when he was being bullied. Regardless, he was sent to work with his Uncle and prefers not to attend school or get close to kids his own age – until now. His past trauma appears to be hindering his ability to kill in the present, clearly indicating that regardless of what he did, he's still a decent guy with a conscience. He offers to carry everyone's packs to avoid killing.
As the episode opens, Hope finally checks in with the others who are just waking up. Iris is furious she's risking herself. Once again as the others foolishly set off after her, they can't kill empties – they should all be dead by now!
Felix (Nico Tortorella) and Huck (Annet Mahendru) catch up with the others. Felix is shocked that it was Hope leaving the breadcrumbs. Elton (Nicolas Cantu) has faith in the plan, but Silas is sure that he knows how these things go. And it looks like he might be right when Hope gets to the siren only to find it broken.
The others have no idea why Hope has gone off on her own. Silas tells them about her taking out the Empty at the treehouse and that she said their mistakes shouldn't have to follow them. Huck is a real bitch to Silas, asking him if that's why he's there. Iris – who was friendly to Silas in a flashback in which he finds the Blake poem after it falls out of Iris's backpack – goes after him here and asks him what he's afraid of. He confides in her that he's afraid of himself. We do get a flashback of him punching the hell out of someone, but we get no context on who or why. I'm quite sure that it's going to turn out to be justified.
Hope gets the siren working and ridiculously – and oh, so predictably – twists her ankle as she steps off the ladder from the roof. Hope is attacked, but Iris comes to the rescue and they both finally get their first kills. Silas also gets to be a hero as he saves everyone by holding up a falling fence so that they can get out – even after Elton stupidly rushes back for his pack. We learn later that it's because his mother's manuscript was in it. She never finished the final chapter, so he's going to.
They regroup by a river. Huck tells Hope that she should have come to her. Felix tells them that they will go on to Omaha rather than trying to walk back around the tire zone. They can catch a ride back from Omaha. Iris and Silas say that they aren't going back and Ethan and Hope say they aren't either. Hope tells him that if he wants to help their Dad, he'll have to come to New York with them. Huck says that if they can't turn them around they'll have to go with them to keep them safe. Felix eventually agrees.
We do get a nice scene with Hope and Iris in which Hope finally tells Iris the truth about the night their mother died. Iris is completely understanding. I wonder if Elton will be when he finds out – as he is bound to do.
The final scene is a chilling one as we are back with Lt Colonel Kublek (Julia Ormond). She's clearly living in the lap of luxury – or at least it looks almost like normal – there's tv, electricity, etc. She's visited by Barca (Al Calderon) – one of her soldiers. He tells her that he can't get what they did out of his head. She tells him to stand at attention. She tells him that they neutralized a threat. He responds that they didn't seem like much of a threat. And you have to wonder why they would want to wipe out their own brain trust.
Kublek has clearly drunk the kool-aid and tells him that they are the last light of the world, the last hope. They were going to be a threat. By being too intellectual? The police show up at the door and she tells Barca that he'll be taken to the compound until he's ready to serve again. When he tells her that he doesn't think he'll ever be ready, she tells him that he'll never leave the compound. After he leaves, she is overwhelmed by her emotions. She clearly does care about what's happened, yet it seems unlikely that she's ever going to change her mind about what she's doing.
This felt like a bit of a disjointed episode. Silas' backstory was more annoying than enlightening. It's nice to see Hope and Iris on the same page, but what's up with Huck? Let me know your thoughts about the episode and that last scene in particular!