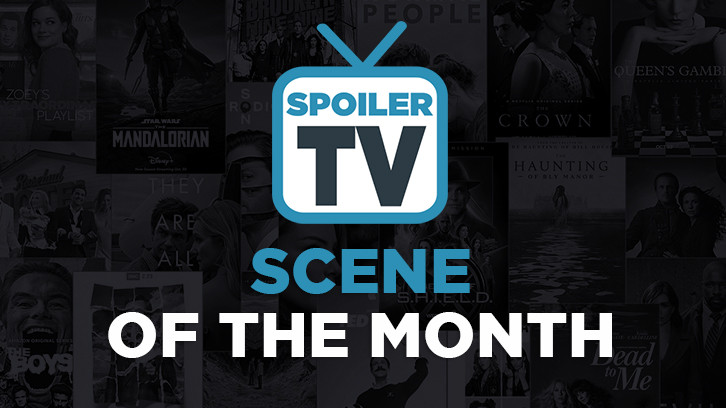 A monthly feature in which we're trying to find the most compelling, best acted, written, directed and just generally great, memorable scenes that we've seen in the past month on TV.


AGENTS OF SHIELD, "The End Is at Hand" & "What We're Fighting For", August 12, 2020, Actors: Clark Gregg, Elizabeth Henstridge, Iain De Caestecker and more, The Scenes: The ending & Victoria Hand kills John Garrett & Alya's introduction
Justyna: This show is one of my all-time favorites. It's so hard to say goodbye. These final episodes were filled with memorable moments that I'd love to include in the article (special shoutout to all the FitzSimmons scenes and Daisy's sacrifice), but it feels right to go with the ending. Especially a truly happy one. They don't happen all that often on TV which makes them even more special to me. Not everything can be perfect, lost lives can't be restored, but it's the best case scenario, with every single member of our SHIELD team finding their place in the world and getting a sense of long-awaited peace. Mack and Yo-Yo continue the fight, stronger than ever, May finds a new challenge to excel at, Daisy (with her sister and Sousa) get to travel through the universe, Fitz and Simmons retire and spend time with their beloved daughter, and Coulson, he may not be the same person we've met back in "Iron Man" or even in the show's pilot, but he's finally in a good place with his new self and decides to see and do everything he's always wished for. I'm so glad to have everyone this happy at the end, even though they may no longer be together. That FitzSimmons ending hit me especially hard, with everything they've been through and the fact that the scene itself reminds me of the ending to one of my other all-time favorite shows. Also, it felt perfect to have the series finish with Coulson and Lola, flying into the unknown. It all started with #CoulsonLives after all. I will miss the show, this cast & crew very much. Thank you.
Klutzy girl: Victoria Hand kills John Garrett. It was an alternate universe but I thought it was poetic justice that she killed the man who had her killed in the main timeline. It was a great moment, and I was excited to see her again!
Beth: Fitz and Simmons reveal Alya. This moment was so earned for fans of this couple. The fact that FitzSimmons spent four years of quiet time raising their daughter just made my heart swell. Then we got to hear the little one talk and see that she is strong just like her mother and father. I am so glad we got to meet little Alya because she is a part of the pay-off us fans of the couple got after all the trials and separations her parents went through.
Jamie: Fitz and Simmons' happy ending. I haven't cried over a TV show in a while but the AOS finale had me sobbing. I kept it together pretty well up until the final scenes but when I saw Fitz and Simmons' happy ending with their daughter I absolutely lost it. We've seen these two go through so many challenges and so much pain. If anyone deserved a happy ending, it was them.
Chris: The "epilogue" scene where the team catches up and lets us know what their life post SHIELD is like. Definitely the most emotional scene of the finale, and it was great to see where everyone ended up.

LITTLE VOICE, "Ghost Light" & "Sing What I Can't Say", August 7 & 21, 2020, Actors: Brittany O'Grady, Colton Ryan and more, The Scenes: Bess' final performance & Bess tries to write a new song
Folie-lex: Bess' final performance. Bess finally gets over her stage fright, gets on stage and sings the show's titular song, overcoming all other minor obstacles that get in her way (power outage? Not gonna stop her this time). It's a great ending for the season that brings things full circle from the pilot.
Luana: Bess tries to write a new song – I don't know what will happen with this little show and I can't say I love the angst but I absolutely love how they show Bess' writing process, it's beautiful and heartbreaking, and I loved this moment in particular where they show how the scene in her mind unfolds as she writes her new song.

LOVECRAFT COUNTRY, "Sundown", August 16, 2020, Actors: Jurnee Smollett, Jonathan Majors, Courtney B. Vance and more, The Scene: Sundown County Chase
Justyna: This show took me by surprise. I haven't heard of it until I randomly decided to check out the premiere on HBO and have been watching it on weekly basis since. Such an interesting, powerful, terrifying show. With a wonderful cast. There's only been three episodes so far and so many memorable performances already. But I have to say, between all the monster fighting it's the reality of racism in all its forms that hits me the most. This "sundown county" chase scene has to be one of the scariest things I've ever seen. It's the most intense, slowest and cruel chase I've watched. The county's racist sheriff is more than happy to enforce the sundown law and "warns" Atticus, George and Leti that they're running out of time to leave the county before sunset. Atticus is clever and calm, he uses the remaining minutes to get himself and his friends out of the county just in time, without breaking any law or even speeding. He does everything right but the group is still ambushed by the sheriff and his deputies moments later, a group of people who are clearly planning to murder them without any consequences or anyone to stop them. Even though the monsters attack everyone shortly after this part, this sequence still scares me far more. Just the fact that people are capable of such cruelty and sundown counties were very real in the US - it's horrifying and something we should all be aware of, to never let it happen again. Also for once to actually learn from the past.

LUCIFER, "¡Diablo!", August 21, 2020, Actors: Tom Ellis, Lauren German and more
The Scene: Lucifer meets Diablo (picked by Luana)

PERRY MASON, "Chapter 8", August 9, 2020, Actors: Matthew Rhys, Juliet Rylance, Chris Chalk and more, The Scenes: Perry delivers his closing argument & Della tells Perry about the future of the firm
Folie-lex: Perry delivers his closing argument - A lovely monologue, performed and delivered to perfection by the wonderful Matthew Rhys. It works not only to summarize the murder trial and the case at large, but also concludes Perry's journey as a character through the season.
Luana: Della tells Perry about the future of the firm - Not only I loved how Della was laying down the law of the land for Perry, but I also loved what everything she said meant about the future of the show, I can't say I was a fan of the first case, but I can't wait to see Perry, Della, and especially Paul Drake, on their upcoming adventures.

STARGIRL, "Stars & S.T.R.I.P.E.", August 10, 2020, Actors: Brec Bassinger, Luke Wilson, The Scene: Courtney gives Pat a "World's Greatest Dad" mug
Justyna: The two-part season finale had many outstanding scenes that would be worth to highlight in the article. However, I wanted to give a shoutout to my favorite duo on the show and the exchange that makes it clear just how far their relationship has come since the series premiere. It's such a short yet meaningful moment. Courtney has been holding on to this gift for so many years, always hoping to give it to her dad, a man she has believed to be a hero for a long time until she finally got to meet him a couple of episodes earlier. Eventually she comes to realization that it's Pat who has been by her side all along. He's the one who truly deserves the title of the "World's Greatest Dad". After all the events of the season these two have become a real family. A mug may seem like such a small gift but here, given with love, it truly means everything. Kudos to cast and crew for all their great work on this show! Can't wait to see what's next.
Klutzy girl: As I've said before, Pat and Courtney's relationship has come a long way since the pilot, and is my favorite aspect of the show. I love that she told him she had been waiting a long time to give it to him, and then the hug. The fact that she referred to herself as Pat's daughter and he himself said "our daughter" in reference to her earlier in the episode was absolutely perfect. I'm looking forward to the day she actually calls him "Dad" for the first time.

TED LASSO, "Tan Lines", August 28, 2020, Actors: Brett Goldstein, Toheeb Jimoh, The Scene: Roy gives Sam pointers to play up his injury
Folie-lex: In 5 short episodes this show has managed to worm itself into my heart. And though it was hard - really REALLY hard - narrowing it down to one standout scene for the show so far (so many amazing ones to pick from) in the end, for a show about football, I had to pick THE MOST football-y moment. Because Roy the old vet, teaching newcomer Sam how to play up the injury for the drama when he's barely hurt, was a note of authenticity I didn't know I needed in the show until it happened and had me doubled over. That it underlined Roy's softie and sweet side yet again was only an added perk.

THE 100, "The Stranger", August 19, 2020, Actors: Eliza Taylor, Bob Morley, Marie Avgeropoulos, The Scene: Bellamy tries to explain his journey to Clarke
Luana: There's just something about these two every time they share the screen and this was no exception, I'm not a super fan of brainwashed Bellamy, but their take on the situation was pretty interesting, with him trying to explain his change of heart to her and Clarke trying to reconcile the man she knows with the one that stands in front of her.

THE ALIENIST, "Belly of the Beast", August 2, 2020, Actors: Luke Evans, Dakota Fanning
The Scene: Sara and John make love
Folie-lex: 15 episodes have been spent to establish the connection, love, respect and attraction these two have for each other. And it all accumulated to one of the most romantic love scenes I have seen in a very long time. Beautifully shot and edited, allowing Luke and Dakota's existing chemistry to shine, it was a lovely moment, bittersweet as it may have been under the circumstances which it took place.

THE UMBRELLA ACADEMY, "A Light Supper" & "Öga for Öga" & "743", July 31, 2020, Actors: Ellen Page, Justin H. Min, David Castañeda and more, The Scenes: Ben saves Vanya & The siblings meet with their dad for a "light supper" & Diego realizes Klaus is actually Ben
Justyna: There have been many memorable moments in this great second season of The Umbrella Academy but nothing hit me quite as hard as this scene. I love that this time the siblings were all truly trying to save Vanya, risking everything just to reach her. First Allison, then Diego, Klaus and finally Ben. Despite everything that's happened she wasn't alone anymore. While the rest is not able to get through the power surge generated by Vanya it's Ben's spirit that manages to enter her mind and finally have a conversation with his sister. He's been dead for 17 years but he's the definitely the hero in this moment. With his help and sacrifice the apocalypse is stopped and Vanya is saved. The entire conversation between these two is beautifully done. Vanya remembers her past and she's overwhelmed by the pain and the guilt of her actions. Pogo's death, Allison's near-death, the first apocalypse. She feels more alone than ever and sees herself as nothing more than a monster. A monster that doesn't deserve to live and needs to be stopped. That's when Ben helps her realize that she's stronger than her past and no longer alone, he tells her that her family is fighting for her and she can still fix things. His words of comfort are exactly what she needs and she's ready to take control of her power. Unfortunately this is also the end for Ben, he sacrifices his presence and his spirit to get through to Vanya but can't hold on anymore. At least this time he gets to say goodbye (he even leaves a message for Klaus) and is embraced by his sister in his final moment. The scene is beautiful and absolutely heartbreaking. Both actors deliver excellent performances. Such a great season overall. Can't wait for what's next already.
Kollin: The siblings meet with their dad for a "light supper." What makes The Umbrella Academy an absolute joy of a show is the chemistry between the siblings, which is so kinetic and so full of energy backed up by hilarious dialogue. This is on full display when they meet with their dad for a rather dysfunctional family reunion. Stuffed with zippy and witty humour, and laugh out loud banter, as well as a heartfelt moment when Diego is put into place by Reginald and becomes the stuttering boy he once was, this scene is one standout of many in the Umbrella Academy's second season.
Beth: Diego realizes Klaus is actually Ben. I had been waiting all season to see one of the other siblings interact with Ben and this scene did not disappoint. When Diego realized that it was Ben, his entire demeanor changed and he pulled his departed brother in for hug. It was great that they actually showed Ben as well finally getting to talk to someone in his family other than Klaus. I am also so happy it was Diego that he had that moment with.

WYNONNA EARP, "Holy War Part 2", August 30, 2020, Actors: Dominique Provost-Chalkley, Katherine Barrell, The Scene: Waverly proposes to Nicole
Luana: The scene was so sweet, and though it shocked no one, it was a great moment of reprieve from the constant chaos. The highlight is not only the moment itself but everything surrounding them: their chosen family, and the powerful subtext from Wynonna and Doc. Can't wait to see what's next.

YELLOWSTONE, "I Killed a Man Today", August 9, 2020, Actors: Kevin Costner, Kelly Reilly, The Scene: Beth and John have their man-to-man talk
Folie-lex: Kelly and Kevin are two of the show's strongest performers (and that's saying something with this gang). However their chemistry as actors and their characters' dynamic always brings something energetic to the show even when they're having a quiet moment like this one. In a scene that starts out pretty funny with Beth being her brusque unfiltered self even in the presence of her father, but turns somber pretty quick as she presents him with the reality of their situation and their options we see the full spectrum and depth of this father-daughter relationship. The show's beautiful setting offers for a lovely backtrop in this bittersweet moment between them.