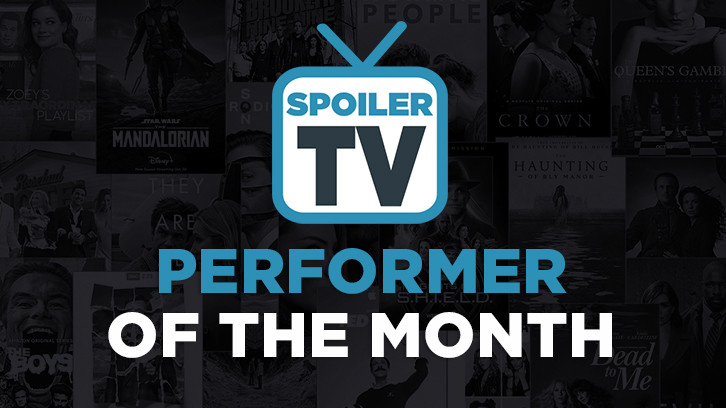 Results:

Both sides started out with the top contenders jockeying for the lead. On the Reader side, the ultimate winner eventually shot out to the lead and was never caught again. The Staff side was a bit more competitive with there being a brief tie before the final winner secured the top spot.


Wynonna Earp
has become a cult hit in large part because of the charismatic cast. Standout amongst them is Katherine Barrell who is in the midst of her best season yet portraying Nicole Haught. In
Friends In Low Places
(4x2), Barrell delivered a powerhouse performance across two very different storylines. In her portrayal of Nicole, the audience got to see the pure-hearted kind soul that would do absolutely anything for Waverly (Dominique Provost-Chalkley). Even injured and in a bad way her first priority was still Waverly and Wynonna (Melanie Scrofano). Through Barrell's heartfelt performance, Nicole's sincerity and love were palpable. Barrell also got to portray the fierce side of Nicole as she teamed up with Rachel (Martina Ortiz-Luis) to survive their encounter with the mutants. This episode also allowed Barrell to also dig into a darker side as she portrayed the evil prisoner, Eve, who was disguised as Nicole trying to trick Waverly into freeing her. It was clear from the very beginning that this character pretending to be Nicole was not her. The way Barrell brilliantly portrayed her made it obvious that this was not Nicole, but she infused just enough of Nicole's mannerisms to make it easy to see how Waverly, desperate to be reunited with her true love, could have been tricked. This episode threw everything at Barrell and gave her a multitude of scenarios to portray and she delivered on every single scene with the extreme level of talent and heart that has come to define her work on this show. Then came the big reunion scene at the end between Nicole and Waverly. Barrell didn't hold back, from the moment that she had Nicole lay eyes on Waverly her eyes were overcome with a bright light of joy. But the big highlight of the episode was the artistic and beautifully executed reunion love scene. Through Barrell's performance, the audience could feel Nicole locking back into a rhythm with Waverly and their souls reuniting in a magnificently acted scene full of love and union. This was a tour-de-force episode for Barrell and she delivered a performance that will not soon be forgotten. Because of all these reasons, and many more to be discussed in her article, she is SpoilerTV's Readers' Choice August Performer of the Month.
It is bittersweet for fans of Marvel's
Agents of S.H.I.E.L.D.
that the show's final season is producing some of the show's finest episodes. At the center of this final season is the hopeful happily ever after for the show's literally star-crossed lovers, Jemma Simmons and Leo Fitz. The hard work of the actors involved for seven years in this love story is paying off big-time. We got a beautifully layered and satisfying conclusion to their story. This season has shown us that there is no force fiercer in the world than a mother's love. A mother becomes a warrior to protect her child. During this final season of the show, Jemma Simmons has taken that to the extremes. While she thought she had put an implant in her brain to prevent the team's enemies from learning the whereabouts of her husband, Leo Fitz (Iain De Caestecker) to protect him. In the gripping series finale,
What We're Fighting For
(7x13) we learn she had made a far greater sacrifice, she had essentially erased her memory to protect a far more precious cargo, her child. Watching Jemma be reunited with Leo and then come to the slow realization of the other big secret that was locked away in her mind gave us a masterful performance from longtime series fan favorite, Elizabeth Henstridge in the finale. The emotional range she took her character through, from happiness at reuniting with Fitz, confusion at the feeling there was still something she was forgetting, and sheer unadulterated joy at remembering her child and their reunion was the heart and core of the finale. The fact she did all that while helping her team defeat their greatest foe, the Chromicoms was nothing short of extraordinary. So, for her exquisite depiction of the power of a mother's love and devotion to friends and family, Elizabeth Henstridge has been selected as SpoilerTV's Staff Choice August Performer of the Month.
The winner articles for Katherine Barrell and Elizabeth Henstridge will be out later this month. In the meantime, please feel free to use the comments section below to discuss these two worthy winners and their amazing fellow nominees.
Original:
Despite the void that August television falls into, this month had a ton of amazing performances. Thanks to your nominations we have an amazing list of nominees. It should be fun to watch this round play out.
Now it's time to determine who will be our August Readers' Choice Performer of the Month. The results will remain hidden for the duration of voting. The results of this poll and the Staff voting will be revealed after the poll closes.
2019 Staff Choice Performer of the Year:
Jodie Comer
2019 Readers' Choice Performer of the Year (TIE):
Hailee Steinfeld
and
Oliver Stark
January 2020 Winner:
Readers' and Staff Choice: Rachel Skarsten (Alice/Beth) - Batwoman
February 2020 Winners:
Readers' Choice: Sam Heughan (Jamie Fraser) - Outlander
Staff Choice: Jeri Ryan (Seven Of Nine) - Star Trek: Picard
March 2020 Winners:
Readers' Choice: Christina Hendricks (Beth Boland) - Good Girls
Staff Choice: Jane Levy (Zoey) - Zoey's Extraordinary Playlist
April 2020 Winners:
Readers' Choice: Amalia Holm (Scylla Ramshorn) - Motherland: Fort Salem
Staff Choice: Jessica Camacho (Emily Lopez) - All Rise
May 2020 Winners:
Readers' Choice: Taylor Hickson (Raelle Collar) - Motherland: Fort Salem
Staff Choice (TIE): Linda Cardellini (Judy Hale) - Dead To Me
Staff Choice (TIE): Marie Avgeropoulos (Octavia Blake) - The 100
June 2020 Winners:
Readers' Choice: Tyler Blackburn (Alex Manes) - Roswell, New Mexico
Staff Choice (TIE): Matthew Rhys (Perry Mason) - Perry Mason
Staff Choice (TIE): Tatiana Maslany (Sister Alice) - Perry Mason
July 2020 Winners:
Readers' Choice: Kristina Tonteri-Young (Sister Beatrice) - Warrior Nun
Staff Choice: Joel Stoffer (Enoch) - Agents of SHIELD
Please remember that a performer can only win once in 2020. After that win, they will be ineligible to win again in 2020, but they will secure a spot in our year-end Performer of the Year contest.
Now comes the hard part where you can
only vote for 1 performer
. The poll will be live until
Monday, September 7th at 6 pm ET
. After you vote be sure to make a pitch in the comments section for what the performer you voted for most deserves to win.