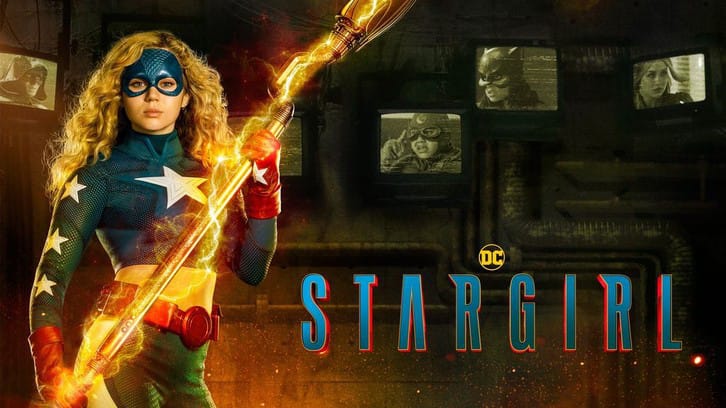 With only a few more episodes of the season left, Stargirl really needed to ramp things up for what is essentially the penultimate episode (if you consider the next two episodes as a two-part finale as their numbering suggests). While the episode perhaps didn't go the direction you'd expect for an installment this late in the season and wasn't as action-packed as the last few have been, it was nonetheless fantastic and managed to set up the final part of the season.
Similar to some of the past episodes, this episode primarily focused on two main driving plot lines. The most focused and effective one surrounded Courtney and the sudden reappearance of her father Sam Kurtis. I loved the fact that the series had us believing this whole time that Sam was an alias for Sylvester Pemberton, because we're just as shocked as Court is when it's revealed she's not actually the daughter of Starman. I (and I'm sure others were as well) was a bit skeptical about the whole thing this entire time, but I figured, in the end, Sylvester was gonna be Court's real father. Boy was I wrong.
Sam's character was written in a really clever way, as it seemed like he was the typical "father who was a total jerk who left but is now here to make up for lost time"-type character (for lack of better term). It seemed like Courtney was starting to like him, and in turn, that got us to warm up to him. It made it all the more painful when Sam shows his true colors to Court, revealing he only came here to acquire Court's necklace in order to sell it. He was a true jerk the entire time, but at least Pat got a good punch in for all of us!
That all led to one of the most emotionally impactful scenes of the entire series so far. Pat offers Courtney a chance to lash out at someone, and for a second, we can see the pure anger in her face. But shortly after, she completely breaks down, as she embraces pat in a big hug. This was the scene that cemented Pat as her true father. Another superbly acted scene here.
In addition to strengthing the bond between her and Pat, another positive thing Sam's true nature brought about was the fact that the Cosmic Staff chose Courtney not because of her lineage, but because she deserved it. The Staff saw in Court someone who embodied everything that Starman stood for and chose her to be his legacy. That's a confidence booster if I ever heard one.
The other big plotline had to do with the Shining Knight, a hero from Pat's old days with the Seven Soldiers Of Victory. Turns out, that's who the janitor was all along! Apparently, he had been one of the many test subjects for the ISA's plot, being essentially mindwiped and given a new identity. If this is what's to be in store for everybody should the ISA succeed, and with Brainwave revealing that he now has the power to control half the country, the JSA has their work cut out for them in the last few episodes. Oh, and of course, Jordan orders the whole Whitmore family killed at the end. Court and the gang better prepare for a showdown.