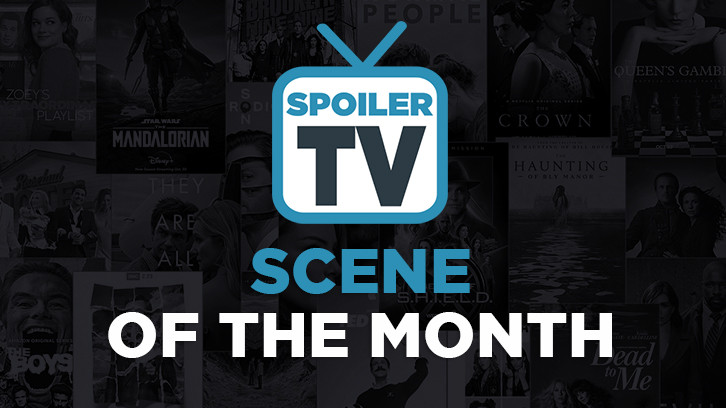 A monthly feature in which we're trying to find the most compelling, best acted, written, directed and just generally great, memorable scenes that we've seen in the past month on TV.
ABSENTIA, July 17, 2020, Actors: Stana Katic and more, The Scene: Emily's escape
DJRiter:
Emily's escape from the clutches of Meridian and their Eastern European compound is nothing short of a lesson on how to be a bad-a** on television. Katic was masterful, I suspect doing many of her own stunts in this sequence that Emily frees herself from her bonds, removes the nail that had been driven in her hand, and fights her way through a myriad of soldiers, taking them out one by one and often one-handed. There is one sequence where she executes a fight up a flight of stairs and at the top of the stairs points her weapon downstairs, behind her, not looking, and takes out a pursuer. It was awesome work that definitely elevates Katic near the top of the class of bad-a** actresses.
AGENTS OF SHIELD, "As I Have Always Been" & "Stolen", July 22 & 29, 2020, Actors: Chloe Bennet, Joel Stoffer, Enver Gjokaj and more, The Scenes: Enoch's sacrifice & Sousa explains to Daisy why he's always willing to help & Daisy talks to her mother
Justyna:
Last month has delivered so many memorable moments on Agents of SHIELD. This show is certainly my favorite and it continues to excel in its final season. Episode 9 was especially powerful and one of the best in the show's history. I could mention a dozen of scenes from this hour alone but I have to go with Enoch's sacrifice. His character took me by surprise. I never imagined how attached I would get to him back at beginning of season 5. And yet here we go. Enoch doesn't even hesitate before he hands Jemma a part of him that kept him alive for centuries. He basically takes out his own heart to save the lives of everyone on the ship, his SHIELD family. He shares a meaningful moment with Jemma and Deke before they're forced to leave him behind, but Daisy and Coulson stay by his side until the very end. Enoch's entire speech about loneliness and his place in the circle of life is incredibly well written and acted. Joel Stoffer steals the hour with his remarkable performance. Enoch admits how he's grown to be afraid of being alone. He shares his sadness over Coulson's fate, advises Daisy to cherish her last mission with the team and expresses how he misses Fitz, his best friend, in this final moment. It's heartbreaking, somehow inspiring and absolutely unforgettable. Enoch joined the show rather late but he was such an important part of the team and his death hit me harder than expected. And the fact that he never gets to finish his last sentence... Kudos to cast and crew of the show for all their impressive work.
Folie-lex:
Sousa explains to Daisy why he's always willing to help. Whilst this was also him admitting to his crush and making Daisy realise it's not that one-sided, it was a nice summary of why these people are in this line of business. And the accolades coming from an amazing character like Agent Sousa, that carries more weight than most. Not to mention... I'll take any scene that gives Enver the spotlight.
Saloni:
Enoch sacrifices himself for the team and dies with Daisy and Coulson by his side.
DJRiter:
Daisy talks to and protects her mother, from the past, Jiaying. In a beautifully written and performed scene, an emotional and conflicted Daisy is tasked with protecting her mother in the past. The two talk about lost family and Daisy struggles to not reveal her identity to her mother. This was some of Bennett's best work on the show in a long while.
COUNCIL OF DADS, "Fight or Flight", July 2, 2020, Actors: Sarah Wayne Callies, Tom Everett Scott, The Scene: Robin talks to Scott
Luana:
This show was by no means perfect, but there were many things to enjoy, and this particular scene was both heartwarming and heartbreaking at the same time. Not only that but it was so beautifully directed, written, and performed. The small details of them finishing off each other's sentences made a real point of making us feel they were on different planes but still connected. Perhaps this is part of the reason some of this felt unreal, but there's something so healthy about this relationship, and their goodbye was a perfect example of that.
CURSED, "The Sacrifice", July 17, 2020, Actors: Katherine Langford, Gustaf Skarsgård
The Scene: Nimue and Merlin say goodbye
Luana:
Events will not work as expected for them but this moment, when they thought it was the last time they would see each other, was so sweet and heartfelt. Merlin and Nimue's relationship is definitely a highlight of the show and it's amazing how, in such a short time, they were able to develop this relationship enough for us to truly care about their goodbye. Wonderful work from both performers.
DOOM PATROL, "Sex Patrol" & "Finger Patrol" & "Dad Patrol", July 2, 9 & 30, 2020, Actors: Abigail Shapiro, Diane Guerrero, Brendan Fraser, Riley Shanahan and more, The Scenes: Dorothy's rendition of "Pure Imagination" & Dorothy's second wish & Clara invites Cliff to her weddingElvis:
Who would have thought that newly formed friendship between Crazy Jane's personality "Baby Doll" and Dorothy would end in such a deadly way. The scene where Dorothy makes her second wish and unleashes the horrifying monster named Candlemaker in Jane's "Underground", was the most chilling and jaw-dropping scene in the series.
Abby:
Episode "Sex Patrol" featured a musical number of Willy Wonka and the Chocolate Factory's "Pure Imagination" by Abigail Shapiro as Dorothy, the eternal 11-year-old girl. Dorothy has been pulling heartstrings all season with her tragic backstory. But in this scene we see her happy, surrounded by friends, and for the first time joining a party and not just listening in solitude while others have fun.
Klutzy girl:
Clara invites Cliff to her wedding. I'm glad Clara gave Cliff a chance and took this big first step. Something is definitely going to happen that will screw up Cliff's chances to attend but he wants to make up for all those years they lost. And he's also pretty excited about his grandson, which was sweet. I'm hoping they can mend their relationship and figure it out soon.
LOVE, VICTOR, "Boys' Trip" & "Who the Hell is B?", June 17, 2020, Actors: Michael Cimino, Nick Robinson, Anthony Turpel, The Scenes: Simon offers his advice to Victor & Victor tells Felix he's gayLuana:
Simon tells Victor that every one of his friends had been helping with the advice. This scene was so sweet, and it made such a poignant point. Simon explains to Victor that, contrary to what he believes, the fact that Simon shared Victor's story with his friends, wasn't to mock him but to give him the best advice they could. That they were always in his corner, rooting for him, and, who doesn't want that? I think that was somewhat unsaid because it might have been too on the nose, but it came across perfectly.
Alison D:
Victor calls Felix on the walkie, asking if they can talk. Victor struggles in the moment. He needs Felix to turn away from him so he doesn't lose his nerve. Once he tells Felix he's gay, Felix hugs him and says he doesn't know the perfect thing to say but he's happy he told him and it changes nothing between them. From Victor's nervousness to Felix's tears, it was the sweetest of moments. It shows how far Victor has come with self-acceptance, as well as how much their friendship has grown.
PERRY MASON, "Chapter 5", July 29, 2020, Actors: Matthew Rhys, Juliet Rylance, Tatiana Maslany, The Scenes: Perry's breaking point & Sister Alice heals a man in wheelchair Folie-lex:
Perry goes on a rant which prods Della to find Emily her lawyer. To see Perry argue Emily's case out of sheer frustration from the injustice of it all, even though he's not a lawyer and Della realising he's the man for the job was the show's major turning point... and I think the moment a lot of people who were looking for the connection with the source material and the title character, were waiting for.
Ellys:
Juliet Rylance and Matthew Rhys are forming a new dynamic duo of television right in front of our eyes. Episode five was a glorious deep dive into several characters, bookended by Rhys and Rylance's lead performances. The entire episode smoldered with molten tension as Rylance's Street raced to outwit the clock and give Emily a fighting chance, while deftly handling the episode's more tragic events. She's the hammer that strikes Mason's brooding iron, tapping into his potential and buried need to productively rage against injustice. This was the episode that made me do the almost impossible for what could have been a limited series: root for a second season. Thank goodness HBO is rewarding us with more.
DJRiter:
There's a reason Tatiana Maslany was named one of the staff choices for Performer of the Month for June, and were she eligible she would be a leading contender for July for this electrifying scene. Sister Alice leads an emotional and charged service as she performs a "miracle" of curing a man in a wheelchair and making him walk. Whether Sister Alice is a charlatan or a real deal miracle worker, you believe every moment of Maslany bringing her vividly to life.
STARGIRL, "Brainwave Jr." & "Shining Knight", July 20 & 27, 2020, Actors: Jake Austin Walker, Brec Bassinger, Luke Wilson and more, The Scenes: Henry's death & Pat comforts Courtney
Justyna:
It's been a couple of weeks since the episode but I still can't quite believe what's happened. Henry's death was both completely unexpected and heartbreaking. He risked everything to try to save his dad but when it came to a choice he didn't hesitate to choose the good guys and lost his life as a result. The way he understood that he's about to die, apologized to Yolanda and despite everything still offered hope for Stargirl, asked her to believe in the good in people, made it even more painful to watch. Even though they argued with him earlier in the episode both Rick and Yolanda did everything in their power, desperately trying to get through the bars and save Henry. Their determination and failure to protect him made me more emotional than I expected and the whole scene has stayed with me till now. This series doesn't hesitate to change status quo and brutally alter the story from the comics. I never thought I'd enjoy this show so much but it has truly become one of my favorites this year. For the good and the tragic parts, the music, the fights and its characters. So much bigger on the inside. Kudos! It's probably gonna take some time for me to completely accept that Henry Jr is truly gone, but what a memorable goodbye. Couldn't possibly choose another scene, despite the many great ones from last month.
Folie-lex:
Henry Jr and Brainwave face off and Henry sacrifices himself. What made this more shocking, was the fact that as a result it robbed Henry from living up to his full redemption, which made the whole thing even more sad and tragic. However there also beauty in it, seeing him finally willing to come to terms with who his father really is and choosing the right side for all the right reasons and making the ultimate sacrifice.
Chris:
Courtney breaks down while hugging Pat, after her father leaves her again.
Klutzy girl:
Courtney and Pat's relationship has come a long way since the pilot, and I love that he's the one to comfort her in the wake of her biological father's unexpected visit. She ran to him, which was sweet! Pat is 100% her dad in every way that matters, and I hope she realizes that soon.
THE ALIENIST, "Labyrinth", July 26, 2020, Actors: Daniel Brühl, Luke Evans, Dakota Fanning
The Scene: Laszlo and John convince Sara to join their party
Folie-lex:
I don't know what I loved more: the banter, the poetry or the realization that Laszlo is a happy drunk? Either way what made this scene special was how it underlined how close and genuinely fond of each other these three are. In a show that's generally so bleak it's nice to have these little sweet grounding moments that remind us why we root for this crew.
THE BOLD TYPE, "The Truth Will Set You Free", July 2, 2020, Actors: Katie Stevens, Kelly AuCoin
The Scene: Jane's dad offers her a new perspective
Luana:
This scene was so sweet, Jane has been struggling with the new changes, and her dad tells her she can choose to see them as the thing that saved her life instead of the thing that simply changed in her. The last two episodes we got went downhill fast, but this is an example of how good this show can be when it wants to. I hope we get to see more of this show, but more specifically, this show at its best, not worst.
THE UMBRELLA ACADEMY, "Valhalla", July 31, 2020, Actors: Robert Sheehan, Ellen Page, Emmy Raver-Lampman and more, The Scenes: The opening sequence & Klaus, Vanya and Allison dance it outJustyna:
So many memorable scenes in the first half of season two but I decided to highlight the opening sequence where we learn what happened to the Hargreeves siblings and most importantly witness yet another doomsday event. Only this time everyone seems to be fighting side by side and with their abilities stronger than ever. Vanya levitates and destroys a missile, Allison changes reality with her rumor, Klaus leads an army of the dead, Diego turns the bullets aimed at him towards his attackers, Luther jumps incredibly high and then takes a hit from a rocket, not to mention Ben and his tentacles taking down the enemy from a nearby roof. The potential for this group is truly remarkable and this sequence shows just how powerful they are together. This new world-ending event sets the tone for the season and certainly gives the viewers something to look forward to. There's so much to love about this opening, but let's not forget about the music. The music on this show so often elevates the scene it accompanies and this moment is no exception. Kudos to cast and crew for all their work. Can't wait to finish the rest of the season.
Beth:
Throughout the first season, we saw the Hargreeves 'siblings' brush aside and repress the weirdness of some of their romantic entanglements. In this scene the three of them (Vanya, Klaus and Allison) finally address some of the elephants in the room in the best way they know how, booze and dancing it out. Klaus rightfully calls out his sisters' weird romantic pasts and laments on his own failed attempt to reverse course for the love of his life, Dave. They then bond in a way that we haven't seen yet, dancing it out as adults, thus being there for one another. It was important and sweet and I loved every minute of the break from the usual chaos.
WARRIOR NUN, "Isaiah 30:20-21" & "2 Corinthians 10:4", July 2, 2020, Actors: Alba Baptista, Toya Turner, Sylvia De Fanti, The Scenes: Shotgun Mary pushes Ava off the cliff & Mother Superion's revelation Ellys:
This scene was one of my top five favorites of the whole first season. De Fanti, a supreme talent who reminds me of Ingrid Bergman and other Old Hollywood Silver Screen legends, exists as something of a shadow around the edges of the show until later episodes place Mother Superion in an unexpected predicament. This quiet moment she shares with Baptista's Ava, with its revelation, elevates the entire story, while also giving Baptista the opportunity to introduce a more thoughtful, mature layer to her own character.
DJRiter:
An epic almost blink and you'll miss it moment that perfectly described their relationship. While they're on the run together Mary nonchalantly pushes Ava off a cliff because she's tired of what she's saying. She's also illustrating to Ava the scope of the gift she has been given. It was a classic Shot-Gun Mary move!
WYNONNA EARP, "On the Road Again", July 26, 2020, Actors: Melanie Scrofano, Katherine Barrell
The Scene: The fight
Luana:
There were so many great scenes, and we've been waiting for the show to come back for so long that everything was enjoyable, but there are few things Wynonna Earp does better than a kickass fight, and her and Nicole make the best of teams. Add some zombie-style adversaries and you have the perfect way to end the episode and welcome us back to this world. Though I have to admit Nedley with the pads was a close second.
YELLOWSTONE, "Cowboys and Dreamers", July 19, 2020, Actors: Kevin Costner and more
The Scene: The wranglers gate in the herd
Folie-Lex:
There was something primitive but gorgeous seeing everyone on horseback galloping down that hill trying to gate in those horses. No dialogue, just the sound of hoofs hitting the ground hard and the cowboys Ye-hawing with the show's score playing in the background. It was a thing of beauty. That they were having a blast only added to it.