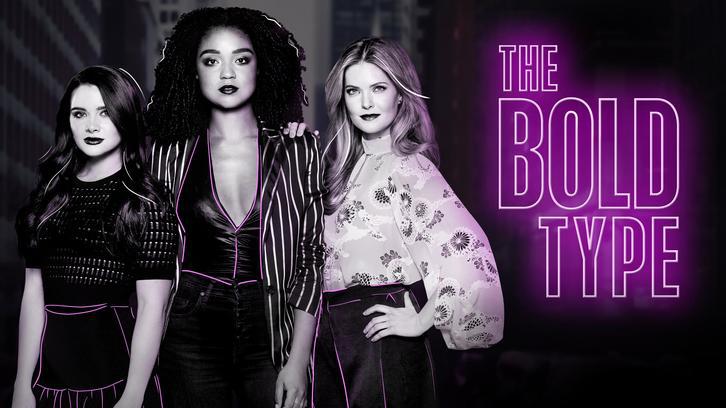 This week on The Bold Type, Jane is still struggling with her new body. She gets a visit from her dad who gives her some advice. Kat goes to a Republican mixer to try and convince Ava to do her podcast. The mixer, of course, does not go well but Ava agrees to do the podcast anyway. Sutton struggles to tell Richard that she doesn't want kids.

No compromise: I can't believe how quickly Sutton and Richard's relationship went from happy to perhaps broken beyond repair. Normally, I would say that they really should've had the "kids" conversation before they got married. But I'm not sure that would've made a difference here. Both Sutton and Richard didn't realize how they felt until after the pregnancy and miscarriage. Which makes sense in a way, sometimes you don't know how you feel about something until you lose it. Unfortunately, Sutton and Richard felt very differently. For Richard, it just confirmed how badly he wants kids, and not just in a few years. When I saw how distracted he got just seeing a kid on the street. He wants kids now. Sutton, on the other hand, realized that she likes things the way they are. She is at the start of her career. Everything is finally going her way. Right now, she doesn't want kids. Maybe she'll change her mind at some point, maybe she won't. And that's the problem. She can't promise Richard that they'll try in 5 years when she can't guarantee that she'll feel differently then. It's not fair to him to promise that and then not follow through. I've always said that having kids is the relationship dealbreaker. It's the only issue you can't compromise on. You can't get half a kid, it's not a puppy where you say "oh, but you'll be taking care of it". You either have them or you don't. Having them without actually wanting them is not good for the parent or the kid. But staying together and not having them can later make you resent your partner. I don't see a way out of this for them.

Into the lion's den: Yeah, I'm not a huge fan of where Kat's storyline with Ava is headed. I get why she asked her to be on the podcast, she wanted a good debate but despite all that, I just simply don't like her. I didn't like what she said about staying out of it when it came to homophobia in the Republican Party. You can't just stick your head in the sand and pretend it's not happening. If we don't hold people responsible, how will anything ever change? And I don't get why as a gay woman she'd want to be around those people. Why she would even still talk to her father after he supported someone who is pro conversion therapy. I get that opposites attract but I just don't think she's good for Kat. And that is my very biased opinion.
Did I hear Emmy nomination? Jane's storyline is one that really interests me in this second half of the season. I don't think I've ever seen anything similar on TV before. And I'm glad that the writers are taking their time with it. Everyone expects the worst to be over after the surgery, and in a way, it is, no more worrying about cancer. But I think we forget that she had a part of her body amputated. Yes, it was reconstructed so you don't really notice but that doesn't mean that it didn't happen. The part with Jane not feeling Sutton accidentally hurting her, that's the scene that stuck with me the most. Is that normal? Can you really not feel anything there? No wonder it feels like it's not a part of you. I really loved that talk she had with her dad, though. She still has a long road ahead but focusing on the positive might help.
Spreading the love: There wasn't much time this week for a side storyline but I was glad to see how happy Jacqueline looked. And I just wanted to highlight the effect that this can have on the people around you. How you act to someone can affect their day, which in turn affects the day of someone else and so on. So try to put some positivity out there if you can.
Best quotes: Jacqueline: "Who feels sexy and confident." Andrew: "Me." Jacqueline: "Good for you, Andrew."
Woman: "I didn't realize you were.." Kat: "Oh, queer? Yeah, I am and I can assure you, there is no liberal agenda to turn straight people gay, promise. We just want equal rights and opportunities, the same ones you have."
Mr. Sloan: "Some things take time but you have that now. You get to fill all those days. Every one of them, Jane. And you know why? Because you did something brave. Not just for you but for me and your brothers and your friends." Jane: "Dad." Mr. Sloan: "When you told me that you tested positive for the same gene that took your mom, I... I thought, "I can't lose you too.". But I couldn't tell you what to do. It was your body, your decision." Jane: "And I don't regret making that decision, I just... I don't know. I didn't think it would be this hard." Mr. Sloan: "I get that. But that part of your body, it's not the enemy. It's the part that saved your life. It's not about muddling through. It's about embracing and enjoying your life as much as you can... Every moment of it."
That's it for this week. Check in again next week for an all-new review and let me know in the comments what you thought of this week's episode.
Please be respectful in the comments, any unnecessary rudeness isn't welcome.