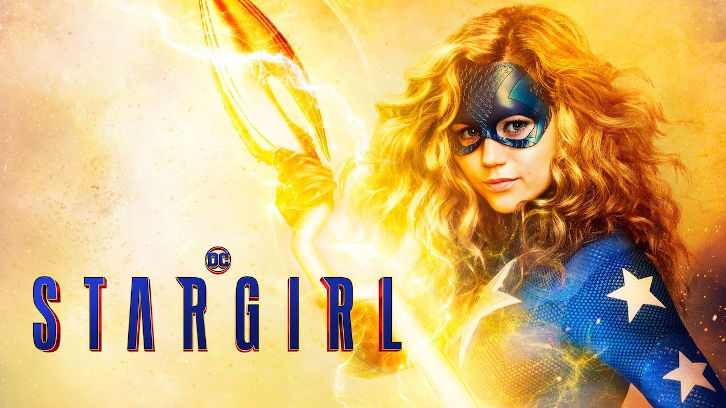 Happy 4th of July for all my fellow folks in the States. Hope you can find some way to celebrate in the midst of the craziness that's going around. But what better to show to watch right now than Stargirl?

After the series got back on track with the last episode, this week's installment continued that momentum. The series kicked off the second half of the season with an action-packed episode that saw the JSA learning to work as a team while a new villain rose to the forefront. Things are looking good for the show as the central plot begins to ramp up.


First off I just like to say I loved the intro sequence with BTO's "Takin' Care Of Business", further proof that this show's choice of music is A1. As a huge classic rock fan, I appreciate how the creators have tried to implement older songs in order to drive home the overall nostalgic feel of the show.
Where do go from there? This episode had a lot of things packed into it, with several exciting moments and further hints at what the ISA is planning. Most of all, Cindy was finally revealed to be the daughter of the Dragon King like her comic counterpart, as well as adopting a comic-inspired costume with her blade abilities and fire-breathing staff. She's fully aware of who her dad and the ISA at large are and is in fact actively attempting to join them. She's an interesting character, portrayed wonderfully by Meg DeLacy, who gives off an evil performance while also showing that there's a tortured soul hiding within her (probably due to her father's experiments on her). Her few moments with Courtney here made me believe that she might still have an inkling of good in her, so maybe there's a chance down the road that she betrays her father.
On the grander ISA side of things, we know that Dragon King is sort of the mastermind behind the entire "machine" that is involved with Project America, and that the lair is located underneath his house. Both of those previous elements are still a major mystery, however, but it seems like Cindy has a significant part to play in the machine's creation according to the Dragon King. Maybe it has something to do with his previous experiments on Cindy and her multiple stepmothers?
Henry made a big step in becoming Brainwave Jr. this week, as he's finally coming to grips with the fact that he's adopted his father's powers. Of course, he uses his telepathic abilities in an non-heroic way, as he cheats on his exam as soon as he starts to control it. I got a sneaky feeling though he might be with the JSA when this is all said and done. Just a hunch though.
Moving on to the JSA. This week Pat attempted to officially begin the new team's training, with some expected pushback from a few of them. In her attempt to rush things, Courtney, unfortunately, was the primary offender here. Her destruction of the (admittedly poorly made) training dummies furthered the rifts between the team by not allowing them to begin their training. Hopefully, these guys can start putting their stubbornness aside soon, because it's not gonna fly when they're up against the real deal.
Speaking of rifts, it seems Courtney and Mike have started to seriously be at odds with each other. Mike's jealous of all the time Courtney's been spending with Pat and feels like he's no longer as important to his father. This plot was probably inevitable to some degree, as until now Mike's had nothing major to do. I don't really have any issues with it, but hopefully, the show won't stretch this conflict out for too long.
The episode concluded with what might be the show's best action sequence yet, as Stargirl and Shiv went head-to-head. The effects and stuntwork were great, but the camerawork was the star here. The circular one-take on the stage was incredible, and honestly, the last thing I was expecting on this show was unique cinematography. Major props to the one and only Lea Thompson (yes,
Back To The Future
Lea Thompson) who directed this episode.
The biggest reveal in this episode was that the generator is hiding something big, as he came to Courtney's rescue wielding a sword. There are some rumors flying around that he's actually Doctor Fate in disguise, which of course would be totally awesome. Guess we'll have to wait and find out.
What did y'all think of the episode? Post your thoughts in the comments!