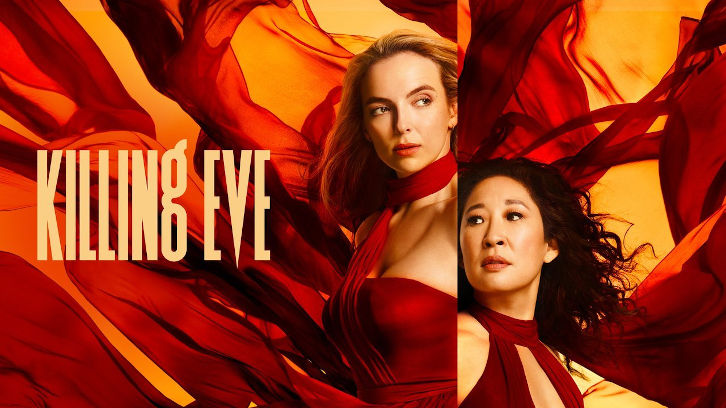 *NOTE – This review may contain spoilers.

With just a few episodes to draw this uneven season of Killing Eve to a close it was past time for them to bring us an episode where they start pulling all the threads together. I cannot honestly say I have enjoyed showrunner Suzanne Heathcoate's take or tenure on the show. I, for one, will be relieved to see the end of unnecessary full-screen graphics and muted color tones and out of character actions. In End Game we are finally headed in a direction to give us some much-needed answers.


This is the episode where some of the threads that have been dangling are pulled together and others need to be completely snipped. In this episode we have some typical and atypical character choices and actions. We learn Niko (Owen McDonnell) survives being skewered in the neck by a pitchfork and is finally done with Eve (Sandra Oh); we learn that Carolyn (Fiona Shaw)'s temporary supervisor Paul (Steve Pemberton) is a member of the 12; Eve finally learns about Dasha (Harriet Walter) and her connection to Villanelle (Jodie Comer); Villanelle learns that getting a promotion doesn't always mean you get what you want and Konstantin (Kim Bodnia) discovers the disturbing fact his daughter Irina (Yuli Lagodinsky) isn't as innocent as she seems.
From the get-go, this has been Fiona Shaw's season to shine and she continues to do so here. From challenging Paul about being a member of the twelve, and the intense country ride with Konstantin where we learn Kenny (Sean Delaney) suspected the KGB agent may have been his father, she was outstanding. However, what elevated her performance from outstanding to exceptional was her brutally honest yet touching scene discussing parenthood with Carolyn's daughter Geraldine (Gemma Whelan). This was some utter brilliance. Watching Shaw fight to maintain Carolyn's cool, professional, seemingly detached demeanor being exposed by the simple nervous act of rolling an avocado on a countertop was next level.
This was also a great episode for Oh, taking another step to bringing our analytical, confident Eve back. I've said it before and will say it again in hopes that next season's showrunner is listening, do whatever you do to keep the character of publication editor Jamie (Danny Sapani) around. His scenes with Oh, especially in this episode crackle with an energy the show is sorely lacking this season. And Oh's work as Eve in her bowling alley confrontation with Dasha was masterful, vintage Eve Polastri, giving a whole new meaning to the term power bowler.
Kim Bodnia has also done some mention-worthy work this season as a man on the edge. Konstantin seems to genuinely want out of the life and is willing to take extreme measures to take his daughter with him and protect her from life's darker side. We know he took enormous risk to steal the money from the 12 and kept putting Villanelle off when she asked to join him and his daughter in seclusion. His stunned reaction when he realizes he failed, as Irina coldly kills her mother's boyfriend with the car as Konstantin looks on. You truly must wonder if Villanelle's little chat with Irina that was solely designed to learn where they were going inspired Irina to commit murder.
Our favorite stylish assassin, Villanelle has seemed off-kilter all season. I'm not sure if that's by design in her learning Eve survived her attack or a growing dissatisfaction with her work. Either way it was never more evident that something is off with the character when Villanelle shows up for her interview with Helene (Camille Cottin) disheveled and disoriented, although Comer was masterful in showing Villanelle's disappointment in learning that becoming a keeper meant she still had to kill. Villanelle is not only off; she's getting sloppy when executing the 12's latest mission while masquerading as a hairdresser she lets her mark get close enough to grab a pair of scissors and wound her. Has the purpose of this entire season been to show us the unraveling of Villanelle, if so, the process has not been handled well.
There are still some important threads to be pulled together before this season ends. Namely, IS Konstantin Kenny's father? Did the father kill the son or was it someone else? Will they set Eve up working at the publication next season as a cover? Will Konstantin escape the 12 with his life and the money? Will Villanelle walk away from the 12 and killing, or can she? And what about Carolyn and her daughter? Will Carolyn learn who really killed Kenny and can she handle the likelihood that it could have been her daughter who killed her brother while working for the 12?
There are so many questions that I sincerely hope the producers can answer in the two remaining episodes of this season of
Killing Eve
. Then we can move on and look forward to next season.
What were your thoughts on
End Game
? Share them in the comments below.