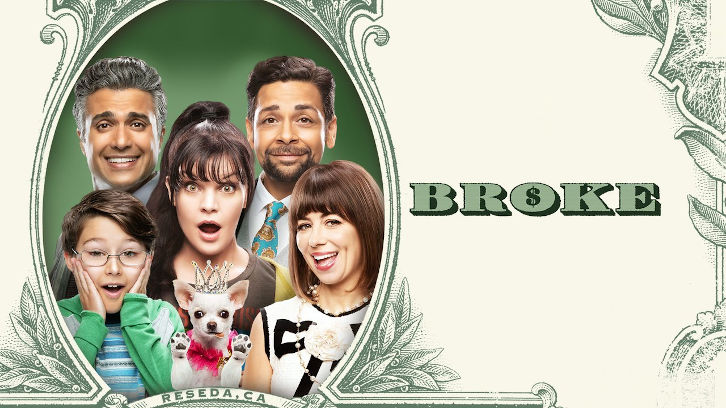 Broke
"Dates" was written by Rachel Sweet and once again directed by Victor Gonzalez. Sweets other credits include
The Goldbergs
,
2 Broke Girls
,
Hot in Cleveland
, and
Dharma & Greg
. The show's strength continues to be its "heart" as the characters do their best to help each other.
Javier (Jaime Camil) and Elizabeth (Natasha Leggero) are determined to set Jackie (Pauley Perrette) and Luis (Izzy Diaz) up on dates. Naturally, both dates are disasters. Luis and Jackie both end up at the bar and have a better time with each other than with their dates. I did really like Jackie's first description of her date – as Ron (Reggie Austin) is arrested mid-date for the murder of his date. Of course, Luis recognizes the plot immediately from an episode of Blue Bloods that they'd just watched! As the two play pool and bond, we're introduced to a new bar regular – Max (Christopher Thornton). I'm really hoping to have Max as our new regular as Thornton was a lot of fun in this episode.
Meanwhile, at home, Javier tries to get Elizabeth to bond with – or at least relate to – Sammy (Antonio Raul Corbo). She is stiff and uncomfortable around him. The comedy goes a little over the top with slime literally everywhere – the show would be funnier if it toned things like this down just a smidge. In fact, Leggero is definitely not at her best when she's have a shrill hissy fit. Her scenes with Sammy, reading him a story, and especially being touched that Jackie leaves him secret presents in the treasure hole as the sisters used to do for each other, are much better scenes.
By the time the night is over, Sammy has won over Elizabeth and Jackie and Luis have another date scheduled – with each other – the next Thursday. Anything to keep Javier and Elizabeth from setting them up on another date! This episode really highlighted the strengths and weaknesses of this show for me. The over-the-top, physical, and overt comedy just isn't as funny as the more subtle moments of the show. I'm hoping that going forward, the show relies more on the acting talents of the actors. What did you think of the episode? Let me know your thoughts in the comments below!