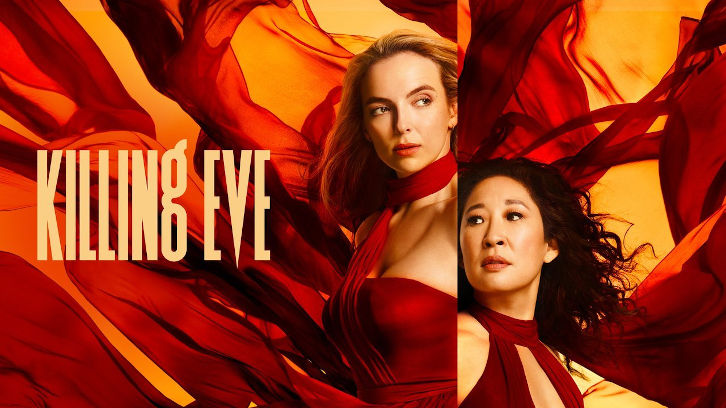 *NOTE – This review may contain spoilers.

There's good news and bad news about the second episode of the third season of Killing Eve. The good news is that Management Sucks is a vast improvement over last week's lackluster season premiere. The bad news is that is still has a long way to go to meet the level of excellence we had come to expect from previous seasons. For me, something about the show is still off, it is missing the finesse that so clearly marked the show as unique from the beginning. It lacks the spark and energy and even the effortless dry humor that marked earlier episodes. This used to be a show I eagerly waited to watch live each week, however so far this season, I've been content to DVR it, do other things, and watch it later as though I had to work up the energy to get through it.


While the pacing was a bit better this time around the characters all seemed a bit off, almost as though the actors were going through the motions of what their characters were and not buying into the storyline yet. I was encouraged, however, that, by the end of the episode we learned three especially important things. One, there is still life in Eve, and we saw signs that the old Eve is still there with a strong episode from Sandra Oh. Two, despite appearances to the contrary, Carolyn is human, and watching her emotional unraveling in this episode was masterful work from Fiona Shaw. And three, Villanelle can express genuine emotion and her reaction at the news that Eve was alive gave Jodie Comer the first chance this season to give us a glimpse of the actress who so rightfully earned an Emmy for the role last year.
Without question, this episode was a showcase for Shaw. Normally we see Carolyn in control, each action precise and calculated. In this episode, from the beginning we get the message that she was the one to watch, she stood out in her stark white coat at Kenny (Sean Delaney)'s memorial service collected and seemingly in control. Yet, as the episode progresses, we start to see the cracks in Carolyn's demeanor as we see that she is not as unaffected by her son's death as it would first appear. From her disheveled clothing at the office, the ease with which she allows Paul to convince her to take time off, her growing frustration at not being officially able to investigate his death and near emotional breakdown in her car in the parking garage, her awkward attempt at getting information and consoling Kenny's new girlfriend, Audrey (Ayoola Smart), her tense exchanges with her daughter, Geraldine (Gemma Whalen) to finally meeting with Eve while in her nightgown drinking in her kitchen shows us a woman on the edge of a breakdown and in full grieving mode. That scene of her near tears in her car in the garage was brilliant work from Shaw, perhaps some of her finest of the series.
Sandra Oh, had some extraordinarily strong moments as Eve in this episode as well, showing us that our complicated Eve was taking the first steps to come back to us. Ironically it took the addition of the new character of Jamie (Danny Sapani), Kenny's editor at the Bitter Pill expertly manipulating her into investigating Kenny's death as smoothly as Carolyn used to do, to shake Eve out of her stupor and light a fire under her again. Oh and Sapani's scenes together had that snap and energy that most of the rest of the episode was lacking and I truly hope he stays around for a while.
From the moment Villanelle told her new young charge, Felix (Stefan Iancu), "If you make me look bad, I will kill you," we knew the kid was doomed. Yet, like with Eve, this was the first sign of Villanelle coming out of her stupor. And while Comer's scenes with Dame Harriet Walter as Dasha are fun to watch, I'm still struggling to find the latter's purpose this season. Also, sadly, her Russian accent is so thick and heavy that, at times, I find it hard to understand a word she is saying. It wasn't until those final marvelous scenes with Kim Bodnia's Konstantin where he tells her to be wary of both Dasha and the 12, that we saw the Villanelle that we didn't know we'd been missing. The rhythm and timing these two have together have always been a highlight of the show so it was nice seeing them hitting all the right beats gives me hope the show is regaining its footing. Comer's magnificent reaction as Villanelle to the news that Eve survived was the first sign I'd seen of the Emmy winning actress we've come to adore. There aren't enough words to describe the skill and talent it takes to show us the kind of control she did in that scene. How many actresses today can rock us on our heels by giving us a character that's visibly unnerved, fighting to stay in control and shake us by shedding a single tear? Perhaps this is an indication that they are finally going to bring the character and this luminescent actress out from behind the muted filter they seemed to have filmed her behind so far.
All these thoughts aside, as I stated at the beginning of this review, there are still ups and downs with the show. The ups this week included the performances from Shaw, Oh and Comer and the deft editing choices of shooting the scenes of Eve and Villanelle finding out the other's fates almost identically, by muting the sound around them after they received the news and focusing of the show's greatest strengths, the faces of these great actresses. The downs, the muting, and foggy filters scenes seem to be shot with, the uneven pacing, and obvious red herrings they want to throw in our paths. What is Konstantin's odd connection to Carolyn's daughter, Geraldine? Is the girl as naïve and innocent as she is first appearing? Does she have a stronger connection to Konstantin? And is this actresses' resemblance to the young actress who played Konstantin's daughter by design or an accident? Did Konstatin kill Kenny on orders from the 12? That's what we're being led to believe, however, if it were Phoebe Waller-Bridge or Emerald Fennell still writing the show we would be expecting some delicious twist to that assumption, however with this season's writers I'm not convinced that's the case. I do have higher hopes for the rest of the season than I did last week and hope the quality continues to improve as the investigation into Kenny's death draws all the players closer together for a grand adventure.
What were your thoughts on
Management Sucks
? Share your opinions in the comments below.