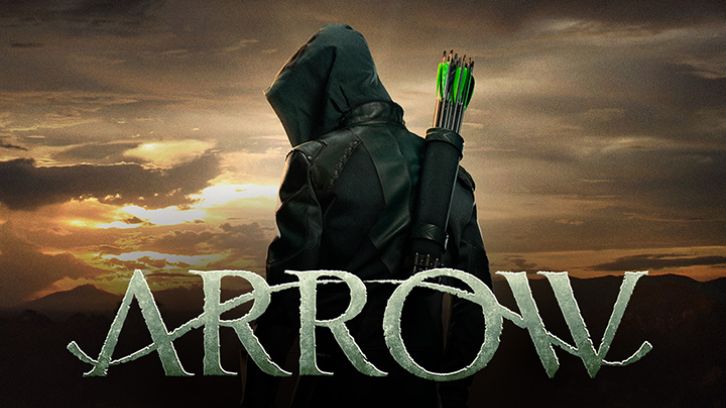 Arrow
came to an end with "Fadeout" written by Marc Guggenheim and Beth Schwartz and directed by James Bamford. The episode mainly focused on the aftermath of Oliver's death but still managed to find a tiny role for Stephen Amell (Oliver) by shooting some new flashback material – and the one very satisfying scene that saw Oliver and Felicity (Emily Bett Rickards) united in – we assume – eternity. This episode wasn't as bad as I feared it might be, but it was still a bit anti-climactic – thought it could hardly avoid that.
The episode was mainly wish fulfillment and a chance to see our favorite characters again – and to see how many of them Oliver's ultimate sacrifice had saved. Moira (Susanna Thompson) is alive and so is Tommy (Colin Donnell) and Lance (Paul Blackthorne). I did like that they brought back the woman making the documentary – this time naming her as Marcia Pedowitz (Jessica Heafey) – a clear shout out to Mark Pedowitz, the current president of the CW. However, that gimmick disappeared after about the first 10 minutes or so.
Lance is mayor but plans to endorse Rene (Rick Gonzalez) for the next election. Dinah (Julian Harkavy) is to be Chief of Police. Roy (Colton Haynes) now has a mechanical arm. We see them start to get their tattoos of the mark of the 4. Diggle (David Ramsey) finally does the salmon ladder. Diggle doesn't feel like Oliver's mission is done yet – which leads to those flashbacks which inevitably dovetail with the present.
Everyone converges on Star City which is now without crime – except that suddenly William (Jack Moore) is kidnaped – and it seems like we may never find out what happened to adult William (Ben Lewis). Diggle insists that this is their most important mission. Roy and Thea (Willa Holland) go off together and he proposes – yes. I did like this scene. She does eventually say yes…
Rory (Joe Dinicol) is back and hunts with Rene. I was always disappointed that they let Dinicol go as he was always the better actor. Rory tells Rene that he's the most like Oliver. Lyla (Audrey Marie Anderson) and Diggle search together, and she's overcome with emotion. Oliver has saved their family and restored it – they now have Sara AND JJ – so she is desperate to do the same for Oliver.
Meanwhile, in the flashbacks, we have Oliver single-handedly taking on the bad guy – John Byrne (Johnny Cuthbert) who – surprise, surprise – is the one who's kidnapped William in the present. The fight scene with Oliver in the past is a real highlight of the episode and a sequence that Bamford is perfect to direct. It's classic Oliver and a lot of fun.
Laurel (Katie Cassidy) goes to see Lance. This was another great scene – Cassidy and Blackthorne are always great together. She's consumed with guilt that Lance is back and HIS Laurel isn't. He tells her that she's fine – there's nothing wrong with her and she deserves to be there. But it is a really good question as to why Oliver didn't restore the Laurel that he loved….
Once William is saved, Diggle is ready to admit that Oliver's mission is over. We learn that Diggle and Lyla and the kids are leaving crimeless Star City for Metropolis – and Diggle gets hit by a meteorite – or something out of the sky – as he prepares to leave at the end of the episode. He opens a box filled with green light… Will we be seeing Diggle as the new Green Lantern?
Lance dedicates Oliver's statue, and then it's time for the funeral. Moira and Thea ponder why Oliver didn't restore Robert – but it's obvious. Robert's death is what made Oliver the hero he became. Emiko (Sea Shimooka) shows up and isn't a psycho so Moira and Thea welcome her. Tommy and Laurel have a nice scene together. Talia (Lexa Doig) and Nyssa (Katrina Law) both show up. Talia twits Nyssa about her "husband" and Nyssa is happy to be interrupted by Sara (Caity Lotz).
Barry (Grant Gustin) shows up and tells Felicity that he's sorry he wasn't able to do more to help Oliver. Naturally, Felicity knows that Barry did everything that he could. Kara (Melissa Benoist) also shows up. No one can speak, but as Felicity points out – it has to be Diggle. It was satisfying to have Diggle call Oliver his brother one final time. We also see that Anatoly (David Nykl) made it – even if he doesn't get any lines.
And then we just need to have Oliver and Felicity reunited. I loved that he had her arrive in Moira's office and we get the flashback to her very first appearance.
So some satisfying moments in this finale – and nothing that really leapt out at me for being completely wrong. I'll take it.
Arrow
certainly leaves behind a legacy. I still find it hilariously wrong, however, that we are still calling it the Arrowverse when that show has now been cancelled/mothballed – whatever you want to label it –
Arrow
is no more. I really hope that that statue of Stephen Amell as Arrow is really in Stanley Park – or wherever that was shot, because
Arrow
also leaves behind a legacy in the film and television industry in Vancouver. How many people owe their livelihoods to that show – and the many, many others now shot there? What did you think of the finale? Did you love it? Hate it? Let me know your thoughts in the comments below!