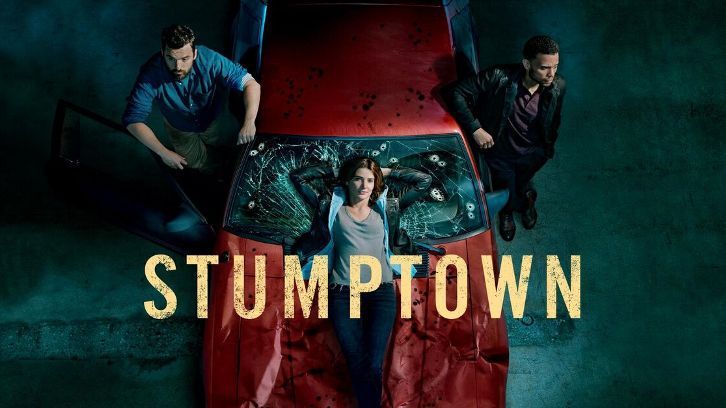 Dex (Cobie Smulders) faces her most unusual case yet and runs headfirst into guest star Cheryl Hines in the latest episode of Stumptown. It turns out not to be as easy as she first thought it was and it ends up threatening something very dear to her. Read our latest Stumptown Review Roundtable below as Marko Pekic, Ellys Cartin and I share our thoughts. Don't forget to submit your questions in the comments for the next roundtable.


Last week, Ansel (Cole Sibus) bonded more with Grey (Jake Johnson) after moving out, using him as a role model to fulfill his to-do list. This week he teams up with Tookie (Adrian Martinez), to learn how to cook a very special dish. What do you think of this pairing? How is the way Grey and Tookie interact with Ansel the same? How are they different?
DC -
There is a very big part of me that thinks Tookie is a much better role model for Ansel than Grey is. He has a much gentler yet guiding way with him and he is honest with him. I get the feeling that Tookie has been a part of Ansel and Dex's life for a much longer time. Given his response to Ansel's question about when he was taken, one gets the feeling that Tookie may be one of the few people that know the full story and is always going to be there just out of view watching over Dex and Ansel.
EC -
Tookie hanging out with Ansel was easily my favorite part of the episode, and his respectful deflection of tough questions while not shutting Ansel out was well played.
MP -
Tookie is generally a great addition to the show, he balances the dark moments with his light energy. The combination with the two of them was heartfelt and so sweetly written. The way they used Tookie to dig into Ansel`s version of the sibling relationship paid off and I hope we see more of Ansel handling life in future episodes.
Hoffman (Micheal Ealy)'s undercover operation runs into a snag with the introduction of a narcotics detective. Why do you think he chose now to inject himself in the operation? Were you surprised by his revelation? Have Hoffman and Grey stumbled upon something bigger than they can handle?
DC -
I'm still trying to figure out the purpose of this twist in the storyline. The only logical explanation that comes to me for having it was to reveal the fact that Hoffman's father is a powerful man. Yes, the operation has gone far beyond the carjacking ring they were supposed to be taking down.
EC -
Never going to turn down scenes with Cosgrove and Hoffman, but this detective's presence didn't make sense. I'm not quite clear what they even arrested him for in the end. Not invested in whatever was happening there at all. As for Hoffman and Grey's case, it seems to be ending sooner rather than later, which is a choice whose effects we'll just have to wait and see to determine if the storyline is justified.
MP -
The narcotics case is bigger than it seems, and Hoffman and Grey are on their way to get into some deep trouble. The narcotic detective seemed like small fish trying to fix things before everything gets blown up. It also served as a tidbit to get small background information on Hoffman and his dad. They are certainly working on the bigger picture and bigger scheme to unfold in the remaining episodes of the show.
Is Grey getting in too deep in his undercover role? Is it time for Hoffman to pull the plug on the operation? How smart is it for them to pull Dex into their dangerous game?
DC -
Yes, it's past time to pull the plug. They are getting in over their heads deeper and deeper and hopefully, Dex will be the voice of reason this time and tell them that. Neither man has made the best decisions during this operation. That said, pulling Dex into it is only going to get someone, likely Dex, hurt.
EC -
I hope Dex puts up a few objections to their scheme, especially after just getting herself out of trouble. It feels as if Grey just started working with this crew. Things have escalated quickly, which I have mixed feelings about. It's hard to be too invested in the caper when it hasn't affected anyone to a significant degree. The show keeps returning to the very slim connection between Grey and Max (Inbar Lavi), but it doesn't mean anything at this point. It's not boring, so I give the undercover story credit there, but it does feel a bit as if the show is just spinning its wheels because they don't want to rebuild either guy's friendship with Dex.
MP -
It is definitely time for Hoffman to pull him, luckily, he doesn`t know about Max. The Grey/Max scenes show great chemistry. Grey tries to see behind the badass act Max shows off and wants to protect her. He sees a lot of him in herself and wants to protect her, that combination makes this quite a dangerous adventure for Grey. While it certainly isn`t safe for them to include Dex, I can`t wait for the two Queens Smulders and Lavi to share scenes. How did we get through two episodes without them going at each other?
Once again Dex appears to get too friendly with her client and it comes back to bite her. Will Dex ever be able not to get personally involved in her cases?
DC –
Being personally invested in her clients is what makes Dex a good investigator. However, that empathy comes at a cost and Dex isn't always the best judge of when to put on the brakes. I think she got caught up in Ginger (Cheryl Hines)'s wake because the woman was the first to reach out. Perhaps, she recognized that Dex was lonely. Dex has still not fully adjusted to living alone without her brother.
EC -
Dex melted like butter on a hot pancake when Ginger started being friendly to her. From there, it was a succession of Dex crossing lines: hanging out with her client after work, accepting the necklace, briefly considering hooking up with one of her client's employees, etc. It was a staggering, entertaining, appalling series of judgment errors. What the heck, Dex? That said, surely Dex will someday again get a client she doesn't like. She can't afford to be picky, can she?
MP -
Dex is Dex and God bless her she should never change. And while she should avoid fraternizing with her clients, she is a good PI because she cares and gets invested. She should look out when she trusts though, Ginger was full of red flags and with that type of people you should put up boundaries.
We get our first look at Dex's first visit to the PTSD support group. Were you surprised by the group's location and set-up? What do you think drove Dex to go to the group when things got rough instead of dealing with adversity in her normal way? Will she go back?
DC –
Dex was feeling pretty beat up by life. She went to the group before she reverted to some of her more self-destructive habits. The group's unorthodox set up is perfect for Dex. The leader, Poppy (Julie Goldman) spoke to her in terms and a tone Dex understood. She appealed to the soldier in Dex to stand up for herself. She will go back.
EC -
The support group was not set up in an empty church or school around a circle of folding chairs. I appreciated that. While there are some support groups like that, it wouldn't have felt true to
Stumptown
to take that route. There was no way Dex would have respected someone who wasn't straightforward, so Goldman was a welcome addition as Poppy. I thought it noteworthy that Dex didn't turn to them at an emotionally low point. She went there more in anticipation that her current circumstances could take a turn for the worse. She took preventive care of herself.
MP -
Stumptown
takes a unique approach to everything, so the whole PTSD event felt just right for the verse the show is set up to be. On the other hand, Dex is at a turning point in her life, while her life is heading into a stabile direction and she potentially could live a normal life she can`t let go of her past. She can`t be truly at peace until she confronts it and she knows that.
What scenes were the most illuminating in the episode? Were there any major turning point moments for you? Is there a scene of which you weren't particularly a fan?
DC -
There were no real earth-shattering moments in this episode. However, I really liked the growing Tookie/Ansel partnership. Learning about Hoffman's father was a clear indication we're going to have that father/son reunion soon.
EC -
This won't make the list of my favorite episodes, just because some elements felt too forced (like the Baked Alaska being an anniversary cake of the day Dex came back) and the Grey/Hoffman case is still a bit out there.
MP -
No real turning points in this outing. The scene between Dex and Ansel towards the end was sweet. Their interaction is truly the heart of the show and a catalyst for Dex`s motivation and character development. Seeing how much Dex means to Ansel and his need to express his gratitude warmed my soft little heart.
What are your final thoughts on this episode? Where do you think the major storylines are headed?
DC -
Some of the revelations in this episode remind us that at its core this show is about family. While not my favorite episode of the season, it had its moments. The Ansel and Dex scenes are always touching and heartfelt. I am enjoying Ansel's journey of being on his own. However, he's starting to ask questions about their parents and he's not going to like the answers. The answers may prove too painful. I also have a feeling that the undercover storyline isn't going to end well.
EC -
This undercover thing is going to blow up, but will it matter when it does? And do we think the show is going to drag out the parents returning until the very last episode of the season? That seems to be the plan, and I'm not sure it's wise for the show to be hitting the brakes heading into its final run of episodes for this season. Build that season 2 hype!
MP -
Generally a good outing, it was funny and with dramatic elements and while I enjoy the addition of Inbar to the show I hope they will wrap that narcotics storyline soon-ish. It takes up a lot of focus and while it does solid focus for Grey and Hoffman outside of their Dex story, those types of stories get messy quite fast.