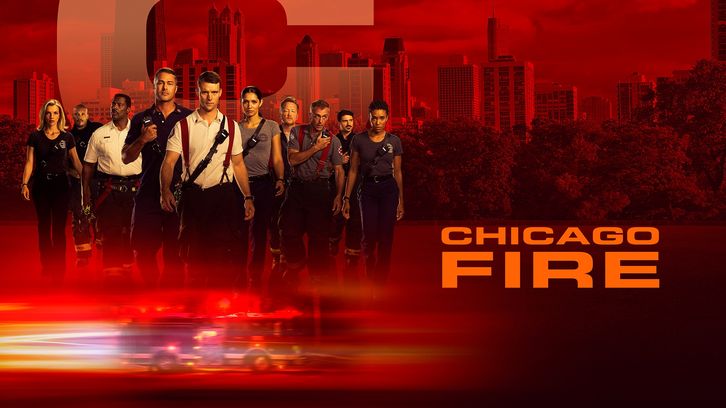 Happy 2020 everyone! The first two episodes of Chicago Fire were quite good, so let's dive in.

Hold Our Ground
We pick up right where we left off with Severide trapped in the basement with Conrad, the corrupt contractor. He has that pesky flare in his hand while they are standing in a tinderbox full of combustable materials. To the surprise of no one, Severide subdues Conrad and also saves both of their lives because as he puts it, 'I'm a firefighter'. It takes that moment for the OFI captain to 'fire' Severide because he doesn't belong there, he needs to be back at 51 serving the city. LT. Seager is clearly disappointed Severide is leaving and it isn't just because she respects his investigative skills (ugh). Elsewhere, the CFD has redrawn the operational boundaries for firehouses which means that 51 will be overlapping calls with firehouse 20. The collective groan that was let out when Chief gave them the news was not a good sign of things to come. Gallo is pressed about this for an entirely different reason and her name is Violet, a paramedic out of 20 that he can't stand from their time at the academy. We also saw the first conflict between Emily and Sylvie. Finally, Casey and Gallo team up to retrieve a stolen piece of equipment and Mouch set out on a bittersweet quest involving the mail.

Severide Comes Home

OFI
recognized that it was time for him to go home. This storyline also showed that Severide meant it when he told Stella he was going to be the man she deserves by basically telling Seager to back off. I thought it was nice that Stella had the self-awareness to realize that it would be hypocritical of her to confront Severide because of her jealousy once she caught on to Seager's thirst for her man. This shows that they have grown as a couple and maybe this time, they can go the distance. Severide keeps his emotions close to the vest most of the time, so how he worked through separating himself from Seager's advances was very much an in character moment, but at the same time it reminds us that the shameless womanizer we met in season one has come a long way.
Showboats and Thieves
Whilst 51 grappled with 20, truck 81's
jaws of life
were stolen by one of the street racers who was using them to rob ATMs. Gallo and Casey weren't just going to let it go and use broken down equipment as a replacement while their set was being used in the commission of various crimes, so they set out to find their jaws. In storytelling terms, it would have been easier to call one of Voight's crew over on PD, but clearly that may not have been in the budgetary cards for this episode. The cop they ended up dealing with was particularly unhelpful so it was up to our guys to get their stuff back. All of this resulted in an eye-rolling slow speed chase where our firefighters put their cop hats on and chased down the man who had their jaws after seeing his truck by chance on the street. Sure, it was great to see them get a W but I would be lying if I didn't groan a bit with
how
it went down.
We Need Each Other
Odds and Ends
* So Violet and Gallo's mutual disdain led to a hot hook-up. Who didn't see that coming a mile away? I did like Ritter calling him out right away when he saw them interact.
* Mouch finding the intended recipient of the letter stuck to his boot was beautiful. The written word still is really important.
* I hope this is the last we see of Seager, I wrote in my notes, 'Go Away Seager' at least four times while watching this episode.
Where We End Up
The new boundaries are testing everyone's patience over at 51 because 20 is always a step ahead when it comes to calls in their mutual area or they are questioning how 51 runs a call, leading to more issues. To make matters worse, a bed bug infestation at 51 forces the two houses to cohabitate while the house gets fumigated. The two houses bunking together led to tempers boiling over until a call brought everyone together. Gallo and Violet continued their hook-ups in Romeo and Juliet-esque fashion because their professional families cannot stand each other (I made that a thing and you can't stop me!). Elsewhere, Chief was shaken when one of his old students spoke about the terminal cancer he is fighting due to his years of exposure.
Bunking In
Back to our raging internal war, neither side was showing their best shade, but a fire at a dry cleaners seemed to smooth the rough edges and the houses may be able to share their mutual space with less disdain. Casey and Gallo saving Delany and his firefighter was inevitable but the shot of all of them cleaning their gear at Chief's instance because of Fireman Buckley's talk was a beautiful shot. While the two houses had issues, they are all part of the fire department and need to protect themselves from the deadly killer they cannot see. In the end, I think these houses are now allies and have come to a mutual respect that they are on the same side no matter what.
Odds and Ends
There weren't as many side stories to cover this time as the entire ensemble was basically in one place and dealing with the combined house of it all. But here are a few stray things that caught my eye.
* Violet and Gallo are still pawing at each other. If this is going to be a long-term thing, Violet needs to get nicer to Blake. She is obviously enjoying their time together, so drop the front and see the nice guy you have in front of you girl!
* Gallo running his marathon in full turn-out to raise cancer awareness was a vintage, heartwarming 51 moment.
* I loved that Ritter and Stella made Mouch apologize to Tuesday for falsely accusing her!
* Casey and Brett shared a small moment. I cannot keep up with what the show wants to do there. It is clear as mud at this point and extremely frustrating if I am being honest.
* Captain Leoni from 20 using psychological warfare on Brett, Kidd and Foster was entertaining, I cannot lie. Revenge is a dish best served cold, and she got hers for what happened with the women's lounge.
That is it for me! What were your thoughts on these episodes? Drop a comment below.